Continuing our new feature here on Patriots.com in which we'll use Tuesday mornings to take a look back at some aspect of the previous weekend's game, this week we're analyzing the Patriots offensive mindset in the fourth quarter. Each week we'll focus on some play, call, player, issue or other aspect of the game that may have been overlooked in the first wave of coverage. The idea is to shed some new light on an area that didn't get its due coverage the first time around.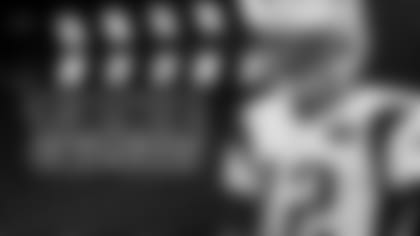 Sunday's loss in Buffalo was as shocking as it was disappointing for a lot of reasons, not the least of which was that it was rather needless. The Patriots were in control with a 21-point lead before turnovers and sloppy play ultimately did them in.
While it's pretty clear to see the four interceptions thrown by Tom Brady were a major reason for the defeat, one in particular we thought was quite costly – and for more than the obvious reasons.
With 13 minutes left in the game and New England holding a 24-17 lead, the offense took over at its own 46. To that point the running game had been largely an afterthought, and when it was used it hadn't been all that successful. But offensive coordinator Bill O'Brien showed great timing when he unveiled a trick play that sprung Wes Welker for 19 yards on an end around, and suddenly the Patriots were sitting pretty at the Bills 35 poised to forge a two-score lead with less than 10 minutes to play.
Rookie Stevan Ridley, who had just two carries to his credit at that juncture, then moved the chains with consecutive tough runs that totaled 12 yards. It was now first-and-10 at the Bills 23 and just 11:38 remaining. It was the perfect time to continue to pound the rock, much like the Patriots did to close out the Chargers a week earlier.
But instead O'Brien had Brady take a shot, and the results were disastrous. The quarterback tried to force one down the seam to Rob Gronkowski, something he'd successfully done a couple of times previously including a 26-yard touchdown in the first half. This time Brady's throw was slightly short and safety George Wilson made a terrific play and picked it off.
At that stage of the game it could be argued that a field goal was every bit as valuable as a touchdown would have been. Three runs would have melted two more minutes off the clock, and Stephen Gostkowski would have had at maximum (assuming no lost yardage) a 41-yard field goal to in essence put the game away. The only thing at that point that could have gotten the Patriots in trouble was a turnover, and throwing deep down the seam into coverage certainly increased the likeliness of that happening. It was a time-and-place situation where a pick simply could not happen.
It was a questionable decision by the coaching staff to throw the ball deep and a questionable decision by the quarterback to make a high-risk throw in a situation where he was already well within field-goal range. Why not keep running the ball, particularly against a weak run defense, and take your chances protecting a two-score lead late in the fourth quarter?
It's easy to say interceptions killed the Patriots on Sunday, but this was one the coaching staff surely would like to have back. Up 10 or 14 at that stage really wouldn't have made much of a difference.
Second guess? You bet, and that's what Take Two-sday is all about!
What did you think flew under the radar in the Patriots first loss of the season in Buffalo? Let us know with a comment to help us celebrate Take Two-sday!