Fans and media alike - yes, I'm including myself in that mix! -- have been posturing that the Patriots needed to get an underwhelming ground attack going heading into the postseason. Well, somewhat quietly, the team has done just that over the last three weeks of the season.
While Stevan Ridley's work likely isn't enough to turn the Tom Brady-led attack into a run-based offense, the rookie's 39 carries for 210 yards over the last three weeks have brought a little more legitimacy to the NFL's 20th ranked rushing attack.
Ridley - a third-round pick out of LSU - has had career highs in carries in each of the last three weeks against the Broncos, Dolphins and Bills. He put forth a career-best 15 carries for 81 yards in Sunday afternoon's comeback win over the Bills.
But it's not just the recent increase in production that brings hope that the youngster might offer a postseason spark on the ground. His combination of size, vision and speed have proven him a playmaker in his limited chances all season. He finishes the year with 87 carries for 441 yards and a highly impressive 5.1-yard average.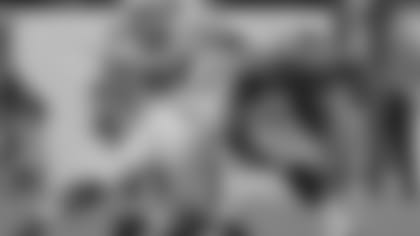 He has the ability to maximize a run - turning a couple yards into much bigger plays. He's had a run of 18 yards or longer in each of the last three games, compared to returning 1,000-yard rusher BenJarvus Green-Ellis who had just one run over 16 yards all year. Ridley had an impressive 33-yard touchdown as part of his career-best 97 yards in Week 4 in Oakland, and that playmaking ability is something that teammates have noticed.
"He is able to turn a 1-yard play into maybe 10 or 15 yards. He brings excitement back to the game on the field, gets the team and the crowd back into the game," veteran teammate Kevin Faulk said.
For his part, Ridley has enjoyed the recent increase in carries. But he knows it's no guarantee that he'll be a big part of the offensive game plan in the coming weeks.
"Honestly, with this coaching staff and with coach Bill [Belichick], you never know what they're thinking, man. So whenever they call your number, all I can say is you better go out there and do your job and do it as close to perfect as you can if you want another shot," Ridley concluded heading into the season finale. "So that's the mentality I'm taking and hopefully they are building a little bit of confidence. I'm going to keep working hard each and every day and I think that they know that. I think their confidence will keep building in me as long as a keep working hard."
So while Brady and his second-year playmaking tight ends deserve all the credit they've received for combining for more than 240 yards and three touchdowns in Sunday's win, a closer look shows that Ridley was a complementary factor in the win. If he can continue to be just that, a complementary factor in the coming weeks, it can only help New England's chances of going on another postseason run.
Ridley may not have had a dream rookie season statistically, but he can make a name for himself by continuing to run the way he has when given the chance of late. Shonn Greene (Jets) and James Starks (Packers) are just two relatively unknown running backs who've had a major impact on recent postseason runs. Maybe Ridley can add his name to that list.
The passing game will continue to be the headline grabber in New England, but if Ridley can run the way he did on Sunday against the Bills it will be a boost to the Patriots. And acknowledging that kind of under-the-radar production is what Take Two-sday is all about!