The Seattle Seahawks' Richard Sherman, New England Patriots' Aqib Talib and Arizona Cardinals' Patrick Peterson each made massive defensive plays when the moment called to contribute to thrilling wins in Week 4. Read up on this week's nominees and then cast your vote for the GMC Never Say Never Moment of the week.
NEVER SAY NEVER MOMENT NOMINEES
Richard Sherman, Seattle Seahawks - Sherman's late pick helps keep Seahawks unbeaten: Richard Sherman's 58-yard interception return for a touchdown completed a Seattle Seahawks rally from a 20-3 deficit to a 20-20 late-game tie that forced overtime. In the extra period, Steven Hauschka kicked a 45-yard field goal to give the Seahawks a 23-20 win over the Houston Texans. Sherman's pick six came moments after an epic 98-yard drive drew the Seahawks to within a touchdown. The drive included a successful fourth-down scramble by quarterback Russell Wilson that set up a touchdown by Marshawn Lynch. The come-from-behind win gave Seattle its first 4-0 start in franchise history.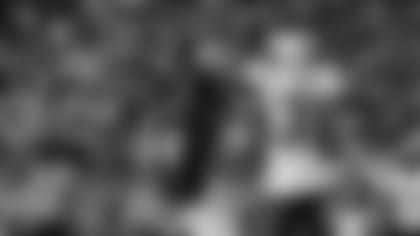 Aqib Talib, New England Patriots - Patriots stay unbeaten as Talib halts Falcons' frenzied rally: The New England Patriots improved to 4-0, but had to hold off a frenzied fourth-quarter rally from the Atlanta Falcons. Encouraged by a successful onside kick, the Falcons scored 10 unanswered points to get within a touchdown. A lost fumble by Tom Brady gave the Falcons one last chance at evening the score. However, Aqib Talib -- who had a big performance Sunday night that included an interception -- deflected Falcons quarterback Matt Ryan's fourth-and-7 pass attempt in the end zone to secure a 30-23 win.
Patrick Peterson, Arizona Cardinals - Peterson's two interceptions key Cardinals comeback: For most of Sunday's game against the host Tampa Bay Buccaneers, prospects for victory appeared bleak for the Arizona Cardinals. Yet a handful of key plays late helped the Cardinals overcome a 10-point fourth-quarter deficit. Patrick Peterson had two interceptions to set up the win. His first pick was followed by a 13-yard touchdown from Carson Palmer to Larry Fitzgerald. The second interception sealed the 13-10 win.