Pierre Woodsstrolled into the locker room Monday – much like he normally does the day after a game – and tossed his playbook under his chair as he prepared to answer questions from a pair of reporters standing nearby.
Suddenly, the crowd more than doubled in size as writers and cameramen quickly formed a wall around his locker.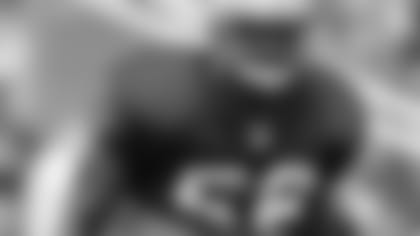 ]()"Wow!" Woods said with a smile as he glanced out over the crowd.
The third-year linebacker hadn't been this popular since his breakthrough performance in training camp, but now he's the center of attention again this week now that Adalius Thomas is reportedly out for the season after breaking his arm in Sunday's win over the Bills.
Woods took over when Thomas left the game in the second quarter and finished with two tackles as the Patriots limited Buffalo to 168 yards of total offense.
"I just went in and tried to do my job," Woods said. "That's all it was. Anytime they put me out there, they say, 'Do your job' and that's what I did.
"We've just got to keep playing and continue to work hard and play as a team. I think we'll be fine."
Only time will tell. Thomas had emerged this season as arguably the most consistent defender on the team. The nine-year veteran moved back to outside linebacker this season after playing the interior during his debut with the Patriots in 2007 and responded with 34 tackles and five sacks in 10 games.
As one of only two players (the other being Mike Vrabel) with a communication device in his helmet, Thomas also played an important role as the leader in the huddle considering the fact he played on 99 percent of the defensive snaps until breaking his arm. He'll be difficult to replace on and off the field.
"Like a lot of guys, he plays a lot of different positions and was playing pretty well, so it'll be tough," Vrabel said. "He's a leader. He was a veteran guy that played well. We'll just have to find guys that can step up."
The good news is the Patriots have options. Woods is the logical choice since he, too, is an outside linebacker and has enough experience this season – albeit in a limited capacity – to expand his workload without compromising the rest of the defense.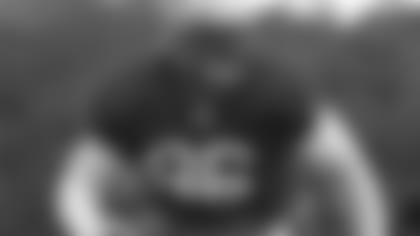 ]()With rookie Shawn Crableon injured reserve, another possibility would be activating fellow rookie Vince Reddfrom the practice squad and utilizing him as a pass-rusher on third down to take some of the pressure off Woods. Redd obviously has no NFL experience outside of the preseason, but he's been a solid contributor in practice and has earned the right to be considered an option moving forward.
Unless they decide to hit the free-agent market and acquire a veteran such as Rosevelt Colvin or Victor Hobson – both whom have spent time with the Patriots in the past – the only other option would be moving rookie Jerod Mayoto the outside and using rookie Gary Guytonas a starter next to Tedy Bruschi. The problem with that scenario is it'd put a lot of pressure on two rookies in key spots and also force Mayo to learn an entirely different position 10 weeks into his first season, whereas increasing Woods' playing time makes more sense because it only affects one player rather than two.
"Anytime you lose an impact player it hurts," cornerbackEllis Hobbssaid, "but the machine can't stop. The show has to continue. If one man goes down, the next man better be ready."
"You're supposed to do your job," Woods added. "That's why you get paid. We definitely go in knowing what we're doing. It's just like the preseason when I was out there when Mike [Vrabel] was out, [Thomas] was out – I just try to pick up where they left off at."
The key for Woods is to apply what he absorbed from the veterans and use this opportunity as a launching pad for his career, which began three years ago as an undrafted rookie out of Michigan.
"I've learned a lot from Adalius, Mike, Rosevelt, Junior [Seau] – all of those guys. I'm like a sponge. I continue to soak up knowledge," Woods said. "It's definitely an opportunity, so I'll just go out there and do my job and I'll be fine."
As for the Patriots, they don't have much time to cry over Thomas' absence. They have another game Thursday against the rival New York Jets, so all their focus will shift toward preparing for what might be their most difficult challenge of the season – with or without Thomas.
"We talk about this all the time. Our focus right now with three days has to be the Jets," Vrabel said. "We're going to have 11 guys out there. It's unfortunate that [Thomas] isn't going to be there this week, but we've got three days to concentrate on the Jets."
The Patriots expect to see a much different team Thursday than the one they saw in Week 2 at the Meadowlands. The Jets have buckled down defensively and are now tied with New England for first place in the AFC East following their third consecutive victory Sunday at home against St. Louis.
"They're an explosive team," Hobbs said. "They've got so many skill players across the board."
Even with Brett Favre at quarterback, the Jets have become more run-oriented in recent weeks. Thomas Jones set the tone Sunday with 149 rushing yards and three touchdowns against the Rams and is now closing in on his fourth consecutive 1,000-yard season. The production of the running game has helped Favre settle into his new environment.
"I don't think they're doing as much shifting and motioning," Vrabel said. "He's just out there playing and taking what the defense gives him. They're running the football really well, so he doesn't have to … you see one week he throws it 40 times and one week he throws it 19 or 20. I think they're real balanced."
On the flipside, the Jets have also transformed their run defense thanks to the offseason addition of nose tackle Kris Jenkins. The 349-pound veteran has anchored New York's 3-4 front and helped the Jets set the pace at the line of scrimmage.
"He's huge. That's the main thing," guard Logan Mankinssaid. "He's strong. He's a good player. He's probably one of the top two nose tackles in the league right now."
Would teammate Vince Wilforkbe the other one?
"[Wilfork] is a dominant nose tackle and that's what Kris Jenkins is doing right now," Mankins said. "I think the reason the Jets are winning a lot more games this year is their defense is very much improved from last year and they're playing very well."
Stopping Jenkins is easier said than done and it's also usually a two-man job given his size and strength.
"You just go in there and hit him as hard as you can and hope it's enough. Sometimes it is and sometimes it isn't," Mankins said. "You hope sometimes he'll take himself out of the play and make it easier for you."