One of the most strategic parts of being a fantasy football owner is deciding which players to start each week. If you are an FFChamps.com member or a regular reader of this column, you should already have it drilled into your mindset that you always start your Studs if they are healthy. At FFChamps, we update and designate a list of who are Studs on a weekly basis but most of these players are obvious. Once the Studs are in place, the decision on who to start and sit comes down to match-ups and strength of schedule, health, and yes, luck. Leaving points on your bench can be the single most frustrating aspect of fantasy football. This week, I was burned by a decision to sit Vikings TE Kyle Rudolph and start Panthers TE Greg Olsen instead. The decision cost me the game and first place. In this case, I would have made the same call every time and am experienced enough to know sometimes it just does not work out the way one hoped. This is where FFChamps.com can make a difference for you in season. We received a great email from Jeff, a Patriots.com reader that we wanted to share. Jeff wrote thanking FFChamps for "Reminding me to ignore the projected points trap. I've easily produced 40+ points more than my total projection every week based on the help from FFCHAMPS: Talked me out of a trade that would have let go Vernon Davis and Antonio Brown; recommended picking up Keenan Allen off the wire for Week 6."
At this point in the season there are certain players and teams that you can no longer wait to turn the corner. With the Giants running backs decimated by injuries and Eli Manning having his worst season as a pro, all Giants are now a risk. The only player worth starting at this point is Victor Cruz, normally a Stud but based on the state of the team, even Cruz needs to be evaluated each week based on his match-up. This team is a mess offensively. They will be playing from behind and Cruz will be the only beneficiary. I still believe he is worth trying to grab in a trade while the situation is bad, if, and only if, you can get him for a lower ranked player. Steal him or let it be but give it a try in your leagues.
The Packers offense suddenly is a risk as well. The Cheeseheads are worried as WR Randall Cobb is out for several weeks, WR James Jones is banged up and a game time decision, and the running game is on the shoulders of a talented but unproven rookie in Eddie Lacy. If you are an Aaron Rodgers owner, and you have a sleeper back-up QB on your roster (Philip Rivers, Tony Romo, Jay Cutler), you may be able to get a top tier positional player for Aaron Rodgers. Rodgers has a great strength of schedule based on FFChamps SOS, http://www.ffchamps.com/p/resources.sos/, so do not trade Rodgers unless you get a Stud positional player or two in return. He will not be the same player without his top wideouts and these are the kinds of strategic moves that sometimes make the difference in winning your league. Make sure you tread carefully though, and use his strength of schedule as a selling point!
Jimmy Graham was injured in Week 6 vs. the Patriots and for one of the only times in his short but incredible career, turned in a complete no-show, shutdown courtesy of Aquib Talib, Bill Belichick and the Patriots D. The Saints are on a bye week this week. If there was ever a time to try to trade for Graham, it is this week, based on his poor Week 6 performance and bye. He is a fantasy football difference maker, will play hurt, and is on a powerful offense. In most scoring formats, he is the No. 1 or at least a top 3 scorer in both the WR and TE category. You win by adapting and making the move at just the right time so explore a trade for Graham this week.
At FFChamps we have a weekly tool called Target Analysis, http://www.ffchamps.com/p/receivingAnalysis/, where we examine the number of targets a WR gets on a weekly basis. In Week 6, Jaguars WR Justin Blackmon, in his second game back from his suspension, was targeted a league-high 20 times, hauling in 14 passes for 190 yards. Other top targeted wide receivers in Week 6 were Vincent Jackson, Larry Fitzgerald, Brandon Marshall, and TE Julius Thomas. Heavily targeted players in great offenses or on terrible teams that are behind early and forced to pass 50-plus times a game are strong starts on your team.
The Bronco's offense continues to be a challenging one to figure out from a fantasy football owner's perspective. Wes Welker and TE Julius Thomas are leading the team in both targets and in Wekler's case, his 8 TDs are tops in the NFL. Knowshon Moreno had 62 receiving yards in Week 6, as well as being the Broncos leading ball carrier. Perennial stud Demaryius Thomas and red zone magnet Eric Decker have not lived up to fantasy expectations. The Broncos offense will score 30+ points most games and Thomas and Decker are still must starts and will have their great games soon enough.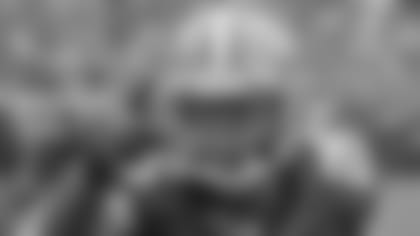 On waivers this week, Browns RB and partial WR Chris Ogbonnaya is showing flashes of brilliance and is worth a try for a week or two. I'm not sure if he is the second coming of Josh Cribbs, an incredible talent and frustrating fantasy football disaster, or the real deal but he has looked great and the Browns are in first place and in the hunt. Panthers WR Brandon LaFell, who Sports Illustrated writer Peter King called the player to watch after his rookie training camp, is finally emerging years later with Cam Newton at the helm. LaFell is on most waiver wires, which will not be the case after this week. Newton is heating up and LaFell may be replacing Steve Smith as his go-to target. Cowboys WR Terence Williams has scored two weeks in a row and is on most waiver wires and on a team that throws all game. Lastly, Lions RB Mikel Leshoure, mired in the coach's doghouse all season, is still going to fly under the radar this week. If you have Reggie Bush on your team, go get Leshoure as Lions back-up RB Joique Bell is injured and Leshoure, despite being inactive for Weeks 1-5, is talented and hungry. In his rookie season last year, he scored 9 TDs for the Lions.
As we do each week, we focus on the FFChamps.com SOS or Strength of Schedule. The SOS tool is incredibly powerful for deciding who to start or sit, trade, or how your player's match-up will be in playoff Weeks 14-16. Once an FFChamps member, you can see the SOS here at http://www.ffchamps.com/p/resources.sos/ . In Week 7, we like the QB and WR match-ups for the Bears, Eagles and Cowboys vs. one another, and the Chargers. Jay Cutler to Brandon Marshall and Alshon Jeffery should both have success vs. the Washington "football team," and the Eagles and Cowboys could be a shootout, with top fantasy football Studs Dez Bryant and Desean Jackson going head to head all game for the most points. Rivers, who has overachieved all season, had a quieter game in Week 6, with only 1 TD, but should find the end zone more vs. the Jaguars. Chargers WR Keenan Allen again looked like the real deal last week, so we hope you grabbed him off your waiver wire as we suggested in this column.
The Patriots offense may have gotten the confidence boost it needed with its last second win over the Saints Sunday. What a game! WR Kenbrell Thompkins, who was used mostly as a third down receiver in Week 6, scored the game winning TD on a gorgeous catch and throw, notching his fourth TD in 6 weeks. I have Thompkins on two of my teams and expect him to make big plays and be a red zone target all season long. As we have been saying, Stevan Ridley became the Man with 96 yards and two TDs in Week 6. We continue to love Ridley the rest of the way. He is almost automatic inside the 5 yard line. It is too soon to get on the Austin Collie bandwagon but if Danny Amendola misses more time due to his concussion, Collie has potential to become Brady's go to wide out in the slot. Stay Tuned.
That's a wrap for this week. If you still are not an FFChamps.com member, start now. We will show you how to win with the best customer service in the biz. Try us out this season … 50% off for Pats fans, only $29.95 for the entire season with 24-7 coverage at https://www.ffchamps.com/subscribe/. Remember to tweet us your questions @FFChamps or visit www.ffchamps.com for around the clock rankings, strategy, and one on one advice, all the way through your Fantasy Football Championship. FFChamps.com: Extraordinary Results for Fantasy Football Dominance.