NASHVILLE, Tenn. - Holding training camp with another team is nothing new for the New England Patriots. Over the past decade, they've done it numerous times with various clubs. There've been summers when they've hosted two different teams. Other times, they've hosted one and visited another. On rare occasions, they've managed to secure just one willing partner, or none at all.
This year is a first for the reigning Super Bowl Champs, as they're the visitors for both of their joint practice sessions. They're currently on their second sojourn of the summer in as many weeks and first trip to the Titans' headquarters, known as Saint Thomas Sports Park, in Tennessee's capital city of Nashville.
There are similarities between the Titans and last week's opponent, the Detroit Lions, in terms of the general managers (Detroit's Bob Quinn, Tennessee's Jon Robinson) and head coaches (Matt Patricia of the Lions, the Titans' Mike Vrabel) both having branched off from the Patriots. And of course, certain players on both squads have recent histories with New England.
However, the differences provide a new challenge for the Patriots as they prepare for the upcoming season.
"It's good, it's different. Obviously, their philosophies are different – Detroit and Tennessee – but it's all with a lot of stuff that we're going to want to see, and stuff we'll probably see [against other opponents] during the season," linebacker and Tennessee native Dont'a Hightower remarked after practice. "Going against our offense for however many weeks and then being able to go against Detroit, and now being here against the Titans – it's good for us as a defense to be able to see as many multiple philosophies as we can."
"I mean, their running quarterback [Marcus Mariota] – obviously a very athletic guy; that's different than what we have, different from what we saw last week. The offense is different… the read-zone plays, they do a lot of things differently [than Detroit]," observed head coach Bill Belichick. "Their coverage system is a little bit different, their special teams system is a little bit different, so, we'll see how we match up out there."
New England's tougher opponent Wednesday may have been the heat and humidity here in Nashville, which seemed to force both teams to slow the tempo of practice down a bit and offer players more hydration breaks than normal.
When work resumed on the field, though, the two teams provided each other with solid competition during position drills and full-squad periods.
"It's fun, going against someone different," CB Stephon Gilmore acknowledged. "It's a different system, but we're pretty much doing our same stuff, trying to get better at what we do individually and as a team. It's good. Seeing different faces and a different team, just trying to work on your technique and getting better every day. It's a different challenge. We've got another tomorrow."
"We definitely competed and that's one thing we want to do," added Hightower. "We can fix mental mistakes and errors, but you can't fix effort, and that's something that we're very prideful about. A lot of guys came in and competed and ran around today."
As Gilmore indicated, the teams will meet again on the Titans' triple practice fields Thursday for a full-pads affair, which will mark the final Patriots training camp practice that's open to the public this summer. They'll then conduct a private walkthrough session on Friday in advance of their second preseason game of 2019, Saturday night at the Titans' Nissan Stadium in downtown Nashville, just across the Cumberland River from the main part of the city.
"This is a great opportunity for us here," emphasized Belichick, who was born in Nashville. "I really appreciate the Titans, and the hospitality that we've received from Mike [Vrabel] and his staff. It's a really great opportunity for us here to work against a good football team, a team that does some things a little differently than we do. So schematically, that'll be good for us to experience and obviously a big challenge for us with the personnel, and the good fundamentals and techniques that they have with the Titans."
A year ago at this time, J.C. Jackson was just another unheralded, undrafted rookie trying to prove he belonged on an NFL squad with the Patriots. Not only did he end up making the 2018 team, he also later became an integral part of the New England defense, starting five of the 13 regular season games and one of three postseason contests in which he appeared at cornerback.
Jackson recorded three interceptions as a rookie, and had another one Wednesday during practice against the Titans which would likely have resulted in a touchdown if these were game conditions.
"That's what the coaches like to see – guys who can make plays and have fun out here," a smiling Jackson told reporters later. "You've got to step up your level of competition out there."
While the second-year man seems to have a secure spot on the roster this time around, Jackson maintains he's taking nothing for granted.
"Yeah, man. This year, I'm just trying to earn a job on the team like I did last year and give all I've got to help the team win.
"I feel a way lot more comfortable than I did last year, coming in as a rookie," he admitted. "It's slowed down for me a little this year, but I still have things to learn and craft. We're still working, still grinding out as a team."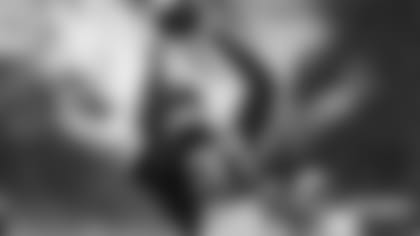 Buy: Marcus Cannon – Throughout this camp, New England's regular right tackle has been healthy and available at every practice, two things he hasn't been able to do in years past. An argument can be made that he's perhaps the most consistent Patriots o-lineman this summer.
Sell: Dan Skipper – On the other side of the line, it was a tough morning for the big left tackle. Sweltering conditions in Nashville seemed to take their toll on the 6-9, 325-pounder, who was unable to finish the session and needed to be carted off for treatment.
Play of the Day: During an 11-on-11 period with the Titans' offense, second-year CB J.C. Jackson picked off a Tennessee pass and raced more than half the field to the end zone with the football. It was a play that drew the most joyous reaction from Jackson's defensive teammates all day, and he even gave a high-five to the head coach afterward.