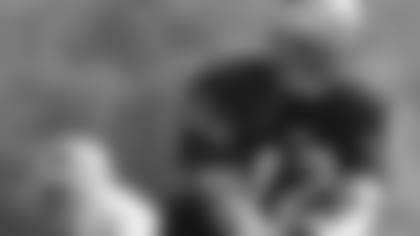 ]()Q**: Are you announcing your retirement today?
TB: Not after the way I looked out there today [laughter].
Q: Any chance of starting this year?
TB: I'm working towards that. It's tough competition this year. One thing about this year, there is a lot of depth and competition. I'm really excited to be back because I'm anxious to see how it plays out. We have a lot of new guys. The guys that walked out here yesterday afternoon, when we practiced yesterday and stretched and ran, I looked around and you don't know many guys. I think it's good for this training camp to get in there and see all the new faces and everyone is trying to play well to make this team. It's going to be tough to make this team.
Q: With Ted Johnson retiring and Tedy [Bruschi] not here for the season?
TB: Coach spoke to us last night and said every year that he's been a part of a team in the NFL for thirty years, there's been a lot of changes. This year for us, there have been more changes than we've been accustomed too. We lost some great leaders up and down the roster. I think a lot of guys that have come in need to take on leadership roles, especially the veterans. Guys like Chad Brown, Deion Branch, David Givens, Corey [Dillon] and for all the guys who are younger and getting older and the guys who are veterans and new to this team have to play bigger roles because we lost a lot of great leaders and great people.
Q: How is it not to have Charlie [Weis] out there?
TB: It seems a little bit more quiet out here [laughter]. Less swear words. It's different too. One thing with Charlie is you always knew where he was and what his expectations were. That's going to be missed too. More so than any other years, there's going to be some great challenges.
Q: Does it help you to refocus with all the challenges?
TB: Another thing that coach has mentioned is that he's going to tell us the truth. This team is like every other team in the league right now in that we are trying to be the best team we can be. It sounds like a cliché, but you know what, we haven't done anything. We've done absolute zero. It's our first practice hopefully out of 125. We are so far from the team we want to be at this point. At this point you have to go out and put good practices together. You look around out here today and you guys can see, there's not a lot great things going on. A lot of errant throws, bad decisions. Ultimately you have clean all that up and play at a higher level. Especially with the opening day team we're facing in Oakland, they have an excellent defense.
Q: Are you going to have more responsibility this year with Charlie gone?
TB: I have assumed more responsibility every year. Coach Belichick has become more comfortable in me as a player in my role as a veteran, captain and quarterback. That's continuing to grow. I'm more vocal this year than I've ever been before and I enjoy that part of it too. I'm always trying to encourage guys to do their best. When they play their best it helps me play better. We all kind of feed off each other. Deion Branch, the way he's come in through the off-season program and the mini-camps and now training camp, he's really building on what he did last year. That's going to be the same for David Givens. Hopefully we can get David Terrell into it. And Bethel [Johnson], P.K. [Sam], Troy [Brown], Tim Dwight. We really got some quality there. Everybody has to continue to grow. Especially, like I said, because we lost so many good guys too. Other guys are going to have to pick up the slack.
TB: I think the most important thing is for you to do your job. For me, I do my job, I play quarterback. I have to trust that those receivers will go out and do their job. I can't go out there and worry a certain guy won't run the right route or he'll run it wrong. I have to worry about doing the best job I can do as quarterback. So regardless of how things are affected and how other guys choose to go about their business, I ultimately have to be the best quarterback I can be on every play. If I don't do that we're all going to suffer because that's where it starts and I'm the one who has to really set the example.
Q: What do you think about the decision Richard Seymour has made?
TB: I love Richard. Richard's a great friend. He's done a ton for this organization. I'd love to see him. Hopefully we'll see Richard soon.
Q: Day one, is this a day you dread or are you all fired up and excited for it?
TB: I think for quarterbacks it's different. We don't mind it. We don't have to hit anybody. We just have to come out and throw the ball around. We were out there playing catch yesterday; it was a beautiful day and your sitting saying 'we're playing catch.' I don't think I mind it very much. I'm glad I'm back. This team is going to come together. It's more challenging this year than it's been for a while. Every team faces adversity and every year things change. For this team, we are old enough to deal with some things like losing a guy like Tedy Bruschi and Ted Johnson and guys we lost in the offseason.
Q: How did the conditioning run go yesterday?
TB: It went good. I actually ran it on Monday. We reported on Sunday. I felt pretty good. A lot of guys are in good shape.
Q: Is this offense going to be more dangerous with Ben [Watson]?
TB: Well Ben's played one game [laughter]. Ben has higher expectations than anyone on this field. In a lot of ways Ben's trying to understand his position and find a role. We have some good tight ends. Christian [Fauria], Dan Graham has been a starter the last two years. So Ben has to find a role. I don't know what Ben can do, I have only seen him play one game. Dan Graham won two Super Bowls and Christian won two. I know that position is pretty good and hopefully Ben adds to it.
Q: You think you'll get any easier cheers than you did today from the fans at the first day of training camp?
TB: It's pretty steady throughout. I'm just waiting for that first interception. We have great fans and you see the support.
Q: Are guys thinking repeat?
TB: I think its let's try to go out and try to practice well today. This team is so different than it was at the end of last year. We are so far from thinking about something like that. I love it when teams think like that because it just tells you where their minds are. Our thoughts are trying to go out this afternoon and get better because we didn't do very well this morning.
Q: Have you had a chance to speak with Coach Belichick about the vision of the team this year?
TB: We are always talking about that. We are trying to form an identity and see what this teams all about. Every team over the course of the year develops a certain character about it. Coach wants us to play smart, tough and discipline football. With so many guys coming into the mix that's ultimately what we would like to become but we have a long way to go.
Q: How's the offensive coordinator situation going to work? Are you going to be calling your own stuff? Is [wide receivers coach] [Brian] Daboll going to be involved? How's that all going to work?
TB: I think everyone's going to have a larger role. Coach Belichick going to have a larger role, I'm going to have a larger role, quarterback coach Josh McDaniels.
Q: Who's calling the plays bottom line?
TB: I'm not sure. Coach Belichick probably has a better idea than I do. But like I said my job is to play quarterback so whatever is called, I'm going to try to go out there and do the best I can.
Q: Do you want to call the plays?
TB: Honestly, in professional football these days it will be very difficult to do that because there's so much situational football right now. If I'm thinking about the next play then I run the previous play there will be a lot of second and third and longs. There are no good plays to call at that point. I think quarterbacks like to do it in the two-minute drills when you're in one or two formations and you have the same personnel grouping on the field. But it would be too tough to do.
Q: Can you see maybe experimenting in a little in the preseason calling your own plays?
TB: I'll ask Belichick about that, it sounds kind of fun [laughter]. I think you would probably learn a lot as a player doing that. You'll probably start thinking more like a coach. But like I said playing quarterback is hard enough, I don't need to take on more responsibility. I think the coaches do a great job coaching and my job is to play. However they decide to coach doesn't change my role. Ultimately, it doesn't matter who calls the plays, but I'm going to be the one out there snapping the ball. Every time the balls snapped there's never going to be a play that I don't want to run and I'm snapping the ball. I'll be in the best play we can be in hopefully ever snap.
A: With Doug Flutie out there do you ever say to yourself 'am I going to be playing football when I'm 42 years old?' Are you amazed by how long this guy has been going?
TB: Yeah. P.K. Sam was born in 1983 and Doug's first year was 1985 in the pros [laughter]. We were laughing about that today in the stretching line. He said he's going to play a couple of more years.
Q: Any nicknames for Flutie?
TB: I call him Dougy. I think everyone calls him Dougy. Flutes that's what Tim Dwight calls him.
Q: Do you expect to see Richard Seymour in camp?
TB: I hope so. We would love to have everyone here. Richard's a great person and teammate. Hopefully he's here. I can't control it. So I'm just going to worry about going out there and playing quarterback.
Q: What does the phrase "he got game" mean to you and who comes to mind first when you hear that?
TB: I just think it means he can play. He can hold his own out there. There are a lot of guys on the team who can do that.
Q: What about throughout the league?
TB: Peyton Manning probably.
Q: Is Josh McDaniels ready for the coordinator job?
TB: I have a lot of confidence in Josh. I have a lot of confidence in all our coaches. Josh has really done a great job. I have a lot of respect for him. He's a very mature guy for a 28 year-old. Like I said he's done a great job the last few years and if his role expands, it expands. But I don't know if anyone really knows at this point.
Q: With your contract extension signed, do you have some sense of relief?
TB: Yeah. There's no other place I'd rather be. This is the place I want to be for the rest of my career. Hopefully this team wants me here. I thought it was great. I was really excited. There are a lot of people who work really hard, Mr. Kraft, [Scott] Pioli, and Belichick. Every player that's really his dream. To be with one team. Where else would you rather be than here.
Q: Not that you didn't have plenty of dough before, but did you go out and buy yourself something to celebrate?
TB: I didn't buy a thing. I like those Super Bowl rings. You don't buy those. They are my favorite possession.
Q: This team has shown so much resilience but do you think this level of adversity this early in training camp is high as it's been since 2001?
TB: There have been quite a few changes. I don't know how they are going to deal with them. I don't think anyone knows. Speaking for myself, I'm just going to do the best I can do everyday. Whether Tedy [Bruschi], who's not here, that's not going to affect the way I play or Ted [Johnson] David Patten, Joe Andruzzi, Roman Phifer or Charlie [Weis] even. You can sit here and make excuses and say 'wow we're really going to have a hard time.' But you know what, times change. Every team is different from year to year. I have to continue to grow and improve or else I wouldn't be very happy about myself.
Q: Everybody is trying to identify the knockout blow to this team. Whether its losing Ty Law, injuries here and there, Lawyer Milloy leaves. No one has been able to identify it. Why has this team been so resilient when there have been so many things that could have cut you guys down at the knees?
TB: I think a lot of time the expectation is for the position and not for the player. Blue [Randall] Gay goes out there last year and plays Ty Law's spot. He's not trying to play like Ty Law, he's trying to go out and play like the best cornerback for the New England Patriots. He's playing the position, he's playing how he's coached. That why we've been able to substitute a lot of players in there. You might lose Ty, but Randall has got to go in there and play as well as Ty did. That goes for linebacker. We lost Tedy [Bruschi] and the mike linebacker now has to go out there and play like Tedy. That's his position. Not that he has to be Tedy. But each player has to come in and play the role. I don't have to play left tackle, I don't have to play running back. I just have to play quarterback. That's all we ask of every player, just play your position. Then you have to trust the other guys to do their job.
Q: What do you have to improve on this year?
TB: I threw 14 picks last year and that was way too many. Just be more accurate. I was around 50 percent last year. I'd like to get that up and then hopefully that leads to more wins. We went 14-2 back-to-back and those [are] pretty darn good records.