Q:** Do you think you silenced some critics with your two-minute play right away in overtime?
TB: I haven't turned the TV on in a week, so I don't know what anyone said. But it was good to win that game. It was a tough game. It always is against the Jets. It's nice to pull out a close one, so I'm glad we did that today.
Q: Was there anything different in those last two drives? It seemed a little more methodical.
TB: We executed better. I think that's what it is. It really wasn't our best day of execution in terms of assignments we have to nail those things down. A lot of those inconsistencies, you don't score points, and we didn't score as many as we needed to. And those last couple of drives, we moved the ball better. I wouldn't say they were great drives, but they were good enough.
Q: Regardless of the outcome, are you at wits end as to what the issues are with being able to be as efficient as you might want to be? Or do you know what the problems are?
TB: I think we know. We've just not doing a good enough job. So we all have to do a better job.
Q: The throw to Aaron Hernandez on the third down in overtime, why the back shoulder? Seems like a low percentage throw?
TB: You know, we talk about what we want to do in certain situations and Aaron happened to be in that position. At some point, it's going to be tight coverage and you've got to make a tough play and they're close and we've got to hit it. I think that's what it comes down to. I mean, it's not like guys are going to be open by five yards with that kind of time left on the clock, that important part of the game. It's close. They either make it or they don't – or we either make it or we don't, and we didn't.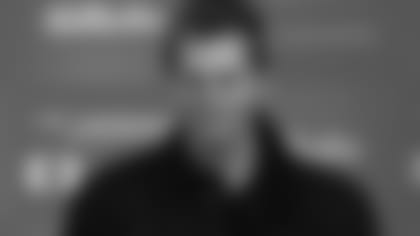 Q:** Even though it would be less stressful to win 35-0, how much do you like those two-minute situations that you've handled so many times in your career?
TB: I like them when the outcome is good and I like it when we execute well and there's a lot of satisfaction when we do the right thing. We did a good job of it when we needed to. I thought there were some good plays that the guys made. Everybody really contributed. We work on that situation all the time, so it's nice when you work on it and it pays off.
Q: Did you find yourself watching the defense on the sideline at the end, rather than sitting on the bench waiting for the next possession?
TB: Yeah, it's an interesting format. It's the first overtime where we've kicked a field goal and then you kind of wait and there's four downs for the other team. Their field goal kicker was making clutch kicks. We were kind of preparing to go back out there, and then Rob [Ninkovich] made a great play. Those are the kind of plays you need. If you want to win games, you've got to make plays and that's a great example of a game-winning play. We've all got to start making more of those.
Q: You had another chance late in the fourth quarter to close it out and it didn't happen again. Is it getting frustrating in those four-minute opportunities to not be able to close it out?
TB: Well, it was first and 10 and then we got a pass interference, and then it's first and 20 and then it's incomplete and then it's a run and then its third and 16. So that's not the way to play offensive football. I don't think there's going to be a high percentage playing that way. We can't really put ourselves in that situation. We've all got to do a better job executing our plays. There's no easy way out. It's not like there's a magic, special play that you save for those situations. It's about doing your job and doing a better job of it.
Q: What is this team learning about itself the last few games in the fourth quarter where you're living on the edge, win or lose?
TB: I think that's it: it comes down to a few plays. We had opportunities last week. We had opportunities against Baltimore. We had opportunities against the Cardinals. When you make the plays, you win the game. We're 4-3; we're in a decent position. We have the whole season ahead of us. We've been fighting injuries, like every team has. We play a very important game this weekend and then we get a bye, which will be good for this team.
Q: Does this team have the psychological makeup to be able to handle this kind of stress in the fourth quarter every week?
TB: I hope so. You know, I sure hope we do. That's part of our mental toughness and I think we're coached very hard and we prepare for tough situations. That's the kind of pressure our coach puts on us every day in practice to perform and perform consistently. It's not like in the seventh week of the year you have all the answers. You never really have all the answers. There's only one team that's really happy at the end of the year, and I think it's a building process and playing your best football at the most important times.
Q: What's your identity as an offense? Can you put your finger on it?
TB: It's tough to say. It's tough to say.
Q: Do you think that's a problem?
TB: I don't know. I'm sure if you asked teams and they said 'Yes,' it would probably change over the next nine weeks anyway. I think you continue to go do the things you're doing well. You'd love to figure those things out in spring camps, but it really doesn't play that way. You have some teams that you play and situations that you face and players that are healthy or not healthy, and schemes that you run. And you boil it down to what you're good at. It's only October.
Q: It would be nice to win 35-0, but what does it mean to win this way?
TB: It's nice to win the close games. It's nice to win when you're down 3 with 1:40 in the game. I think a lot of guys made a lot of really great plays to get us in that position. Steve [Gostkowski] had some huge kicks; Danny [Woodhead] made some plays; Brandon [Lloyd] made plays; Wes, of course makes plays; Gronk [Rob Gronkowski] made some big plays; Aaron made plays. When those guys contribute, it ends up being – you know, it's a nice win. I'm sure guys are going to have fun tonight.
Q: Is the side benefit to being in so many close games the simple fact that you come out of it with experience? To be able to remind the players that you guys have done it before, or to be able to get the taste of the last miss out of Gostkowski's mouth?
TB: Yeah. That's important. You're going to make some and you're going to miss some, you're going to complete some and you're going to throw some incompletions, and we're going to catch some and we're not going to catch some. We're building and hopefully we continue to get better. We played a team tonight that fought hard and we fought hard and it came down to the end.