Derrick Burgesstossed aside his shoulder pads and stepped confidently into a swarm of reporters waiting anxiously to talk to him.
After his first practice with his new team, the defensive end/outside linebacker flashed a wide grin several times when answering how he felt about being a New England Patriot.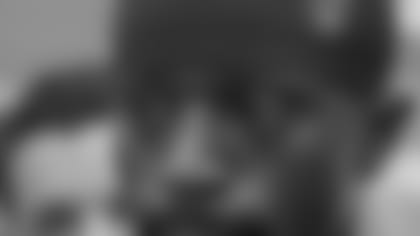 ]()"It means a lot," he said. "They're a good team. They play sound, fundamental football and play tough. The winning that goes on here, the attitude around here … it means a lot, because I'm big on winning ball games. And I'm ready to do whatever it takes."
What it might take is a lot of work on Burgess' part. Admittedly, he's coming into camp far behind some of the other players at his position, from a mental standpoint, at least. As far as his conditioning goes, Burgess insisted that wasn't a problem.
"I'm good. I work out in Mississippi, so … training camp doesn't get hotter than that."
The hardest part of his adjustment, he conceded, would be learning the plays in the Pats complex system. Burgess has limited experience in a 3-4 defense, the preferred formation for the Pats defense since Belichick arrived in 2000. But he said he's glad that that process has finally gotten started.
"I've got to catch up," Burgess professed. "I just want to be able to contribute. I'm here with New England, ready to work, trying to get better and learn what I can to help this team. That's it."
Who's Hot: *Jonathan Wilhite *
Not only is he back on the practice field, he's already establishing himself as a solid contender for a starting job at corner. Sunday, Wilhite made several nice defensive stops, and even a few plays on offense, as you'll see.
Who's Not: Benjamin Watson
On a day when several previously injured players returned to the field, Watson was again among the absentees. It's not been a good start to 2009 for the veteran tight end.
Play of the Day: Wilhite TD pass to Butler
To end practice, Belichick made things interesting. He had the offense and defense switch roles for a few plays on the goal line. A lap around both practice fields was on the line for the losing side. On one play, Wilhite was under center and was blitzed at the snap. He hurriedly tossed a prayer of a pass toward the right corner of the end zone, where rookie corner Darius Butlermade a circus catch for the score. It appeared from a distance (and with a slightly obstructed view) that Randy Moss was in coverage against Butler. Wilhite later scored on a botched play when he ran in a fumbled backwards pass from about 15 yards out.
Sunday Notes
Good news before practice even started, as several players who'd been injured for several days or hadn't practiced at all this summer were on the field Sunday. Ryan O'Callaghan, Myron Pryor, Richard Seymour, and Tully Banta-Cainreturned after several missing sessions, while Ty Warrenand Shawn Crable, coming off the PUP list, made their first appearances of training camp.
A number of other players, however, were absent from Sunday's practice, the 18th of this camp: Shawn Springs, Tedy Bruschi, George Bussey, Benjamin Watson, Le Kevin Smith, and Mike Wright. The remaining players on NFI /PUP remained on those lists – Brandon Tate(NFI), Rich Ohrnberger, and Mark LeVoir.
After having Friday afternoon, all day Saturday and Sunday morning off, the Patriots got back to business, practicing in full pads in front of a capacity crowd of fans in the bleachers.
Burgess got thrown right into the fire, seeing action in the full-squad offense-versus-defense series. His reputation seems to have preceded him. On his first attempt to get to the quarterback, the offensive line fought him off with a double-team. Burgess rotated in and out several times in his first practice with his new team.
Later, at the far end of the practice field, Burgess and the outside linebackers worked on a pass-rushing drill, in which cones were set up to simulate the edge of an offensive line. The 'backers had to turn the corner into the backfield and pick a towel up off the ground, to recreate a sack.
Special teams was a major focus of today's practice. Practice started with some situational work. The special teams units walked through their onside-kick and hands teams, as well as free kicks after a safety. The kickoff and punt teams saw extensive work throughout the afternoon.
Butler was beaten again by the combination of Tom Brady-to-Randy Moss. This time, during a full 11-on-11 session, Butler lined up one-on-one against Moss, who was flanked out to the right. Brady spotted the iso and lofted a perfect pass about 40 yards downfield to Moss, who'd beaten Butler by about a step. The ball dropped easily into Moss' hands and his momentum carried him out of bounds for the long gain.
ILB Paris Lenonwas seen walking off the field mid-way through practice with what appeared to be a leg injury. He was escorted by a team trainer.
In the full-squad action toward the end of practice, during a red zone series, Brady found Moss for a quick TD on the left side. He took the snap and took just a one-step drop before firing a bullet to Moss, just past the outstretched arms of cornerback Leigh Bodden.