]()After months of waiting and with the hot morning sun beating down on the fans gathered at Gillette Stadium, they finally appeared. Tom Brady, Corey Dillon, Tedy Bruschi and the rest of the New England Patriots took the field for the first time on Friday, as the team kicked off their 2006 training camp. In other words, football is back and for the Patriots, the road to another Super Bowl title starts now.
While it is a great day for Patriots fans, there was a black cloud hanging over the first practice. One player not present to help lead the Patriots down that difficult road to Miami was disgruntled receiver Deion Branch. Branch's absence doesn't come as a surprise. It was reported earlier in the week that he was going to hold out the start of training camp because Branch isn't happy with his current contract. The receiver is making his statement by not being on the field but the team is going to have an opportunity to make a statement of their own. According to the new collective bargaining agreement, the Patriots can fine Branch up to $14,000 for each day he's not at training camp.
Head Coach Bill Belichick wasn't interested in talking about Branch at his post-practice press conference.
"I'm here to talk about football," Belichick said. "I'm here to talk about the team and the players that are here this year."
Although Branch wasn't present, one player that did show up to camp was rookie running back Laurence Maroney. Because a lot of first-round draft picks are still in the process of signing, it wasn't certain if Maroney would be on the field when camp started. However, the rookie was signed on Friday and his coach was happy to see him participate with the rest of the team.
"It's good to see him out there because everyday he practices, he has a chance to get better," Belichick said. "It's a process and that process takes time. It's good to have him out there and have him working."
The Patriots worked on some position drills to open camp and then had the offense go up against the defense. At times, it looked more like a regular season game than the first day of practice.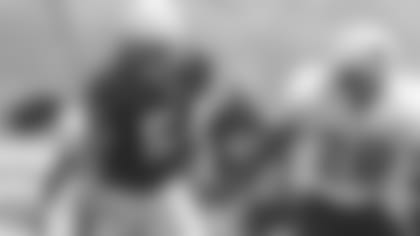 ]()On one play, linebacker Tedy Bruschi intercepted Brady by tipping the ball to himself. Instead of just stopping the play, Bruschi lateralled the ball to safety Artrell Hawkins, who was swung around by his jersey thanks to running back Corey Dillon. Hawkins and Dillon tapped each other on the helmet to show there were no hard feelings between the two. That play in a nutshell signaled that the summer was over and the team was getting back to business.
Belichick was happy to be getting back to work and appeared pleased with the effort shown by the team after their first practice.
"It's exciting to get back out to camp," he said. "We saw some things in the spring and we're hoping to build on that. The team has a good attitude and seems ready to work."
Who's Hot: David Thomas – The rookie tight end continues to build on the momentum he gained from rookie and veteran mini-camps by putting forth another impressive performance on Friday morning. Thomas is smooth in everything he does. He runs his routes crisply and catches everything thrown his way. Thomas made a couple of nice grabs on the first day of training camp when he reached out and sucked in balls that weren't perfectly thrown. Expect this rookie to get on the field and produce sooner than later.
Who's Not: Josh Miller – It's hard to pick a player who didn't look good during the first day of practice, so we'll throw someone under the bus who pretty much has a roster spot nailed down. Miller – who is one of the best punters in the NFL – shanked a couple of kicks but the feeling around here is he'll be okay once he works out the kinks. Seeing that the Patriots don't even have another punter currently on the roster, Miller shouldn't put his house on the market just yet, despite his slow start to camp.
Play of the Practice – This was an easy choice. While Bruschi's interception generated a buzz, no play got a bigger applause from the crowd than Reche' Caldwell's diving reception from Brady. The Pro Bowl quarterback lofted a pass down the sideline but at first glance, it appeared that he overthrew his intended target. However, Caldwell laid out for the ball and made a tremendous catch, beating cornerback Ellis Hobbs and inducing a raucous cheer from the crowd.
Roster Rumblings
A day before training camp opened, the Patriots front office was busy making a number of transactions. The team placed the following players on the physically unable to perform list: WR Bam Childress, CB Randall Gay, S Rodney Harrison, WR Chad Jackson, T Nick Kaczur, C Dan Koppen, RB Patrick Pass, LS Lonie Paxton, DL Richard Seymour and DL Johnathan Sullivan. In the past, some players have been put on the PUP list after failing the conditioning run but Belichick wouldn't specify as to why any of the players weren't at practice. Anyone that is put on PUP can be activated from the list at any point during training camp and begin practicing with the team immediately.
The Patriots also re-signed linebacker Chad Brown and reached agreements with exclusive rights free agent offensive linemen Billy Yates and Gene Mruczkowski. To get down to the mandatory 80-man roster limit (not counting exemptions for NFL Europe players), the team released linebacker Ryan Claridge and undrafted rookie defensive end Kader Drame.
Yates and Mruczkowski add depth to an offensive line that may all of a sudden have health concerns entering the season. Yates will battle for a spot at guard, while Mruczkowski is versatile enough to play both guard and center.
Brown started five games at inside linebacker for the Patriots in 2005. He struggled in the Patriots 3-4 system and will most likely be moved back to his more natural position as an edge-rusher on the outside. His 78 sacks rank him first in the NFL among active linebackers with former Patriot Willie McGinest. The 14-year veteran will have to earn a roster spot in training camp but having experience playing both inside and outside should help his cause.
The biggest shock may have been the release of Claridge. The second-year player out of UNLV missed his entire rookie season because of a shoulder injury. Many thought he had a decent shot at making the roster this year because the Patriots lack depth at inside linebacker. The team, however, obviously had other ideas because the 250-pound Claridge never even made it to training camp.
"We felt like it was in the best interest of the team," Belichick said in regards to releasing Claridge. "We had other players competitively that were ahead of him on the depth chart."
T-Buck back in the mixSafety Tebucky Jones is very excited to be back in New England playing with the Patriots again.
"I grew up in this area and I'm glad to be back," Jones said. "It's nice to be close to home and have another chance to win a championship. I'm looking to play, go the playoffs and win a Super Bowl."
While Jones is excited to be a Patriot again, the nine-year veteran isn't enthused about starting another training camp. When asked what was good about starting training camp, Jones joked, "There's nothing good about training camp, especially for a veteran. I hate training camp. The one good thing is the conditioning test is the hardest thing and that's over with. Once you get past that, training camp is a breeze."
Jones may have enjoyed joking about his disdain for training camp but he's serious about being back in New England and helping the team win another Super Bowl trophy.
"It's all about winning here and that's what I'm about," he said. "They do things differently here and Miami than they do in New Orleans. I would have probably had about 90 tackles already playing free safety with the Saints. It's just good to be back. I'm excited about the upcoming season."
· Besides the players put on the PUP list, others who missed the first day of training camp were WR Troy Brown, TE Daniel Graham and FB Garrett Mills.
· The team continued making moves to the roster Friday morning by cutting safety Jarvis Herring and signing tight end Walter Rasby. The veteran tight end has played with the Steelers, Panthers, Lions, Saints and Redskins over his 11-year NFL career. Rasby – who will wear No. 88 – is known more for his blocking skills than he is catching the football.
· Chad Brown took over his old number, 98, which previously belonged to linebacker Barry Gardner. Gardner, who was signed by the Patriots this offseason, is now wearing No. 47. Brown spent the entire practice lined up at outside linebacker.
· John Stone was working with the special teams while the rest of the receivers were doing blocking drills. This may mean that Stone has set himself apart from some of the other receivers when it comes to contributing as a kick returner.
· When the team first lined up on defense, Guss Scott and Artrell Hawkins were at safety, while Ellis Hobbs and Eugene Wilson manned the corners. Jarvis Green filled in for Richard Seymour at defensive end. The second unit on defense featured Eric Alexander at inside linebacker, Mike Wright at defensive end and rookie LeKevin Smith at nose tackle.
· Rich Musinski showed some nice hands at receiver. At 5-11 and 210 pounds, the former Division 1-AA star is on the small side but he runs excellent routes and catches the ball very well.
· When the team did its running back drills, Corey Dillon was the first to take carries, followed by Kevin Faulk and Laurence Maroney.
· Faulk was the only player to return punts today. That is a little different from mini-camp, where as many as eight players were seen returning punts.
· Cornerback Asante Samuel made a nice play stepping in front of a pass intended for receiver Michael McGrew and almost returning it the other way for a touchdown.
· Practice ended with both Martin Gramatica and Stephen Gostkowski attempting field goals. Both looked pretty good but Belichick said they still have a long way to go. "You don't evaluate players on one play or one practice," he said. "You evaluate them on consistency and performance. It's way too early to say one guy is ahead of the other."