Absent since the first practice of camp at the end of last month, linebacker Tedy Bruschireturned to action Sunday afternoon.
"It was just … you get a little bit older and you've gotta mend some aches and some pains. That's why it took longer for me to get out here," the 14-year veteran explained to reporters after practice.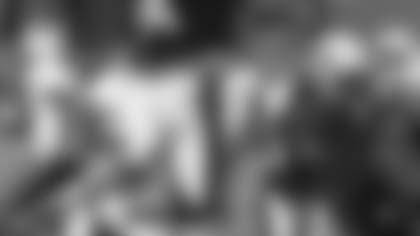 ]()"But I'm feeling better now and hopefully I can get back to work."
Admittedly, Bruschi has a lot of catching up to do.
"Yeah, absolutely," he continued. "If I can quote my coach, 'Practice execution equals game reality.' So, you don't really get that look or get that rep until you're out here on the practice field. You're feeling a little behind because you've haven't been out here for so long. You get in the meeting room and watch the film and hope you don't become an error repeater. That's something I haven't been in a while, so hopefully, I can fix the problems I had today."
When Bruschi's defensive teammates took the field against the Philadelphia Eagles last Thursday, they lined up in a 4-3 – an unfamiliar look for a Bill Belichickdefense. But Bruschi feels that the change, even if it's not permanent, will be an advantage for the Pats going forward.
"Well, everyone around the league always looks at us as unpredictable," he reasoned. "You never really know what we're going to bring to the table. So, 4-3, 3-4, 5-2 … whatever numbers you want to put out there … is it possible for us to do it? I think it is because of the guys that are multi-talented along our front. Any front that we play week to week is for our opponents to guess."
How, if at all, does a switch to the 4-3 (in which there is one fewer middle linebacker than in a 3-4 alignment) impact Bruschi's role on the defense?
"We're not sure," he responded. "We're in training camp right now. Roles are being defined. I know we have a lot of good inside linebackers. Gary Guyton, Jerod Mayo. Every year, I have to come in and establish a role for myself on this team. This year is no different."
Who's Hot: Joey Galloway
After a less-than-stellar debut against the Eagles last Thursday, Galloway stepped up his game in practice Sunday afternoon, making several impressive catches throughout the session.
Who's Not: Logan Mankins and Rich Ohrnberger
Weather did these big guys in big-time. At different times during the latter portion of practice, both players had to receive emergency attention from the team's medical staff for what appeared to be heat exhaustion. The two offensive linemen were carted off the field and back inside for further treatment.
Play of the Day: *Meriweather INT
*Safety Brandon Meriweathercontinues his hot streak. He picked off yet another Tom Bradypass during 11-on-11 action. After a play-action fake, Brady dropped back into the pocket and surveyed the field. He finally decided on a relatively short pass to Julian Edleman, who thought he'd found a soft spot in the zone on the right hash. But Meriweather read Brady's eyes all the way and stepped in from the right side to make the interception.
In addition to Bruschi, LS Nathan Hodel, who didn't play against the Eagles, was back in uniform Sunday for the team's 23rd practice this summer.
CB Jonathan Wilhitewas at practice as well, although he reverted to wearing the red, no-contact jersey that he's sported in a recent practice.
The list of missing players was a long one: P Chris Hanson, WR Shun White, CB Shawn Springs, RB Sammy Morris, CB Mike Richardson, LB Paris Lenon, WR Wes Welker(who didn't play in Thursday's game against Philadelphia), TE Benjamin Watson, TE Tyson DeVree, and DL Mike Wright. The remaining players on NFI /PUP remained on those lists – Brandon Tate(NFI) and Mark LeVoir.
In the always entertaining linebackers-vs-running backs/tight ends pass rushing drill, the defense had the decided advantage on this day. Adalius Thomassimply overpowered Alex Smithto get to the quarterback. Pierre Woodsdid the same against David Thomas. Chris Baker, however, used great leverage to drive Derrick Burgessaway from the pocket.
The corners and wide receivers went one-on-one at the same time as the LBs and RBs/TEs. WR Randy Mossmade a beautiful one-handed grab along the right sideline after beating CB Terrence Wheatleyby a step. Wheatley made up a few plays later by breaking up a deep ball intended for Terrence Nunn.
While the skill position players were running through their 7-on-7 paces on one field, the guys in the trenches were duking it out on the other. Some titanic individual battles were being waged between the offensive and defensive lineman, as well as the tight ends and outside linebackers as the latter fought to rush the passer.
Brady looked like he had WR Greg Lewisdeep down the right sideline during 11-on-11 action, after Lewis had beaten rookie corner Darius Butler. However, Butler's speed allowed him to catch up and then break up the pass as it hit Lewis in the hands.
Butler again had Lewis' number when the offense moved into the red zone. Lewis appeared open for a moment in the end zone, so rookie QB Brian Hoyerrifled a pass his way. But Butler dove in front of Lewis to slap the ball down.
Not to be outdone was cornerback Leigh Bodden, who made a great effort to break up a pass across the middle intended for Lewis. QB Kevin O'Connellspotted Lewis streaking left-to-right about 10 yards from the line of scrimmage. Lewis seemed to have a half-step lead on Bodden, who extended at just the right moment to bat the ball away.
During red zone work, Brady, while under center, called an audible, changing the play to a shotgun formation. He took the snap and drifted to his left, looking for an open receiver. The defense had the field covered though, forcing Brady to try to run for the end zone. DL Richard Seymour and a few other blue shirts converged on him, however, forcing Brady to turn and reverse direction. The whistle then blew to bring the play to a halt – a win for the defense.