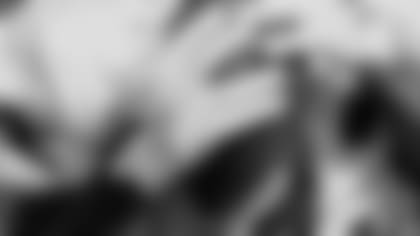 ]()The Patriots returned to the Gillette Stadium practice fields Saturday morning for a second day of double sessions under sunny, hot conditions in front of a large crowd. And while the team was still working without key players such as Deion Branch (holdout Day 2), Richard Seymour (one of 10 players on PUP) and Benjamin Watson (undisclosed), there was certainly an improved level of intensity, crispness and energy as New England kicked off the second day of training camp action with a two-hour session in full pads.
The workout included plenty of work with the first units on both sides of the ball going head to head, matchups that helped lead to some pretty good banging especially along the interior line. The offense also battled back from a tough first day (a Friday that was so bad it earned a full-unit punishment lap) with a far more precise morning workout. Few balls hit the ground in the passing game as the quarterbacks and receivers where sharp, while running backs Corey Dillon, Laurence Maroney and Kevin Faulk all had strong practices carrying the ball on the ground.
The defense also had some highlights of its own, most led by linebacker Tedy Bruschi. Bruschi made a handful of his usual big plays, although none was more noteworthy than his hit on rookie running back Maroney on a screen pass that left the top pick on the ground, dislodged from the football. Both players laughed off the big hit after practice, although it's the second straight day the defensive leader has laid into the talented youngster.
"I was due for one," Maroney said with a smile after Saturday's de-cleating. "You hear everybody wants to hit the first-rounder so it was just a matter of time before I got hit. It probably won't be the last time he hits me either so I'll just get used to it."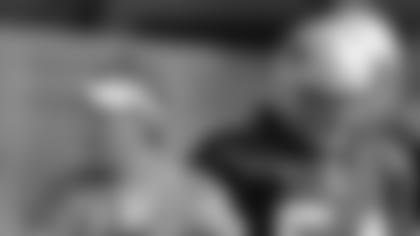 ]()In the end, though, Saturday's second day of double sessions, a second day filled with both good things and bad things, has the Patriots right where they and every other NFL team should be at this point – in the early stages of a long march toward eventually being ready for the regular season and building together to form the best team possible. And as trying and up and down as training camp may be at times, it's also the most necessary of all evils.
"It's a long march," head coach Belichick said in his morning press conference, "there is no way to short cut it."
The march appeared, for one morning practice at least, to take a small step forward on Saturday.
Who's Hot: Tedy Bruschi – The veteran linebacker is taking part in his first training camp in two years and he's flying around the football practice field with his usual, Pro Bowl-caliber reckless abandon. Bruschi made a number of impressive plays in both the running and passing games Saturday morning including a bit hit knocking rookie running back Laurence Maroney off his feet on a screen pass in the backfield. On another play he showed his usual good football instincts, scraping quickly to stop Corey Dillon on an outside run. Mr. Full Tilt, Full Time appears to be in midseason form in the early going.
Who's Not: Marquise Hill – This is supposed to be Hill's time to shine, especially with the extra reps left with Richard Seymour starting cap on PUP. But Hill limped off the field with a doctor during the morning session and did not return. The former 2004 second round pick can ill afford an injury setback as he once again attempts of make a name for himself and carve out some sort of a role with the team in his third NFL season.
Play of the Practice: Bruschi's hit on Maroney coming out of the backfield drew the attention of teammates, fans and the media alike. The hit, knocking Maroney off his feet and dislodging the ball, came on a screen pass that Bruschi read perfectly allowing him to land a heavy shoulder into the unsuspecting rookie running back.
--Veteran receiver Troy Brown once again sat out the morning session, although he jogged out onto the field at the end of the workout and spoke with the media after practice. Also jogging out for the conclusion of practice were Watson, Chad Jackson and a handful of others.
--In addition to Branch and the 10 players on PUP, Troy Brown, Watson, and Garrett Mills missed the morning session.
--Boston College head football coach Tom O'Brien took in the morning session and spent time before the practice chatting with Belichick.
--The battle of the kickers continues, but neither player has created much of a separation as of yet. Veteran Martin Gramatica has been more consistent in his field goal and PAT work, but his kickoffs are generally low line drives that would be very returnable in a game situation. Rookie Stephen Gostkowski has struggled in the early going to find consistency in just about every area of kicking, but clearly has the stronger leg.
--The team worked on kick returns in both group and team segments. Players getting a chance to return kickoffs included John Stone, Willie Andrews, Reche Caldwell, Maroney, Faulk and Ellis Hobbs. Andrews, the team's seventh-round pick as a cornerback out of Baylor, has shown the most energy and quickness of any of the returners in the early going as he works to carve out a role for himself on special teams.
--Fullback Heath Evans barreled over rookie tight end David Thomas during a rather difficult special teams drill. Thomas was working as a would-be kick return blocker in the drill running back toward his return man to set up and block. Evans served as the scout coverage guy, but unlike in a game where there would be a 10-yard buffer between the two units Evans was running right behind Thomas. When Thomas turned to set and block, Evans ran right through the rookie.
--Despite being the smallest of New England's backs, Faulk had a very nice inside run during a full-contact drill focused on the running game that included the front seven starters on both sides of the ball.
--With Brown, Branch and second-round pick Jackson all out, Tom Brady's first unit of receivers in one team drill consisted of Caldwell and Stone.
--Eugene Wilson continues to work as a cornerback with the first-group of secondary players that includes Asante Samuel at the other corner spot and James Sanders and Artrell Hawkins at safety.
--Rookies Corey Bramlet and Dan Stevenson, veteran offensive line coach Dante Scarnecchia and offensive coordinator Josh McDaniels ran full-field sprints in the heat after the close of the workout.
--Bruschi sounded very Belichickian in his description when asked how the young players and new faces where fitting in on defense at this early stage. "So far they are doing OK. But OK is OK."
--Maroney may be taking big hits from Bruschi and working hard to learn a complex NFL offense, but so far he's found that the toughest part of camp is far more basic than any of that. So what's the hardest thing he's faced. "Getting up in the morning and being here all day," Maroney said with a smile while looking back on his life not long ago that included far more free time and sleep than his training camp schedule allows.
--Belichick joked about the number of reps that Thomas has received thanks to the fact that projected starters Daniel Graham and Watson have both been out of action. "We know he's in good shape," Belichick said considering all the plays Thomas has taken part in over his first two days of NFL camp.
--Belichick continued to decline to talk about Branch's contract holdout once again saying, "I'll talk about the players that are here."
--The team will return to the practice field for a Saturday evening session at 5:30 p.m.