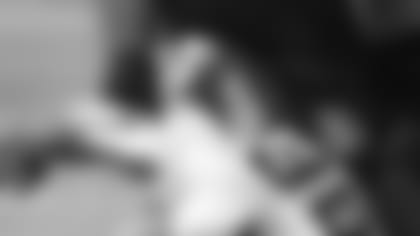 ]()For the first time of camp the Patriots practiced just once on Sunday, but that didn't mean the fans didn't get their money's worth. Even if camp admission wasn't free, and even without the team's resident intensity machine Tedy Bruschi out of uniform, it was still an entertaining workout.
Bruschi was not in uniform (neither was Tom Brady as both were likely given veteran days off) but that didn't mean the hitting took a day off. Bill Belichick said the team was in the midst of some situational work with red zone and two-minute drills on the docket, and the offense looked sharp at times.
Operating with Matt Cassel in charge, the unit had the edge during a red zone seven-on-seven drill. John Stone enjoyed a nice afternoon by catching several balls near the sidelines, and Kevin Faulk was his usual sure-handed self out of the backfield.
Later the emphasis turned to the running game with down-and-distance work.Corey Dillon, who has been quiet thus far in camp, got more work and turned in a few solid runs. The contact was evident and Dillon seemed to be irked on more than one occasion when a defensive back lowered a shoulder near the end of a run. Asante Samuel caught him once, and Artrell Hawkins did so on another occasion. Ellis Hobbs also wasn't afraid to make his presence felt, drawing Dillon's ire with an attempt to force a fumble.
"We stepped it up a little bit today," Hawkins said with a laugh. "With Corey, you can't trust Corey. Corey will run you over. Whenever Corey has the ball and he's running toward you, you always want to bow your back. Of course you're not going to take him to the ground or anything, but it's all in fun, competitive spirit. There's no ill intent involved."
Dillon, for his part, seemed to enjoy the up tempo nature of the workout and spent several minutes talking to the media after practice.
"My motto for the whole year, and I can't give you the definition, but it's NFA," Dillon said. "You guys try to figure it out. NFA – that's my motto for the whole year. This is serious business, and I'm just out here trying to help the team win. Being in the greatest shape possible and tackle the season."
Who's hot: Dillon – The veteran running back appeared to have an extra jump in his step, particularly on one sweep where he caught the edge and turned up field for a sizable gain. The emphasis had mostly been on the passing game thus far until today and Dillon hadn't stood out much. Perhaps he was waiting for some hard-nosed running drills to make his presence felt.
Who's not: Tully Banta Cain – The young outside linebacker has an opportunity to earn the first significant playing time of his career but he seems to draw the wrath of Belichick at least once a practice. During a red zone passing drill, Banta-Cain was covering tight endBenjamin Watson and was beaten for about a 10-yard completion. But he compounded his error by quitting early on the play and then watched helplessly as Watson made a quick turn back to the inside and raced untouched into the end zone for the touchdown – and then received an earful from the head coach.
Play of the day: Blitz pickup drills generally bring out the intensity and Sunday afternoon's practice was no exception. A pair of rookies hooked up for one memorable rep – first-round pick Laurence Maroney and undrafted free agent linebacker Corey Mays. The two met head on with the crack of the pads echoing through the practice fields. Maroney held his own and fought his way to a stalemate before the two remained locked up and eventually wrestled each other to the ground. The large crowd roared its approval as Maroney's helmet bounced off his head. It appeared the drill could end with some contentiousness, but the two slapped hands when they returned to their feet.
RookieStephen Gostkowski addressed the media for the first time of camp. He and Martin Gramatica are engaged in a battle to replace Adam Vinatieri, but most of their work on Sunday came on kickoffs. As was the case in mini-camp, Gostkowski's appeared to travel higher in the air than Gramatica's but in terms of distance they were comparable. The two did manage to squeeze in some field goals at the end of practice.
"It's always good to make your last kick," Gostkowski said. You're only as good as your last kick so I feel good about that."
Rookie fifth-round pick Ryan O'Callaghan alternated with Brandon Gorin at right tackle with the first group with Nick Kaczur still on PUP. … Maroney didn't fare as well on one of his reps against Larry Izzo during the blitz pickup drill. Izzo gave the rookie a quick spin move and Maroney was forced to reach out and grab the veteran. The obvious holding violation even brought out at least would-be zebra from the crowd who yelled, "That's holding, rookie." … Rookie David Thomas continued his strong early showing, making several catches during the practice. Thomas' highlight came during a seven-on-seven red zone drill in which he slipped down the seam wide open for an easy touchdown from Cassel. … In addition to Brady, Bruschi and the 10 players on PUP, Daniel Graham, Reche Caldwell, Garrett Mills, Michael McGrew, Jarvis Green and Marquise Hill did not practice. Hill appeared to injure his ankle during Saturday's morning workout and hasn't suited up since. … The Patriots will return to double sessions on Monday with practice times set for 9 a.m.-10:30 a.m. and 2:30 p.m.-4:30 p.m.