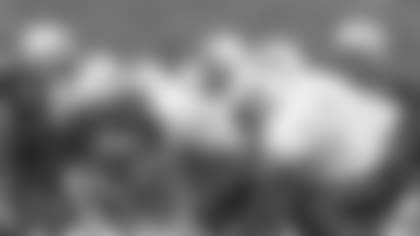 ]()It's amazing how quickly the grind of training camp can set in for players and coaches alike. Just five days in, the searing heat and taxing two-a-day schedule have combined to put the Patriots in the dog days already.
But Tuesday morning's practice, which was devoted to the running game, featured the highlight of camp for both the players and the fans: a goal line drill.
There's nothing fancy about this camp staple, which generally brings out loads of enthusiasm from the players every summer. First-team offense lines up at the 2-yard line and tries to find the end zone against the first-team defense. Unlike most of the drills during camp, the play isn't over until the ball carrier winds up on the ground. And on Tuesday, most of the time that happened before the ball wound up in the end zone.
"This is a good process for out team to go through," Bill Belichick said. "Building mental toughness is all part of the grind. We had a real good session with the running game and goal line stuff and we had a good contact period there on the goal line at the end."
The drill consisted of six plays – three each for the first and second units. The offense featured a three-tight end look with Benjamin Watson,David Thomas and Walter Rasby, plus fullback Heath Evans blocking for Corey Dillon. Up front, with Matt Light again getting the day off, Brandon Gorin (left tackle) joinedLogan Mankins, Russ Hochstein and Stephen Neal while Wesley Britt and Ryan O'Callaghan rotated at right tackle.
Dillon tried his luck over right guard on the first play and was stuffed for no gain, much to the delight of a defense playing without key starters Richard Seymour(PUP) and Tedy Bruschi (unknown). Ty Warren, Vince Wilfork, Le Kevin Smith and Mike Wright lined up in front of linebackers Mike Vrabel, Rosevelt Colvin, Don Davis andBarry Gardner. Larry Izzo, Chad Scott and Tebucky Jones manned the edges in the goal line look.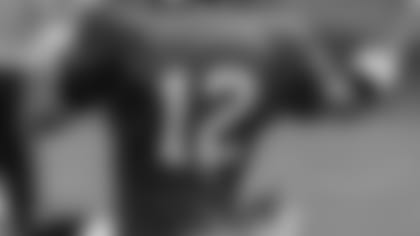 ]()On the next play Tom Brady, who returned to work after sitting out the last three practices, executed a nice play-action fake but still couldn't find an open receiver. Watson tried to get free cutting across the middle near the back line of the end zone but couldn't, and then Brady looked to the outside but that option was covered as well. At that point, the coaches blew the whistle to prevent what surely would have been a sack.
Finally the offense enjoyed some success – barely. Dillon tried his luck on the left side and just nudged the ball across the plane before losing it in a pile.
"We definitely have to do a better job than that," Hochstein said after practice. "We're just trying to get our reps in at this point, but we want to be able to run the ball in when we get down there and we have to make sure we're coming away with seven [points] and not three."
When the second units came in, the defense's dominance grew. Rookie Laurence Maroney tried his luck three times and never sniffed the end zone.
"Hopefully it looks as good on film as we thought it did out there," Colvin said. "You definitely take some pride in holding them out, but we'll have to see what it all looks like when we watch later."
Who's hot: Le Kevin Smith – The rookie sixth-round pick received a few pats on the back from his teammates (Vince Wilfork in particular) during the goal line drill and seems to be taking advantage of his opportunities with several defensive linemen out of action. He's played inside as Wilfork's backup, as well as next to him in occasional four-man fronts and hasn't looked out of place.
Who's not: Eric Warfield – It's not as if Warfield has played poorly, he just hasn't played much with any of the top groups. For an eight-year veteran, that can't be a good sign. Warfield said he's had a tough time picking up the system, but there have been days when the Patriots have used two and three sets of corners without him getting any reps.
Play of the practice: The best was saved for last during the goal line drill when rookie linebacker Freddie Roach buried fellow rookie Maroney on the final play. Running off tackle to the right, Maroney tried to cut it up inside only to met with a strong shoulder from Roach that stopped him in his tracks. Roach had been relatively quiet until that point, but his hit was one of the biggest of camp thus far.
With Deion Branch's holdout reaching Day 5, Brady apparently is getting antsy about the possibility of not having his favorite target this season. In a story that appeared on SI.com, Brady said, "Deion is the most important player on our offense. When I look at the elite receivers in the game, he is second to nobody. He doesn't get a lot of credit, because we do spread the ball around here, and he doesn't feel a need to promote himself like so many guys at that position. But he is that good."
When apprised of those comments, Belichick was asked if he felt uncomfortable that the quarterback would make such a public appeal.
"I understand there's a relationship between players," he said. "Who are the players you would think would be important to a quarterback? Safeties? Every player's important to me. Every single one of them."
Chad Jackson and Bam Childress returned from the physically unable to perform list and took part in their first workouts of camp. The receivers were welcome additions to a group that has been short on numbers with Branch out and Troy Brown getting another day off.
The coach wasn't overly impressed with Jackson's work, however. "He didn't do much," the coach said when asked how the rookie looked in his first practice. "I hope he'll do more in the coming days. He's seven practices behind everybody else at this point, so today was a first step, but I'd say a small step."
While Martin Gramatica got most if not all of the reps yesterday, rookie Stephen Gostkowski got his chance on Tuesday and delivered. He handled all of the kickoffs during a special teams segment in the middle of practice, and then connected on all seven of his field goals to close the workout. The kicks ranged in distance from roughly 30-43 yards. … In addition to Light, Bruschi and Brown, Daniel Graham, Garrett Mills, Marquise Hill and Jarvis Green also missed practice. …. The team worked on onside kicks briefly before stretching. When practice began, coach Brad Seely had Gostkowski drill low liners into the front wall after having the kickoff unit shift into an alignment that appeared to prepare for an onside kick. … The defense used a dime package for a segment with Ellis Hobbs,Eugene Wilson, Artrell Hawkins, James Sanders, Chad Scott and Asante Samuel serving as defensive backs. … Tonight's practice is set for 6:30 p.m. and will be held inside the stadium. The workout is a ticketed event and is open to season-ticket holders and Foxborough residents only.