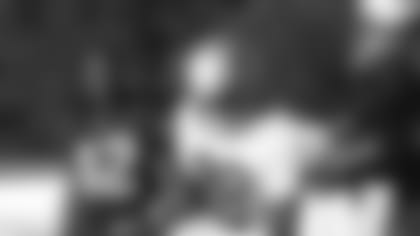 ]()After spending much of the morning workout focusing on the running game, the Patriots returned to the practice fields behind Gillette Stadium Wednesday evening for a two-hour session in shorts, shells and helmets that focused more on the passing game on both sides of the ball.
One of the more interesting aspects of the passing workout on the offensive side of the ball was the fact that it included rookie cornerback-turned-wide-receiver Willie Andrews. After spending Wednesday's morning session working primarily as a scout team receiver, the seventh-round pick took the practice field in a new, white No. 38 jersey, signifying his switch to the offensive side of the ball.
Andrews then spent the entire workout with the rest of the wide receivers, working through a variety of individual, group and team drills. After showing solid elusiveness, energy and ball skills through the early part of camp as a returner on both kickoffs and punts, Andrews now appears to be getting a shot to earn a role on New England's exceptionally thin receiving corps. Andrews even caught a few passes against coverage, including his first in seven-on-seven from backup Matt Cassel. He then worked as an outside receiver in team sets, with Troy Brown lined up next to him in the slot.
The passing workout also included the return of Tom Brady, who sat out the morning practice. Brady wasn't exactly sharp in the practice struggling to hook up with Brown on a number of occasions while also missing a variety of other targets, some wide open, throughout the practice.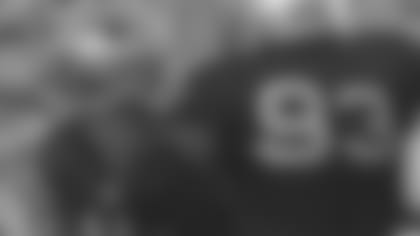 ]()Cassel wasn't much better leading the second unit on a team drive late in practice and neither quarterback was able to get his group into the end zone in the segment.
The offense then had first-and-goal from the 1-yard line later in the workout. Corey Dillon was "stuffed" for no gain on the first play after which Brady spiked the ball to stop the clock. Brady then missed a wide-open Walter Rasby after a play-action fake, choosing to throw to a covered target on third down. He made up for the mistake on the next play, this time hitting an again wide-open Rasby in the left side of the end zone. Brady then hit Brown for another score on a latter goal-to-go play.
Near the end of practice the focus on the goal line turned to the punt team, as Bill Belichick called for a punt with the ball on the kicking team's own 1-yard line. Josh Miller got off a solid punt, despite the limited room with which he had to work.
Before ending the workout, Belichick pulled out a camp tradition making a deal with the team that if Vince Wilfork could catch a punt from Miller, the players would not have to do any running at the end of practice nor attended the usual nightly meetings. Adding a new twist to the wager, the 325-pound Wilfork had to catch the punt while already holding another ball in his hands. Wilfork got a little pre-punt advice from returnerEllis Hobbs. And Miller certainly didn't make it easy on the nose tackle, kicking the ball into the end zone. But Wilfork retreated and caught the ball with his lone free hand, much to the delight of his teammates and fans. Players and fans both got to go home happy.
Who's hot: Ryan O'Callaghan – The rookie has taken control of the right tackle spot with the first unit, while Nick Kaczur has yet to step on the field. He's looked solid in both practice and game reps and could be well on his way to getting the opening day nod whether Kaczur ever returns to action or not.
Who's not: Tom Brady – Brady looked a little rusty after getting the morning off, failing to connect with receivers on a variety of routes throughout the workout. He overthrew a number of targets, had balls tipped at the line, bounced one off a crossing defender and simply wasn't his dependable self at almost any point during the session. At one point he was left alone on the far end of the field with his helmet off and his hands on his hips, while Cassel led the second unit.
Play of the practice: The defense worked the old tip drill on a Cassel pass intended for Bam Childress that was tipped first by Randall Gay, deflected through the receiver's hands and then landed in Don Davis' grip for the interception. The veteran linebacker then returned the ball down the left sideline for a potential defensive score.
Friendly Matt-chup
Former USC teammates Cassel and Matt Leinart are expected to both see action Saturday night at Gillette Stadium. Leinart became the final first-round pick to sign when the 10th overall picked finally inked his deal with the Cardinals this week. Despite just getting into camp, he'll make his pro debut against the Patriots.
After serving as the backup for Heisman Trophy winners Leinart and Carson Palmer with the Trojans, Cassel will now face his former football roommate in a different type of battle. Cassel spoke with Leinart about his new deal and the two crossing paths on Saturday.
"It will be fun. It will be exciting," Cassel said of the QB reunion. "I actually talked to him yesterday. He's excited about getting into camp and getting going. I am sure he'll be out there playing a little bit and he's a friend of mine so it will be fun and interesting all at the same time."
With Leinart's first-round contract now signed, including a potential of more than $50 million and $14 million in guaranteed money, Cassel also joked that maybe Leinart could help the Patriots backup and 2005 seventh-round pick out if he needed assistance with a car payment or other bills. Joking aside, Saturday night Cassel will again likely be competing against Leinart only this time it's not for the same starting job as was the case back in the day at USC.
"I definitely don't want to lose to him, that's for sure," Cassel said of the bottom line.
Word upPatriots outside linebacker Rosevelt Colvin, always willing to share his thoughts with the New England media, has brought a new spin to his recent post practice chats. Colvin has decided he will use a special new word each day as he conducts his interviews.
Wednesday's word was matriculate.
"We are going to try to do a word a day. I used it already but it wasn't really a big crowd. So today's word of the day is matriculate," Colvin said, even using the word in a sentence. "We have to continue to matriculate towards our goal and hopefully on game day it shows up."
Film doctorTy Warren is only a fourth-year player, but he's already considered one of the veteran voices along a young and talented New England defensive line. As such he's taken to helping out young defensive lineman as much as he can, something guys like Anthony Pleasant did for him not long ago.
One of the aspects of the game that Warren helps young linemen with is watching film. The former first-round pick says that one of the biggest things young players have to learn is that there is a difference between just watching film and breaking it down to get something out of it.
"Basically that's what you are doing when is just watching film as a rookie, unless you are some Doogie Howser," Warren said, referencing the TV show about a teen prodigy M.D. "For the most part you are just looking at it."
Notes:A now obvious precursor to his end of practice heroics, Wilfork took a turn returning a Miller punt in pre-practice work. Wilfork caught the kick calmly and cleanly, drawing a round of applause from both the crowd and his teammates. … After sitting out the morning workout, Brady, Richard Seymour, Brown, Benjamin Watson, Miller and Martin Gramatica took part in the evening workout. … Chad Brown, Tedy Bruschi (wrist), Chad Jackson, Monty Beisel, Patrick Pass (PUP), Nick Kaczur (PUP), Deion Branch (holdout), Freddie Roach, Rodney Harrison, Marquise Hill, Jarvis Green, Matt Light and John Stone were all absent from the workout. … Left tackle and line leader Matt Light is happy with the way the offensive line has been developing in training camp, but knows tough veteran coach Dante Scarnecchia certainly won't let the group rest on its summer laurels. "I think we are carrying a lot of guys right now that know the system and are in tune with what we are trying to do," Light said. "I think we have a lot of depth. I think we have some guys that are coming back from injuries that I think are going to be able to step in here pretty soon and I think we all feel pretty good with where we are at right now. But you know with Dante here I am sure we are going to continue to work hard and press." … On the other side of the ball, Warren says the talented young defensive front feels no added pressure with the lack of depth working behind it at linebacker. "We always feel the sense of urgency up front because everything starts up front whether it be the defensive line or the offensive line," Warren said. "It starts with us up front. So we always take it on our shoulders to feel that sense of urgency to do our jobs." … Former Patriots offensive lineman Pat Downey, now a coach with the Philadelphia Soul of the Arena League, took in the morning workout and chatted with some of his former teammates. … The grounds crew did a fine job re-lining the practice fields between workouts. … The team will return to the field for the final public practice of training camp 2006 Thursday afternoon from 2:30-4:30.