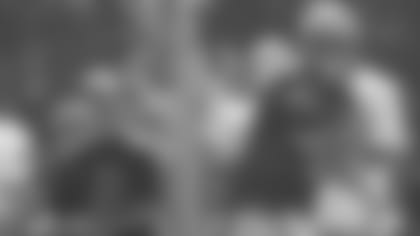 ]()There wasn't a cloud in the sky, and the sun shown brightly on the practice field behind Gillette Stadium, but absences overshadowed the team's play a bit during the Patriots Wednesday morning practice session.
Tom Brady, Benjamin Watson, Troy Brown andRichard Seymour were among the notables who didn't practice.
Matt Cassel certainly noticed the absences. He took the majority of snaps in Brady's stead, and looked like he was trying to take the reins early on. He threw nice passes to Keron Henry, Garrett Mills and Bam Childress during warm-ups, and led the first-string offense in some team work focused on the running game following the stretch.
Cassel tried to start on a high note, barking adjustments and pointing out defenders in a Brady-like display before handing it to Corey Dillon, who got stuffed at the line of scrimmage. Bill Belichick gave the offense a talking to shortly there after.
Whatever he told them worked, because Dillon and the line broke one open two plays later, followed by Laurence Maroney, who broke two in the drill, and Kevin Faulk who found space to run in his first carry of the practice as well.
Assuming Cassel has heard the criticism about his inconsistency in Friday's game, he probably felt some pressure to perform in this morning's practice, but he admitted he wants to improve every week, "whether I'm 20-for-20 passes or 16-for-32."
At any rate, he threw a number of nice passes Wednesday morning, connecting with David Thomas frequently in live team drills and seven-on-seven. He even fired the ball into the chest of Willie Andrews, who worked as a scout team receiver several times.
Overall, he looked more comfortable in the pocket, and released the ball in time more often, rather than hanging on to it too long as he had during Brady's last training camp hiatus.
"It's always great to get in there with the ones, and get rolling in there and just kind of see where you're at," said Cassel. "I'm sure [Brady] will be back tonight."
Belichick confirmed Brady's impending return to practice, saying "I think you'll be seeing Tom fairly soon. Let's put it that way."
The defense continued to work on a 4-3 defense today. With four-time Pro Bowler Richard Seymour out, the front line was often Ty Warren, Vince Wilfork, Mike Wright and Jarvis Green. Barry Gardner played middle linebacker, with Mike Vrabel and Rosevelt Colvin in the outside spots.
When they switched into the 3-4, it was Wilfork, Warren and Green up front, with Vrabel bumping to the other inside linebacker position next to Gardner, and Tully Banta-Cain joining Colvin at outside linebacker.
With Monty Beisel missing another practice, Gardner has spent a lot of time with the ones so far this week.
"Barry's one of those players that, in the spring, came in and picked up our system pretty quickly," said Belichick in his press conference. "I think he's a smart player and can handle a number of different responsibilities, and has some versatility. He's gotten an opportunity here to play a bit more, because other players have been out. He's taken advantage of that opportunity, and used that time to improve and become a more consistent player and execute our system a little bit better. I'm sure the extra repetitions have helped him.
"He did a decent job against Atlanta. There were some things he hadn't seen or hadn't seen a lot of that he could have played a little better. Now that we've had a little more chance to work on those things, hopefully that will continue to improve. But I think he's done a nice job. He showed up in the kicking game, and he showed up defensively with some production. So, I think there have been some positive things from Barry."
Punter Josh Miller and kicker Martin Gramatica missed practice as well. Without Gramatica to compete with, rookie Steven Gostkowski took every kick of the morning session, making three in a row during warm-ups. He boomed four kick-offs in practice, all of which fell into the end zone. Gostkowski took eight more kicks at the end of practice, the last two going wide right, closing out practice on a bad note.
Who's hot: Willie Andrews – After putting in a solid effort as a returner in the Falcons game, Andrews has shown his willingness to help the team in the last two days, playing scout team receiver. Andrews goes hard on every play, and fought for every pass thrown to him today. He caught all three in traffic, and at least one was in double coverage. One was a flat route, and the other two were slants. His last catch of practice, a deep slant through the middle, ended with Andrews coming down flat on his back in the dirt, but he doesn't mind getting knocked around a bit.
Who's not: Johnathan Sullivan – Sullivan continues to look sluggish. He had to run a lap during the beginning of practice for jumping offside. What made it worse was that Eddie Freeman had to run one after him, and Freeman caught up to Sullivan on his way around the field. Later in practice, Sullivan limped out of a drill, clutching at his left ankle.
Play of the day: In a scout team play, Reche Caldwell came around for a reverse, which turned into a very nice pass. Artrell Hawkins timed the play well, and got the jump on Caldwell's receiver, intercepting the ball in the open field.
Caldwell seems to be doing his best to learn the offense. He rarely leaves receivers coach Brian Daboll's side when not in the drill. … Center Dan Koppen was seen going full speed in a pass blocking drill; Ryan O'Callaghan also put in a strong effort in the drill, keeping his feet moving and staying with the block. O'Callaghan has been running with the ones at right tackle. … Eugene Wilson took reps at safety with the first group alongside Hawkins.