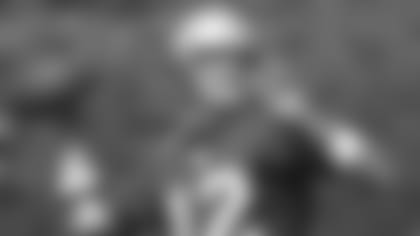 ]()One word can easily describe the Patriots Wednesday practice: Hot. With temperatures exceeding 100 degrees both on and off the field, the Patriots players battled through the sauna-like heat to complete their tenth practice of training camp. However, judging by the sweat-drenched players slowly walking off the field, this was probably the most difficult one to complete up to this point.
The offense looked a little sluggish today. Tom Brady overthrew some receivers and there were more than a few dropped balls. Other than a couple of exceptions, the defense has had the upper hand so far in training camp.
Brady met with the media after practice and addressed his comments to Sports Illustrated regarding Deion Branch's holdout.
"I think it has maybe got overblown a bit," Brady said. "When you build a relationship with someone for a long time, a quarterback-receiver relationship, it's a little different. He's one of my favorite guys. That's what I think. Sometimes when I speak, maybe I do get a little emotional about things but I love Deion. I love him as a person and as a player."
As usual, there were some prominent players who missed practice. Asante Samuel, Tedy Bruschi, Monty Beisel, Jarvis Green, Marquise Hill, Matt Shelton and rookie running back Laurence Maroney eluded the oppressive heat at Gillette Stadium on Wednesday. As Bill Belichick reiterated at his press conference today, players who are not at practice continue to be day-to-day.
The team worked a lot on red zone drills and kick returns. Corey Dillon and Kevin Faulk took most of the carries with Maroney being out and both backs looked quick through the hole. Andrews is always the first player on kickoff returns and he continues to impress with his speed and quickness.
Belichick noted the heat at his press conference but said his team has to be prepared to play in any situation.
"The games that are scheduled, we have to play, so I don't know what those conditions will be," Belichick said. "Some will be hot. Some will be cold. Some will be windy. We have to play through it. I don't think we want to take any undue risks. But our players are well-conditioned athletes and they've trained and we're going to practice."
Just Chillin' Corey DillonCorey Dillon plays the game of football hard and he usually carries that same demeanor off the field. Never one to hold daily court with the media, the ten-year veteran actually talked to reporters two days in a row this week. His message? He's having fun.
"I'm having fun out here," Dillon said. "Why wouldn't I be? I have had a great career and not matter what happens from here on in, I can hold my head up high."
There were concerns about how Dillon would react to the Patriots drafting Laurence Maroney in the first round. However, if the first few days of training camp are any indicator, the two are not only getting along but have become close friends.
After Maroney finished talking to the media on Tuesday, he came over and jumped on Dillon's back. Then the rookie grabbed a reporter's microphone and pretended to interview his mentor. After getting some laughs, the two running backs walked off the field together.
"He's a cool dude, a really cool dude," Maroney said of Dillon. "He's fun to be around. I can learn a lot from him."
While Dillon may be taking a more relaxed approach off the field, it appears he's been working hard in the weight room. The 235-pound bulldozer showed up to mini-camp in tremendous shape. Closing in on his 32nd birthday – an age where running backs start to slow down – Dillon said his goal this offseason was to get leaner and stronger.
"You've got to be cognizant of that stuff," Dillon said. "The heavier you get, the more problems you tend to have. This offseason I worked on getting my weight down and cutting my body fat. Hopefully, it will work out."
Belichick said at his press conference that he isn't worried about Dillon's age at this point in the season.
"He's 31, not 41," Belichick said. "Age is a concern for a player at that position, but what happens in their career depends on the individual player. I go on what I see. That's the only way I can do it, is just go on what I see. If the player can play, and he can help you and he can still do his job, then he is valuable to us. If he can't, it really doesn't matter if he is 21, 31 or 41. Then you need to try to upgrade that spot. Corey still looks pretty good to me."
Who's Hot: Barry Gardner – With Bruschi and Beisel both out, Gardner continues to get the majority of reps at inside linebacker. The team is very thin on the inside and they're waiting for a dependable backup to emerge in training camp. Gardner may be that guy. He hasn't seen extensive playing time since 2000 but he has something that the other players he's battling with don't: experience. Gardner has started 28 games in his career at inside linebacker, which ranks him second on the team behind Bruschi.
Who's Not: Nobody – Who's not going to be hot in over 100-degree heat? It's hard to criticize anyone who was on the field practicing today. Any player out there battling through that vicious heat needs to be commended. Everyone practiced hard and gave it their all so for one day, we'll leave this section blank.
Play of the Practice – Brady and receiver Reche Caldwell continue to be on the same page. In a red zone drill, Brady zipped a ball to Caldwell, who reached up over cornerback Vernell Brown and hauled it in for a touchdown. If Caldwell looks as good in the regular season as he does in training camp, he's going to make New England fans ask, "David who?"
Camp Notes- LeKevin Smith lined up at defensive tackle next to Vince Wilfork when the team ran a 4-3 defense.
When the Patriots ran their goal line nickel package, safety James Sanders moved to linebacker.
In order to give the players a break from the heat, Belichick called for a water break in the middle of practice. The coach did, however, make the team run wind sprints before they called it a day.
Speaking of wind sprints, offensive line coach Dante Scarnecchia ran his usual 50-yard sprints after practice, ignoring the sweltering heat. Scarnecchia may be in the best shape of anybody out there, including the players. The guy proved today that he's animal when it comes to conditioning.