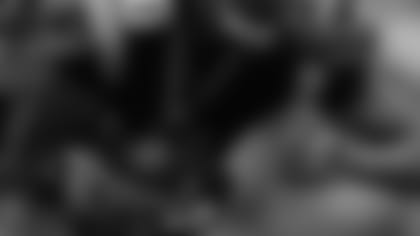 ]()After four years with the Houston Texans, wide receiver Jabar Gaffney joined the Patriots in 2006 as a free agent. Now in his second year in New England, he is part of a talented group of wide receivers that has helped power the Patriots to 16-0. This season Gaffney has 36 receptions for an average of 12.5 yards per catch, but his most notable reception of the year came on an 8-yard toss from Tom Brady. With 44 seconds to go and the Patriots trailing the Baltimore Ravens by three points, Gaffney managed to keep both feet in bounds to score the game-winning touchdown.
The Florida native sat down recently with us to talk about the catch, Boston winters, and America's Next Top Model.
Your father, Derrick Gaffney, played wide receiver for eight years in the NFL. What was it like growing up with a dad in the NFL? I was always around football; watching it, watching his games, watching tapes of him and all of that kind of stuff. He taught me everything I know about football.
Did you think you were going to be a football player when you were growing up? I liked all sports - basketball, baseball - I actually thought I was going to be a basketball player until my 11th grade year. That's when I really started to get serious about football and I knew that was the direction I wanted to go in.
As a Florida native, how have you been handling the New England winters? It's not as bad as I thought it was, coming from Florida. I kind of got a little used to it. Every now and then it hurts a little bit when it gets down in the 20s and stuff, but other than that, it's OK.
In 2002, you were the second player ever drafted by the Houston Texans. What was it like to play for an expansion team so early in its development? It was fun and also it was frustrating. In high school, I only lost two games the whole time I was there, and in college we were winning every week, so it was kind of hard getting used to dealing with losing. That was the main frustration.
This might be an obvious one, but what's your most memorable reception? (laughs) Yeah, that Baltimore catch at the last second...When I was playing little games growing up, I always wanted to be in that situation.
What's your most embarrassing football moment? I was in Houston and I got a reverse. I was going in to score and I was trying to celebrate. The ball came out and it went through the back of the end zone and it ended up being a touchback instead of a touchdown.
What's in your locker? Clothes, shoes, soap, deodorant and a brush.
Do you have a pre-game ritual? I listen to different music. There are a couple of different songs I listen to every week, and then always, right before I go out, I always listen to Phil Collins' "In the Air Tonight." That's the last thing I hear before I go on the field.
Are you a big dominoes player? Yeah, you've got be able to play dominoes around here.
What's your favorite way to spend a day off? [Being] at home, watching movies and playing video games.
What's your dream car? Growing up I always wanted a Porsche 911 Turbo. That's something I always wanted.
What's your favorite meal? Domino's pizza. I love that.
What's your favorite TV show? Family Guy.
What's your favorite movie? Troy.
What's your favorite video game? Call of Duty 4.
If I could meet one person it would be...Bill Gates, so I could get some advice from him,maybe (laughs). I'm hoping to do some things like he's doing.
If I was stranded on a desert island the one thing I would want is... Probably my Xbox 360.
If I weren't playing football, I would be... Playing basketball.
If I got another tattoo tomorrow, it would be...My son's name (Jackson), and I'm expecting a daughter, so I would get something with both of their names.
Out of everyone in the locker room, who would win...
Dancing With the Stars? Probably Kelley Washington.
American Idol? Wes Welker.
Survivor? I'd have to go with [Tom] Brady.
America's Next Top Model? Ellis [Hobbs] (laughs).
Top Chef? I'll go with one of the big guys, probably [Matt] Light.