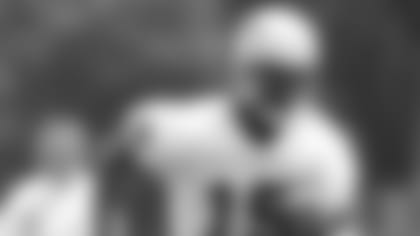 ]()The Patriots were extremely active this offseason, especially when it came to upgrading the wide receiver position. After trading for Wes Welker and signing Donte' Stallworth, New England continued to add targets for Tom Brady by inking Stallworth's former college teammate at Tennessee, Kelley Washington.
On the surface, this doesn't look like a major signing. In four years with the Bengals, Washington only caught 72 passes and has played in just 12 games over the last two seasons due to hamstring problems. However, Washington has shown a knack for making the big play with nine of his 72 receptions going for touchdowns.
Looking for a fresh start, Washington feels New England is a perfect fit for him because of its recent success and team-first mentality.
"I believe the Patriots are just a great dynasty," Washington said. "I feel the system that they run there fits me perfectly and just the whole mentality there is all about team. I want to be a part of an organization who has dedicated themselves on winning. You can't pass up being coached by Coach Belichick and getting balls thrown to you by Tom Brady. When it all came down to the pros and cons, New England was definitely my decision by far."
Washington and Stallworth were a formidable tandem at Tennessee when Stallworth was a junior and Washington a freshman. At 22-years old, Washington wasn't your typical college freshman. He came to Tennessee after playing four years of minor league baseball in the Florida Marlins organization. Washington and Stallworth spent only one year together with the Volunteers and while it's been reported they weren't the closest of friends during their time in college, they'll once again line up as teammates with the Patriots.
Washington downplayed any problems the two might have had in the past, instead praising Stallworth's abilities as a receiver.
"We have a great relationship," he said. "I see Donte' all the time in the offseason down in South Florida, and again, we played together at the University of Tennessee. We've done a lot of great things collegiately and here in the NFL. I'm happy for Donte' and I'm sure he's happy for me. It's great to be teamed back up with Donte' who is just a great, explosive receiver. I'm just looking forward to it just because I know what he adds on the football field and he's a very exciting player."
While Stallworth has shined in the NFL, Washington didn't make much of an impact in Cincinnati. After catching a career-high 31 passes for 378 yards in 2004, he's only totaled 19 receptions since. The Bengals originally drafted Washington to be their third receiver behind starters Chad Johnson and T.J. Houshmandzadeh but Chris Henry beat him out for that role before the 2005 season.
Even though Washington was buried on the Bengals depth chart, he found another way to contribute and help his team. According to a source in Cincinnati who has followed the Bengals for years, Washington spent the summer after the 2005 season working on special teams once it was evident he wasn't going to see a lot of playing time at receiver.
"This is a hard working kid and he took his demotion like a man," the source said. "He never complained or sulked about it. Instead, he devoted the entire offseason learning how to play special teams. He had never played on special teams before but Kelley wanted to get on the field and help his team any way he could. When he approached Coach Lewis, Kelley was told to work on being a gunner and before he was injured last year, he was the best gunner on the team. That's the kind of work ethic he has."
Washington wasn't told specifically if he'll continue to contribute on special teams for the Patriots but he was quick to point out that most of the players in New England have more than one role on the team.
"You look at the personnel there at the Patriots, there are guys there who do anything to win and that's something that if that is what they want me to do, that's what I'm going to do," Washington said about playing special teams. "I'm going to go in there and bust my tail, work special teams, work on the offensive side of the ball, just do whatever to help the team win. That's my whole mentality and I believe I started that mentality at a young age. There are a lot of guys up there who have different roles and they fulfill that role and it's all about team up there. That's what's so special about the Patriots."
Washington, Stallworth, Welker and Randy Moss - combined with holdovers Reche Caldwell, Jabar Gaffney and Chad Jackson - gives the Patriots one of the most dangerous receiving corps in the NFL. That doesn't even include Troy Brown, who hasn't made a decision on his future as of yet. One thing's for sure, there's going to be a number of talented receivers battling for playing time during training camp. A challenge Washington is looking forward to.
"I think playing football this long and being a part of sports all of my life, sports is all about competing and that is just going to make the team even better," he said "That's going to make the receivers even better knowing that if you don't get on that field and play, you're going to have to go out there and compete with other receivers. That's what it's all about. I'm looking forward to the challenge. I know I'm going to come in and be a team player and really work my tail off to be the best receiver for the Patriots that I can be."