]()Richard Seymour** strutted onto the practice fields behind Gillette Stadium, flashed a smile and a wave to nearby fans and drew a round of applause. Just like that, all was forgotten.
Seymour, who certainly handled his training camp holdout as professionally as one could, missed the first six practices of camp before reporting Tuesday night and joining the team on field Wednesday afternoon, presumably after passing the team's conditioning test.
Seymour walked around with his helmet off in the early portion of practice before participating in his first position drill at 3:11 p.m. and then taking his place on the defensive line during full-team work.
"It's a definite blessing to be back," Seymour said. "It was a rough road, but I'm happy to be back. I definitely had the support of my teammates and a lot of fans so I just want to thank everybody for supporting me. I would never talk about my contract publicly. We felt strongly about that.
"I have some rust on right now. It's good to be back in training camp to knock some of that rust off. I'm in pretty good shape, but I still have to get in football shape."
While Seymour joined his teammates in the hot, humid conditions to do just that, quarterback Tom Brady, who celebrated his 28th birthday, wore a cutoff T-shirt and short sweatpants having been given the practice off.
Pockets of fans sang Happy Birthday to the Patriots quarterback, including a group from the Cape Cod Boys and Girls Club positioned directly in fromt of the media tent. The full team also huddled together so that the Patriots rookies could also sing Happy Birthday to Brady.
Situations continued to be a focus the workout, which was held in shoulder pad shells, helmets and shorts. Before the full team portion of practice, there were some interesting one-on-one battles with linebackers and safeties taking on tight ends and running backs while the corners battled the wideouts.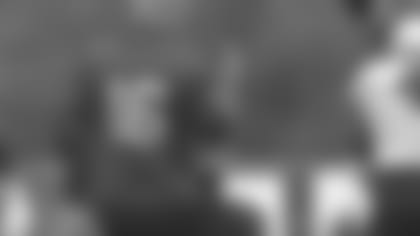 ]()Rookie tight end Andy Stokes had a couple of drops during the drill while Christian Fauria made a great leaping catch on a perfectly thrown pass from rookie quarterback Matt Cassel, who has been the sharpest of the reserve quarterbacks in camp, at least through a layman's eyes.
Cassel also showed excellent touch throwing to a well-covered Corey Dillon over the top of linebacker Chad Brown. Dillon made a nice one-handed catch on the play.
Eugene Baker made a nice double move to get free against Eugene Wilson in the wideouts vs. corner work while Tyrone Poole picked off a Rohan Davey pass intended for David Givens. Tim Dwight again looked shaky catching the ball early in practice, but settled in later in the session as he continues shaking off the rust and working back into football shape after starting camp on PUP. He caught a nice TD pass from Doug Flutie during 7-on-7 work.
Special teams received some significant attention during Wednesday's practice with the outside vice guys looking to keep the clamps on the gunners off the line of scrimmage while the NFL officials on hand policed the action. Dexter Reid and Chad Scott excelled during the drill.
Troy Brown hasn't worked much returning punts in camp but was back deep on Wednesday along with Kevin Faulk and Dwight.
While the returners and the coverage return team was working on one field, another group worked on punt blocks with a blue pad set up for players to land on.
Head CoachBill Belichick spoke earlier in the day about many of the problems his team had in Tuesday night's practice that leave it a long way from where it needs to be and some of those problems showed up again Wednesday. The passing game has been unable to establish any consistency in camp and again looked out of rhythm.
Whether because of errant throws, miscommunications, good coverage, dropped passes or poor timing, the passing offense just isn't clicking yet. Brady sitting out the practice didn't help matters, but even the Patriots starter has shown some frustration during camp's opening week with some of the throws he's made, or more accurately, hasn't made.
The play of the day came during full-team work when Cassel tried to go over the top of cornerback Hank Poteat to wideout Jason Anderson. Poteat had excellent coverage and broke up the pass, which was then intercepted by rookie safety James Sanders in the end zone. Cassel later hooked up with Anderson for a touchdown in the red zone when he rolled right and fired back slightly to the left for the score.
Other notes: The Patriots worked in the no-huddle offense briefly and spent time working specific down and distance situations. …The entire offense and defense had to run a lap during team work for some unknown indiscretions. … Defensive linemen Santonio Thomas, Marquise Hill and Ty Warren; wideouts Cedric James, P.K. Sam and Bethel Johnson; running back Chad Morton; tight ends Daniel Graham and Benjamin Watson; and Brady all sat out the workout. … The first players on the practice field were kicker Robbie Gould, punter Rhett Kopp and Cassel. … Boston College head football coach Tom O'Brien took in the practice along with assistant athletic director for football operations and former Northeastern coach Barry Gallup. PFW's Andy Hart reported no geese flyovers.