INDIANAPOLIS - While cornerback was an area that needed help last year, it still surprised most observers that the Patriots took one with their first pick in the 2010 NFL Draft.
Turned out to be a good move, though, as rookie Devin McCourtyhad a Pro Bowl season. So, while the team may still have more pressing needs in other areas, cornerback shouldn't be overlooked, especially considering that New England owns three picks in the first 33 overall.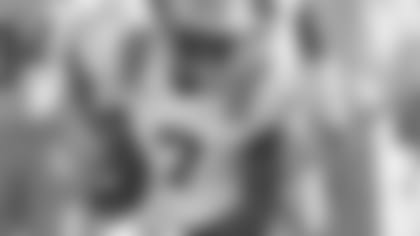 The players considered the cream of this year's corner crop - LSU underclassman Patrick Peterson(6-1, 222) and Prince Amukamara(6-0, 205) of Nebraska - will likely be gone when the Patriots' first pick comes around at 17. There are plenty of other options from which they can choose later in the first round and beyond.
Miami's Brandon Harris(5-11, 195) is another underclassman to consider. Like McCourty, Harris has a reputation for being not only a cover corner, but a physical one who enjoys getting involved in run stuffing.
"You have to tackle as well as you can cover... playing the outside corner position and busting inside in the nickel on certain packages and coming off the edge to blitz the quarterback and stick your nose in the run game. As a DB, that's a quality you have to have in the NFL," he proclaimed.
"Being a smaller cornerback, it helps me to come from a system like Miami where I was able to be aggressive and physical against those bigger receivers that don't expect guys my size to be able to do. I can run with the best of them. When I am able to use my footwork and put my hands on guys, that's something that guys are impressed by when they see me do that being I'm not 6-foot or 6-1."
Harris also cited his versatility as a strength.
"At Miami, they played me in the slot a lot and I also played outside. I was able to move around and make a lot of plays. Being able to blitz from the outside and cover guys man-to-man in the slot, I was able to do a lot things that they wanted me to do.
Character issues have followed Jimmy Smith(6-2, 210) throughout his Colorado career, but that hasn't affected his self-confidence, with which he is brimming. He told reporters at the Combine that he admired Nnamdi Asomugha, but that he felt he had better ball skills than the Raiders' All-Pro corner.
"I'm a big, athletic, physical corner, I love to press, I have great speed, great size, great ball skills. I'm a shutdown corner," he declared with a smile.
Smith's size makes him a tempting prospect, as it does Brandon Burton(6-0, 190) of Utah. But that's not all.
"I'd say my technique and my field awareness. Just being smart on the field, that's probably my best attribute," added Burton, who's also a fan of press coverage, which is mostly what was called for in Utah's scheme.
Burton is a burner, too. Having competed in the Junior Olympics, he once ran a personal best of just under 21 seconds in the 200-meter dash. Don't mistake him for simply a finesse player, however.
"I feel like there's a knock sometimes on college corners and even at the pro level, that they're not physical, and I'm not going to shy away from that at all," he insisted.
Burton cited film study as another key to his game, but perhaps no player in this group has gone to more lengths to learn from watching film than Virginia Tech's Rashad Carmichael(5-10, 190). He actually cancelled his cable TV service so he could dedicate more time to film study.
He was turned onto the importance of film study by former Hokie teammate and current Chiefs defensive back Brandon Flowers.
"[He] came to me and said the thing that separates good corners and great corners is the amount of film they watch. I took that to heart. I cut my cable off that day and I went and got my old Virginia Tech film from years and years and other corners from different teams across the country that I liked and I just started watching man. When you put film on, whether I'm watching or not, I've always got football on."
Ras-I Dowling(6-2, 200) of Virginia is another big-bodied corner to consider. His knee and ankle injuries limited him at the Senior Bowl, but he said he intends to perform all the activities here in Indianapolis.
With their connection to Will Muschamp, Texas corners Curtis Brown(6-0, 185) and Chykie Brown(6-0, 195) could be in the mix for New England. Muschamp, the former defensive coordinator and Texas and now the head coach of Florida, is a coach for whom Bill Belichick has the utmost respect. Belichick has praised Muschamp often for his ability to teach fundamentals to his defenders.