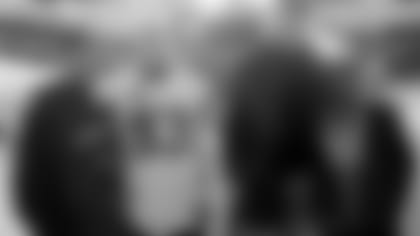 ]()On Saturday, October 31, dreams came true for six youth at Gillette Stadium. When Patriots Chairman and CEO Robert Kraft and his family, along with QB Tom Brady, WR Wes Welker, head coach Bill Belichick and the entire New England Patriots team heard from the Make a Wish foundation that six youth had selected meeting the Patriots as their 'wish,' they were willing participants in the special day.
Eleven year-old Christopher Hatton from Round Lake, Ill.; fifteen year-old Domingo Claudio from Patterson, N.J.; fifteen year-old James Stewart from Elmont, N.Y.; sixteen year-old Fernely Acosta from Worcester, Mass. and seventeen year-old Melody Simmons from Rochester, N.Y. selected meeting Tom Brady as their wish, while eighteen year-old Michael Moffee from Elmira, N.Y. selected meeting Wes Welker as his wish. They each received their wish and more.
The teenagers, who are battling life-threatening illnesses, flew in with their families compliments of the Make a Wish Foundation and arrived at Gillette Stadium in style in a stretch limo. They shopped in the Patriots ProShop where they picked up official Patriots gear for the occasion. The real fun began after the shopping spree, when they met Tom Brady's father, Tom Brady Sr. and his mother, Galynn Brady, while waiting to meet their son. Just then, the gates opened and the group took the field watching the conclusion of the Patriot's Saturday walk-through with wide eyes.
"There are no words for this," said James Stewart's father with his arm around his son. The families immediately caught Brady and Welker's attention and the Patriots stars jogged over to greet them. Each 'wisher' was quickly surrounded by the entire team, which warmly welcomed them. There were smiles and laughter all around. Stewart was noted for his hip handshake, and Simmons beamed as she met her hero.
"I became a Patriots fan ten years ago and it stuck," said Simmons, for whom Saturday marked the one-year anniversary of her bone marrow transplant.
Coach Bill Belichick joined the players in greeting the teenagers as did Chairman and CEO Robert Kraft and Dan Kraft, who sat on the Make a Wish Board of Directors for six year and continues to be a big supporter of the organization. When one of the family members asked Tom to score a touchdown on Sunday , Kraft joked, "Just one? Ask him to score more than one!" Several Kraft family members were also in attendance, encouraging the Make a Wish families to kick field goals and enjoy the field.
After meeting the entire team, Brady and Welker spent some one-on-one time with each of the "wishers' and presented them with gift bags complete with personalized jerseys, footballs and more compliments of the New England Patriots Charitable Foundation.
Following their time with the team, the families were treated to dinner at CBS Scene in Patriot Place, and enjoyed the rest of their afternoon visiting The Hall at Patriot Place presented by Raytheon. They then took their limo back to their hotel and readied for the Patriots-Vikings game the following day where they appeared on the stadium's video boards. With the memories safely stored away and documented with pictures galore, it was surely a day that will be remembered by the 'wishers' and their families.