Lawrence Guy couldn't believe his eyes when he saw the shopping carts of the 11 young adults he surprised with a shopping spree at Dick's Sporting Goods.
The New England Patriots defensive lineman and his wife, Andrea, had given each adolescent from the Dorchester Boxing Power and Fitness gym $300 to buy whatever they wanted from the Dedham store. They filled their carriages with gym bags and training apparel, but before the group went to cash out, Lawrence gave them one more requirement.
"None of you got yourself a new pair of sneakers?" he said in disbelief before essentially doubling their budget. "Everyone make sure you get yourself a pair of shoes and a coat."
The final bill, picked up by the Lawrence Guy Family Foundation, came out to more than $7,000. It was Lawrence's third event out in the community that week alone.
The night before, a Wednesday, he joined the Patriots Foundation for Gifts From the Gridiron – a similar shopping event at Bass Pro Shops to benefit kids from local homeless shelters. The Monday prior, his family hosted a holiday party and fulfilled the Christmas wish lists of five families from the Boys and Girls Club of Dorchester, and that Tuesday, he was selected as the Patriots nominee for the Walter Payton Man of the Year Award for the second straight day.
It was quite the busy week, but as Lawrence likes to say, you make time for what's important to you. Whether it's a shopping spree at Dicks, or any other community outreach, it's always personal to him and his family.
"The biggest question I hear is how do I have the time," Guy said. "The biggest question I'm asked is how do I have the time. You make the time because it's important to you. We make time out of our day to make sure we can go out in the community with the resources we have and uplift. Uplift another human being and there's a domino effect. That's the most important thing."
Their foundation is a full family effort, where Lawrence, Andrea, and their three young children sit at a table and discuss what's important to them.
Lawrence struggled with a learning disability growing up, and didn't realize he was dyslexic until college. Now, every fall, they give away backpacks and school supplies to get students off on the right foot. When Andrea experienced labor complications while delivering their daughter Isabela, she shared an ICU room with a woman with no support system. The Guy family bought her everything she needed for her son's first year of life, and Lawrence and Andrea now dedicate a baby shower for single moms in her honor.
A core memory also inspired their holiday party. Lawrence recalls a time when his father Michael, a firefighter, was called to put out a blaze on Christmas Eve. The family who lived in the home lost everything, but Lawrence watched his dad go to the store that night to ensure they at least had gifts to open on Christmas.
"I'm here because I got a second chance and I worked hard," Lawrence said, addressing the 11 young adults who thought they were only at Dick's that day to meet a Patriots player. 
"When you go out to this program they're looking for a way to enhance your life. I wanted to make sure you all had this opportunity to come here and get rewarded for their success. The smiles on these kids' faces is all I need."
Mischael Morency has been an active member of Dorchester Boxing Power and Fitness for about a year now.
After falling in with the wrong crowd and getting arrested at 18 years old, he knew he wanted to go to college and get his life back on track. Through Boston Uncornered, a non-profit that Patriots safety Devin McCourty is on the board of, he was introduced to Donald "Deke" Hudson, who started the boxing gym to help kids overcome life's challenges.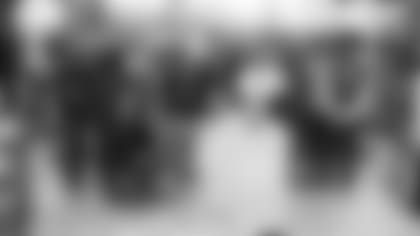 "It's for discipline," Mischael shared of the program. "There's a sense of belonging. It's like a brotherhood and I've built friendships. I'm very self conscious about where I came from, but I'm also a perfectionist. I'm always trying to learn how to throw that perfect jab. But pain builds resilience, and that's what helps us build momentum. That's why I'm so passionate about boxing. God throws things at you throughout life because he wants you to help others. If that's what I had to go through to help somebody else then that's a good price to pay."
Mischael is one of many success stories within the boxing program.
Through his own determination, he redirected his life and achieved his goal of attending college. He's now a fixture in Deke's program and is looking to pay it forward. That night shopping with Lawrence and Andrea Guy, all of his hard work was celebrated. 
"It's perfect," Mischael said. "We're always training, so I feel like this is repayment for our hard work. This is people recognizing our effort to be resilient, show up every day, and do what we're supposed to do."
Lawrence knows how important sports are to help kids grow and develop in all aspects of their lives. Football gave him focus and drive, and with his NFL platform, a bigger means to give back. Winning the prestigious league award is a goal to allow the Guy family to do even more.
"It doesn't matter if you play football, soccer, boxing or whatever. It's an outlet. It's a passion. It's uplifting. And this is the biggest reward. These kids didn't know this was happening today. They just thought they were going to meet me and hear advice to improve their life. I'm happy they're putting that effort in."
The winner of the NFL's Walter Payton Man of the Year award will receive up to $250,000 donation to the charity of their choice, courtesy of the NFL Foundation and Nationwide.
To vote, fans are encouraged to Tweet and use the hashtag #WPMOYChallenge followed by their nominee's last name or username. The player with the most unique mentions between Dec. 6 and Jan. 8 wins, and in turn, increases their community impact.