Bill Belichick's Patriots were back on the practice field today on an early-summer-like day in Foxborough. Players were once again in helmets, shorts, and t-shirts, which made it difficult to identify who was who without their regular practice jerseys.
However, it appeared that just 10 of the 88 players of the roster did not take part in team or position-specific drills with the rest of their teammates. Tight end Rob Gronkowski remained sidelined as he recovers from ankle surgery, but did spend a good portion toward the end of practice running sprints and doing rehab work with his helmet on, under the watchful eye of the team's medical staff. Gronk was joined by special teams captain Matthew Slater and linebacker Tracy White.
Starting left and right guards Logan Mankins and Brian Waters remained absent altogether, along with right tackle Sebastian Vollmer, and there was no sign of tight end Daniel Fells or defensive lineman Myron Pryor. Linebacker Brandon Spikes was spotted early in the morning workout without a helmet, as was rookie o-lineman Marcus Zusevics.
Rookie receiver Jeremy Ebert was not on the field at all, but fellow rookie defensive back Nate Ebner took part in his first full practice after missing last week's OTA session and being limited during rookie mini-camp.
A focus of today's work, defensively, was on nickel defense (two LBs, five DBs), the running game on offense, and kickoff return on special teams.
Following the 90-minute session, a number of players spoke with reporters, including co-captain Vince Wilfork and safety Patrick Chung. Neither wanted to dwell on the Super Bowl XLVI loss to the New York Giants.
"Last year is last year, man. We've got to get ready for this year. Not worried about it," insisted Chung.
"No effect on me," added his teammate on the d-line. "You start back to where you started at, from zero. That's where I'm at right now. You can't dwell over spoiled milk. Last year was last year. That's how you have to look at it. You have to be a professional. When it comes down to it, you have to be a professional about everything, and that plays a big part now. We have to be able to move forward, I've moved forward."
Both Wilfork and Chung maintained they were simply glad just to be back on the field working toward their goals for 2012 and putting 2011 behind them in earnest.
"I'm just happy to be back started," Wilfork continued. "Hopefully we can get this thing started fast. I'm excited about this upcoming season."
"We're good…guys are learning, getting back out there, getting the rust off," echoed Chung. "It's all good. Guys are working hard, we're getting ready."
In his recent slate of media interviews since retiring earlier this month, former left tackle Matt Light suggested that New England's defense needed to recapture the "swagger" it had during its Super Bowl winning run in the early 2000s – a point Wilfork conceded.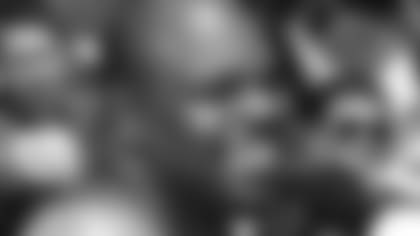 "I think he's right … you have guys in this game for a long time, been in this system for a long time, they just know how to play. When you're around something for so long, you adapt, you can start doing different things because you know it so well. Being a young defense, I think guys with the lockout [last year] and all that, I think we struggled at certain points at some of the things that we did."
"Hopefully it can be better this year, but I think the OTAs is good for us," Wilfork continued. "It's definitely good for a younger team, especially with us being a younger defense. And not saying we're too young, but just being able to get together and getting little things out the way that can make a big, big difference down in the season.
"Some of those things we can get done now, and we're trying now. With OTA's we're trying, every day we're putting something in, everyday guys are coming to work, and we're just going to work. That's what it's going to take, you have to strive to get better, and that's where I'm at right now, striving to get better and hopefully my teammates are doing the same thing."
With the rosters expanding to 90 players, there are a few more new faces than usual, and in Wilfork's case, a new position coach in Patrick Graham, who swapped places with Pepper Johnson, now the linebackers coach.
Regardless of who's who and where, Wilfork believes the Patriots have what it takes to compete for a title once again.
"Everybody knows each other's job. That goes for coaches also. So that move really isn't a big for us.
"You never can doubt the capability of this organization and what they do and whoever we have, we have a lot of faith in them. If we didn't, they wouldn't be here."
OTAs resume next Thursday, June 7, followed by a mandatory three-day mini-camp the week after, June 12-14.