The official roster and updated media guide list him as 5-9, 195. That may be a stretch, on both counts.
There's no denying however, that Danny Woodheadis fast. He proved that simply by showing up Sunday afternoon. Barely a week after arriving in Foxborough, the 25-year-old, baby-faced running back was in New England's starting lineup against the Buffalo Bills.
The kid's a quick learner, apparently. He had to be. Thrust into action even sooner than expected as a result of veteran third-down running back Kevin Faulk'sseason-ending knee injury, Woodhead first lined up next to quarterback Tom Bradyin the shotgun, then motioned out of the backfield prior to the snap to join a five-wide receiver set.
Brady's pass went to Wes Welker, and Woodhead promptly went back the sideline, where he would remain for a while. In the [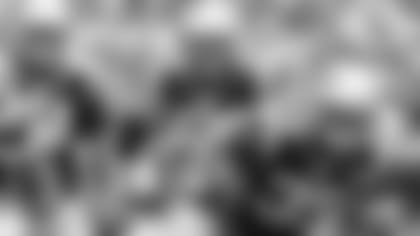 ]()second quarter, he got his first touch as a Patriot – a five-yard carry on a draw play from the shotgun. Then, with time running out before the half and the Patriots trailing 13-7, Woodhead was officially introduced to the capacity crowd of 68,000 at Gillette Stadium.
On 2nd-and-9 from the Buffalo 22-yard line, again in a shotgun formation next to Brady, Woodhead took a delayed handoff and darted up the middle. Seeing Bills defenders converge, he jammed on the brakes and cut to his left, where he saw nothing but open field. It was a foot race to the end zone, which Woodhead won with ease. The kid showed he's physically quick, to boot.
NFL success, though, hasn't come so quickly for the tiny player from an even tinier school.
A prolific high school player at North Platte (Neb.), Woodhead twice (2003 and '04) was named Nebraska's High School Male Athlete of the Year, and Gatorade named him the state's football player of the year. He even led all Nebraska high school basketball players in scoring his senior year. He hoped to stay in Nebraska to become a member of his beloved hometown Cornhuskers, but the university never made him any offers. However, Woodhead wound up playing in the Nebraska State College System for Division II Chadron State, alma mater of former Buffalo Bills wide receiver Don Beebe.
At Chadron, Woodhead won two Harlon Hill Trophies, given each year to the best Division II football player. After the 2007 season, he left the school with just shy of 8,000 career rushing yards (the most in NCAA history at the time) and nearly 9,800 all-purpose yards, which was second all-time. He rushed for 200 yards 19 different times, and found the end zone on 109 occasions. His 2,756 yards on the ground in 2006 is an all-time NCAA single-season record.
With those credentials, he signed as a rookie free agent with the New York Jets in the spring of 2008. In training camp that summer, though, he suffered an injury and was placed on injured reserve. The following year, he initially made the Jets roster as a practice squad player before being elevated to the active roster in October. He appeared in 10 games for the Jets last season as a special teamer and part-time offensive player.
After making the active roster again in '10, Woodhead played in New York's regular season opener on Monday, Sept. 13 against the Baltimore Ravens. A day later, he was released, and the Patriots signed him a few days later, just before their Week-2 encounter with the Jets in New York. It was in that game that Faulk suffered his devastating injury. With Faulk sidelined and former first-round pick Laurence Maroneyhaving been traded to Denver, the timing of Woodhead's addition appeared Heaven-sent – to him, if no one else.
"God has a plan for my life," Woodhead told the New England media last Wednesday, the first time he spoke with them. "I'm going to go with what he gives me. This is what he gave me, and I'm going to do it to the best of my abilities … Right now, I'm focused on whatever I can do here. I'm just trying to find my way on this team."
He certainly found his way to the end zone in a hurry, and into the hearts of his new teammates and coaches even faster. Woodhead even seems to have earned himself a nickname already.
"I like Woody," wide receiver Randy Mossdeclared, with a grin, after the Bills game. "He's a little stub guy, a little short [guy]. He runs [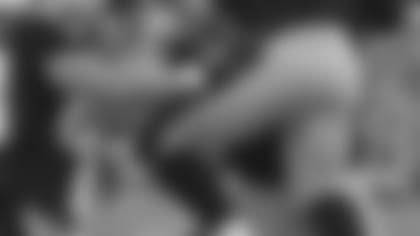 ]()hard and has some nice cuts. I'm not disrespecting him, and I know it's hard to replace Kevin Faulk, but hopefully he can come in and be Woodhead and not try to be Kevin. I think we liked the things we saw out there."
"If you can see him back there," added Brady, half-jokingly. "It's hard. He crouches down. He's tucked in there behind the center. He did great. What an impressive performance for a guy who's been here for 10 minutes. He did a great job."
"Danny really did a good job," head coachBill Belichickaffirmed. "He came in here and really started grinding through it on Monday and then Tuesday – the off day – and Wednesday. He had a pretty good week. We put him in practice on Friday and he was pretty good on all of his assignments and everything he had to do. We didn't ask him to do everything, but I think he's working pretty hard at it. He picked it up pretty quickly. He seems like a smart guy."
A guy who's also quick to credit others with his fast start.
"Well the linemen did a tremendous job of giving me a hole," Woodhead said, explaining his touchdown run to reporters. "And so did the guys on the outside – receivers, tight ends. I did what I'm supposed to do, just run the ball. That's what I know how to do. They made it so easy for me … much easier than it could have been.
"That's the great thing about the guys in this locker room and the coaches. They made me feel welcome from the beginning. Everyone in this locker room has helped me. It's been amazing because, getting here and not knowing anyone, everyone's helped out in getting to know me, but also with the playbook. So, it's been great. The transition's so much easier."
So easy, in fact, that he was able to score his first NFL touchdown in his first NFL start, during his first game in New England.
Told you the kid was fast.
Monday 9/27 Patriots Schedule
The players and coaches are busy breaking down the film today from Sunday's 38-30 win over the Buffalo Bills. This afternoon, players will be available for media interviews late in the afternoon, as will head coach Bill Belichick.