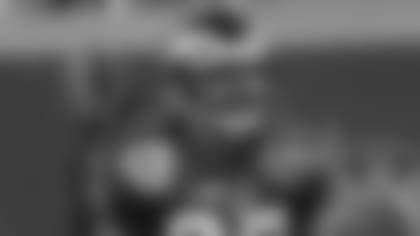 ]()Four Patriots saw significant action across the pond in the fourth weekend of NFL Europe action as wide receiver Ricky Bryant helped his team pull to the .500 mark on the season while running back Kory Chapman, linebacker Grant Steen and wide receiver Cedric James all found themselves on the losing end of games.
Bryant, who spent part of last season on the New England practice squad, started for the expansion Hamburg Sea Devils (2-2) and caught three passes for 47 yards including a 26-yard touchdown. He also returned two kickoffs for 15 yards. Hamburg never trailed in the contest, pulling away for a 30-10 win over the Frankfurt Galaxy (1-3) at Waldstadion in Frankfurt. For the season Bryant now has 12 receptions for 177 yards (14.8 avg.) and is tied for a league-best with four touchdowns. He's also returned 11 kickoffs for an 18.2-yard average.
Steen started at outside linebacker for Frankfurt in the loss and finished the contest with five solo tackles on defense and one special teams tackle. Through four weeks Steen ranks second for the Galaxy with 21 tackles while adding two special teams stops.
In Cologne, Chapman carried the ball nine times for 42 yards (4.7 avg.), caught one pass for 16 yards and returned two kickoffs for 27 yards, but the Centurions (3-1) dropped their first game of the season 37-24 to the Amsterdam Admirals (3-1). The two teams now sit tied atop the NFLEL standing along with the 3-1 Berlin Thunder. In four starts for the Centurions this season Chapman has totaled 220 yards on 45 carries (4.9 avg.) with one touchdown while catching four passes for 30 yards. He's also averaged 18.8 yards on six kickoff returns.
]()New England's fourth allocation, James, caught three passes for 62 yards in a losing effort for the winless Fire as Rhein (0-4) fell 30-28 to the Berlin Thunder (3-1). James has been the most productive Patriots player in Europe this spring as the 6-1, 197-pound wide receiver ranks second in NFLEL with 289 receiving yards and is tied for third in receptions with 17. James is averaging 17.0 yards per catch for the Fire and has been on the receiving end of two touchdown passes.
The final two New England allocations, wide receiver Mark Bartosic and tight Joel Jacobs, remain on injured reserve with Rhein and Amsterdam respectively.
Looking ahead to Week 5 NFLEL action, Amsterdam travels to Berlin, Rhein visits Frankfurt and Cologne heads to Hamburg.