Bill Belichick often says a player's biggest improvement comes in their second year. With a season of NFL football under their belts, players are often more comfortable and allow their abilities to take over. With that in mind we thought it would make sense to check in on several players entering Year 2 (and some others who have seen little playing time) to see how they're progressing in this strange offseason.
Things appeared to be progressing smoothly for Isaiah Wynn. The former Georgia Bulldogs tackle was selected in the first round of the 2018 draft by the Patriots, and with former first-round pick Nate Solder having left via free agency, there was an expectation that the left tackle job would be his for the taking.
Flash forward two years and Wynn is still trying to create a stranglehold on the job. But what has been frustrating for the affable young tackle is his struggles haven't had much to do with his ability. Instead, it's been an annoying string of bad fortune that has caused him to miss all but eight games of his professional career thus far.
"Of course it's tough just from a competitive nature," Wynn said of his injuries. "That's the aspect that ate me up; my competitive nature and wanting to be out there to help the team any way I can."
Wynn was referring to an Achilles injury that cost him his entire rookie season, and then a toe problem that landed him on injured reserve a year ago, causing him to sit out Weeks 3-11. Those problems came after a shoulder injury in college had him limited a bit in his rookie training camp, although he rebounded from that and was performing well in limited bursts later that summer.
That's when disaster struck during a preseason game against Philadelphia when he went down with a torn Achilles. His absence was mitigated in that 2018 season because Trent Brown excelled at left tackle during the Patriots last Super Bowl run.
But last year Brown was off to Oakland, and Wynn was ready to shine. Only once again the injury gods were unkind as he left the Week 2 win over Miami and sat for two months. So, while he's technically a third-year player, he's more similar to the Year 2 folks looking to make a significant leap forward in 2020.
Rather than rehabbing from surgery or enduring any physical limitations, Wynn is 100 percent healthy and rearing to go. Only the football portion of the offseason remains stuck in limbo as the nation continues to deal with the COVID-19 pandemic and all the problems that come with it.
"Last year for me really was my really rookie year, so I had some occasional rookie ups and downs especially coming back the last [six] games," Wynn said. "I still have a lot of room to improve on. I'm looking forward to getting back out there and being out there regularly.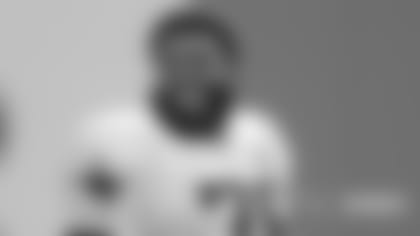 "This offseason was my first official offseason because I'm able to just go out and work out and not rehab. It's been different. It's great being able to still be involved with everything that's going on with our team with the meetings and all that, but that aspect of not having that camaraderie of being in the same facility together is missed. Other than that it's been great."
Wynn has spent the offseason in Massachusetts but hasn't been at team's facility in Foxborough. He's managed to get his workouts in and has had some interaction with teammates, but like most players in the NFL his daily routine has consisted mostly of online meetings and virtual learning sessions.
"It has been different," Wynn explained. "We're missing that key piece. It's always 50/50 classroom and execution out on the field. For offensive line play is not just about you. It's also about relying on other people to help you do your job and helping them do theirs. There's a comfort that comes with working together on the field, not just watching film and learning in the classroom. But we definitely try to take advantage of the time we have together."
The Patriots hope they can get their five offensive linemen together regularly this season. In addition to missing Wynn for half the season, New England was without center David Andrews all year as the captain dealt with blood clots in his lungs. Andrews and Wynn are now back, and with Joe Thuney, Shaq Mason and Marcus Cannon all under contract, there's a possibility that the offensive line emerges as one of the team's real strengths.
If that is to happen it will be under the direction of a new position coach. Dante Scarnecchia retired for the second time and won't be part of the equation in 2020. That likely leaves Cole Popovich and Carmen Bricillo, who were both on the staff last season, in charge of the guys up front.
"My short time with Scar I enjoyed very much," Wynn said. "My perspective is obviously limited but to me he is the best there is. He will be missed and he's very respected. [Popovich and Bricillo] have experience under Scar so it's been good. We haven't really noticed too much of a change and we're all eager to get started."