INDIANAPOLIS – Another February, another NFL Scouting Combine in the frigid, snowy Midwest.
The league's annual job interview process for draft-eligible college players got underway in earnest on Thursday, starting first thing in the morning. As is the case each year, Combine week is a showcase for both the players and the various head coaches, general managers, and other team officials who come to Indy to evaluate the available talent.
Our setup is identical to last year, the first in Lucas Oil Stadium, with the media establishing a base camp in the Baker & Daniels Club (similar to the Fidelity Investments Clubhouse at Gillette Stadium). The players and team representatives are ushered in throughout the day to speak with reporters at three large podiums and several circular tables spread out across the vast club space.
The day began with numerous back-to-back interviews with coaches and front office officials, including Buffalo Bills head coach Chan Gailey, Miami Dolphins GM Jeff Ireland, and former Patriots executive and now Kansas City GM Scott Pioli. Around midday, offensive linemen and specialists began filtering in. Later in the day, tight ends started to emerge. That routine is similar to previous Combine years – offensive players are presented on the first two days; defenders arrive over the weekend.
While the assembled media are restricted in their viewing of the actual Combine workouts (we're limited to what's shown on NFL Network), the interview process gives us a first-impression opportunity with the future NFL stars, as well as a chance to get into more in-depth, sometimes one-on-one discussions with the top brass from around the league.
From a Patriots standpoint, the first news of the Combine came Wednesday evening, when owner Robert Kraftheld an impromptu Q&A session with a handful of reporters at his hotel in Indianapolis. Several topics were addressed, including nose tackle Vince Wilfork's contract situation, wide receiver Randy Moss'recent eyebrow-raising comments, and the NFL's labor negotiations with the players' union.
On the status of Wilfork, New England's franchise tag designee this offseason, Kraft said, "I think we're close, and I hope we close something ... In the end, he was our priority – our first priority. We've got a number of other deals we've got to do, so we're going about building our team, and I hope in this process we get to close this out. I know he's a very important part of our team, and I think we've made an offer that hopefully can get it done.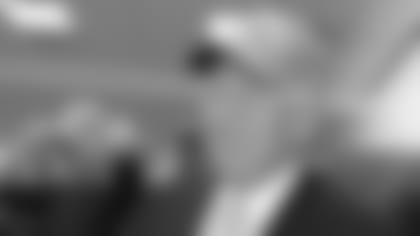 ]()"Look, we love Vince," the owner continued. "He and [his wife] Bianca have been a special part of our franchise. We love having him here. I hope here's here for a long time to come. We're trying to do everything we can to make that happen."
As for Moss' seemingly negative remarks over the weekend about New England's spending practices, Kraft said the player's words were taken out of context and that he, Kraft, didn't believe the wide receiver's intentions were to be disparaging toward the organization.
"I didn't interpret what [Moss] said as anti-Patriot," Kraft maintained. "He's a smart business man too. He's getting himself positioned."
Meanwhile, Kraft called the extension of the league's Collective Bargaining Agreement with its players in 2006 "a bad deal" which he hoped could be made right in the days ahead.
"We have the greatest sport going in America and both sides have to be smart enough to build a partnership," he concluded.
The early front-runner for quote of the Combine came from new Browns president Mike Holmgren.
Though scheduled to talk officially with the media on Friday, Holmgren was spotted in the hallway at Lucas Oil Stadium and agreed to stop for a brief chat. A Boston-area reporter began to ask Holmgren about his head coach, Eric Mangini, who, it was pointed out, cut his teeth as a coach under Bill Belichickin New England.
"I don't blame him for that," Holmgren interjected with a coy smile, which brought laughs from the assembled media.
Holmgren was then asked if Mangini's experience in the New England system ever comes up in conversation between the two of them.
"To be honest, I don't talk a lot about that system. But clearly, they won Super Bowls there. They're doing a lot of things very, very well," Holmgren continued. "[Mangini] believes in this system. He brought some ideas, we talk about lots of things … when to practice, time off, communicating … "
Then the wry grin returned to Holmgren's face.
"Smiling more. All sorts of stuff," he added, clearly in a joking manner.
And how is that smiling thing working out for Mangini?
"He's doing great. I saw him on the plane yesterday, he was smiling like crazy," Holmgren laughed before heading out the door.
San Francisco GM Scot McCloughantook the lead on Combine press conferences Thursday morning. One of the first things he was asked about was the trend this season among NFL teams to use the franchise tag on nose tackles. That's especially true among 3-4 teams, as his 49ers (Aubrayo Franklin) and the Patriots (Wilfork) have used the $7.003 million tag on nose tackles, and the Steelers (Casey Hampton) were prepared to do the same before reaching an agreement on a new contract with Hampton.
McCloughan said that the trend could be a combination of the value of the position and the relative low cost of the tender for defensive tackles.
"I think each organization has its own philosophy. I know this from being around the 3-4 now for five years, it is a very important position," McCloughan said. "The one thing about it is when you have good football players at any position, you always want to try to extend them. You want to try to get a long term deal. We tried with Aubrayo. We're going to keep trying with him.
"I think the price tag for it isn't outrageous yet, for the tag.
"It's a very important position in the 3-4. There are not a lot of 3-4 defenses in college football. There are a lot of good defensive tackles, but they don't fit the mold of a nose tackle. And again the number on the tag is not outrageous."
New Buffalo Bills head coach Chan Gailey, the Miami Dolphins offensive coordinator from 2000-01, was asked what it feels like to be back in the AFC East.
]()"It's a lot tougher than when I left, that's for sure," he responded. "Obviously, Miami did a great job two years ago and has brought their situation back. The Jets did a great job last year. New England's good every year. It's a tough division. And everybody thinks that, every coach thinks they have a tough division. The thing about it, in this league, it's tough every week, I don't care who you play."
Does he feel that his knowledge of the division will help him in his first NFL head coaching role in more than a decade?
"I think it helps somewhat," Gailey answered. "And we played some of those guys a couple of years ago when I was in Kansas City. So, the renewal of that familiarity helped me as well. I think it's good that I've done it before. Been there, done that, so to speak."
*You Don't Mess With the Zoltan *
One area where the Patriots might be looking to upgrade is at punter, where incumbent Chris Hansonhas been steady, if unspectacular the past few seasons. From the sounds of it here at the Combine, New England is indeed interested in at least one punter: Michigan's Zoltan Mesko(6-4, 235).
The Hungarian-born immigrant (he came to the U.S. at age 11) spoke perfect English with no trace of an accent as he explained how he was interviewed by Patriots special teams coach Scott O'Brienlast night.
"There were eight different special teams coaches at tables and we rotated throughout them, just getting drilled with questions. He took the main role at the table," Mesko began. "It was cool to talk with him and pick his brain a little bit. And he picked mine for the majority of the time. I thought he was very knowledgeable.
The good-natured, quick-with-a-smile Mesko went on to chronicle how he went from a soccer-playing youth in eastern Europe to an American football phenom.
"The switch happened in eighth grade. We were playing kickball in gym class. I knocked one of the lights out. And the gym teacher comes up and grabs my collar – he was the high school football coach, too – and said, 'You're either paying for that light or playing for me next year,'" Mesko recalled with a laugh.
Mesko disclosed that he knew Patriots linebacker and former Michigan player Pierre Woods. Asked if he was friendly with New England's other, more famous Wolverine alum, Mesko hesitated a moment before the light bulb went on. "Oh, Tom … Brady. I was thinking, I played with Shawn Crable," Mesko laughed. "No, I don't know Brady. I'd like to get to know him. He's a pretty cool guy." … Iowa tackle Bryan Bulagawas very impressive in his meeting with the media. He offered heaps of praise for the coaching he [
]()received under Kirk Ferentz(a branch of the Belichick coaching tree). … Lions head coach Jim Schwartz, another former Belichick assistant, was asked about his former boss' decision not to name an offensive or defensive coordinator. "He knows what he's doing," Schwartz responded with a laugh. "It's hard to sit here and be critiquing him. He has a lot of Super Bowl trophies. He obviously does a really good job of managing his staff and those kinds of things." … Add Pioli to the list of those who coming to Belichick's defense for not naming any coordinators. "The bottom line is people in the locker room know who the boss is and who are making the decisions," Pioli insisted. "Just because there is not a title out there for the rest of the world to see doesn't mean that the people inside…everyone knows who the bosses are and who's making decisions and who's making calls. That's never a secret. It's never a secret to the players." … The Combine continues tomorrow, with quarterbacks, running backs, and wide receiver prospects scheduled to meet and greet the media. More head coaches and front office officials will also take questions from reporters at Lucas Oil Stadium.