The NFL's Scouting Combine wrapped up on Sunday, closing the books on a successful return to Indianapolis for the premiere annual stop on the pre-draft circuit. New England and the Patriots were once again a popular topic of conversation throughout the week, as local prospects from Boston College and Brown made favorable impressions and enjoyed their time locally, while positions of need like receiver, linebacker and cornerback all stood out while the Pats sorted through them all.
While it's important not to get too overexcited about the testing numbers the prospects put up at the Combine, it's a good chance to compare them all at once on a level playing field, even if they're not technically playing football.
With some new information in hand, the Patriots will quickly tack to the start of free agency next week, as they'll set the course for their offseason team building, a course that looks like it may not include J.C. Jackson. While New England should at least temporarily fill the glaring holes on their roster over the next few weeks, the draft looms large at the end of April and that will be where the Patriots can take their biggest strides forward as they did with last year's successful class.
Here are the key takeaways from the Combine from a Patriots perspective!
Depth Abounds
"I think this is a really good depth draft, especially when you get into the second, third, fourth round. There's a lot of quality there, a lot of starters." said Daniel Jeremiah on a pre-Combine conference call and all the performances in Indianapolis confirmed this. For the Patriots, who are slated to only have six total picks, it could be tempting to pick up extra picks by trading down, as the quality runs through the second day of the draft.
While it doesn't have the strongest quarterback or running back classes at the top, almost every other position includes at least one or two potential game-changers. Some, like tackle and cornerback are more top-heavy than others, as depth at edge, receiver and linebacker runs deep and helps define this year's class.
Those are all current positions of significant need for the Patriots. That could change during free agency, but all five need an injection of youth that can only come via the draft. Figuring out how to maximize their returns at good value will be the challenge for New England, as it's not hard to make a case for a number of different players at different positions.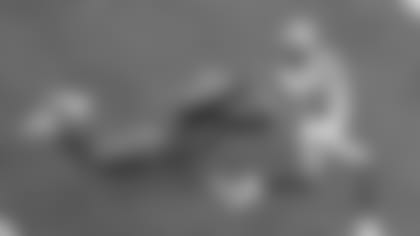 Speed Everywhere
Simply put, everyone was fast at this year's combine. From the receivers, like Ohio State's two sub-4.4 40s from Chris Olave and Garrett Wilson, to 340-pound defensive tackle Jordan Davis' unbelievable 4.78 40 and everyone else in between, the athleticism entering the league only continues to get better and better. Linebackers like Troy Andersen (4.42) and Christian Harris (4.44) are putting up receiver-like numbers.
In the wake of all the speed, multiple players raised their draft stock, but the overwhelming numbers across the board could balance things out a bit as well. Draft boards will be recalibrated this week, but only so much as teams then return to the prospect's college film to make sense of it all. Often a blazing 40-yard dash doesn't always translate into game speed.
The Patriots could certainly use an injection of speed at a number of positions, and this class is so fast they'd really have to try and not draft someone who can run. Whether it's a receiver with a breakaway burst, an offensive lineman who can get out in front of a blocking convoy or an inside linebacker who can run sideline to sideline, there will be plenty of athletic options that should be exactly what New England needs on both sides of the ball.
Trade Target?
Per reports from Greg Bedard of Boston Sports Journal and Jeff Howe of The Athletic, the Patriots made trade inquiries on receiver Robby Anderson while in Indy. Anderson had previously revealed that the Patriots pursued him in free agency a couple of offseasons ago as his versatility and speed have always been a good fit for New England's offense. With everyone clamoring for one of the potent receivers in this year's draft class, it would appear that the Patriots are keeping their options open at this point.
But the inquiry on Anderson is probably just one part of their diligence in Indy, as the Patriots are never hesitant to put out feelers and were likely checking in on a number of players as there's plenty going on behind the scenes.
Still, it's good to see the team focusing on continuing to upgrade the weaponry around Mac Jones as he enters his second season. A veteran like Anderson would provide an immediate layer of security, but with another group of talented rookie receivers it would hurt to miss out on any top prospects there for a third year in a row. Especially when a drafted receiver like Jones' old teammate John Menchie would be under contract with the quarterback for the next four years on a cheap deal.
"Mac and I are really close," Metchie said during his media availability in Indy. "He was my quarterback that year, so Mac and I got along really well. We also spent a lot of time together my freshman year on the two team, so we have a lot of chemistry."
Who's there at 21?
Post-combine the mock drafts will change, with players like Jordan Davis and Garrett Wilson securing spots in the top half that will likely put them out of range for the Patriots at 21. But for every riser, there must be a faller. The top of the tackle and cornerback classes don't seem to be all that altered by the Combine results, but the more receivers that ran fast and rose, the more edge players that could come into the Patriots range. Those three groups are all top-heavy, while there is depth at d-tackle and receiver behind Davis and Wilson.
For example, UConn's Travis Jones might not be the monster that Davis is but had an excellent combine himself and projects to the same kind of interior space eater. Or Skyy Moore of Western Michigan, who ran a 4.41 and still has some explosiveness to offer even if he isn't from a big-time program and might not get the hype of the Buckeyes.
Right now, given how the Patriots roster looks and how things played out at the Combine, it would appear tackle, edge and cornerback are the positions to watch at 21. They're the most likely to see a talented player fall through some early cracks. Trevor Penning (OT), Kaair Elam (CB) and Travon Walker (DL) are all excellent fits who could be there.
Free Agency Breaks Loose Next Week
The draft goes to the back burner for the next couple of weeks as it becomes all about free agency. The Patriots were extremely aggressive last offseason, but without the same space and cash to work with this year, it's unlikely to see the same volume of veteran signings. But that doesn't mean New England will be sitting things out, so it will be getting interesting immediately, starting with the passing of the Franchise Tag window, then Restricted Free Agency tenders, internal free agents and, finally, external free agents when the tampering period opens next Monday.
There are a number of moves the Patriots can do to free up space by moving money around, moves that will likely need to be completed by Wednesday, March 16. In a matter of two weeks, the 2022 Patriots and their draft needs will have a lot more clarity. Get ready for the craziness.