Few teams in the NFL offer the kind of level playing field that the New England Patriots do. Bill Belichick doesn't care how players arrive in Foxboro or what they've done prior to their arrival, only how they perform on the field. Thus, there's always a few players who emerge out of nowhere to grab a roster spot.
This summer has been no different, and with turnover and injuries granting more opportunities at positions of formerly long-standing depth, things are just getting interesting.
Here are five players who weren't getting much attention in the build-up to camp, but are now inserting themselves into the 53-man roster conversation.
Dan Skipper
After the free agency departures of Trent Brown (Oakland) and LaAdrian Waddle (Buffalo), the retirement of Jared Veldheer and the release of Cole Croston this past week, the Patriots have serious needs at the tackle position. Isaiah Wynn, the projected starter, continues to do little more than watch practice from the sidelines, leaving the door open for Dan Skipper to take the majority of the starting snaps on the left side.
Undrafted out of Arkansas, Skipper spent parts of the last two seasons on practice squads in Dallas, Detroit and Denver, before joining the Patriots' practice squad in January of 2019. And now for the past week Skipper is atop the Patriots depth chart, perhaps by default.
"Skip's a hard working kid. He's got a lot of length, pretty athletic for his size. Doesn't have a lot of experience," said head coach Bill Belichick prior to Thursday's training camp session. "It was after the season when he joined the team, so this is kind of really his first crack at it. But he works hard, he gets better every day, and we'll see."
Though he's running with the starters, Skipper's had his struggles dealing with New England's many capable pass rushers. But with two tackle jobs still wide open, Skipper might just find his way on to the roster because the Patriots really don't have a lot of options right now.
Another position of turnover this season is wide receiver and free agent signee Maurice Harris has been the most consistent new player, developing an early rapport with Tom Brady and catching everything that's been thrown in his direction.
Harris had just 28 catches in 2018 with the Redskins, including a 10-catch, 124-yard day against the Falcons, but looks like he could build on those numbers in New England. He's not going to step in and be a dominant X-receiver, but has the size and hands to develop into a reliable third or fourth option, which is still a significant need for the offense.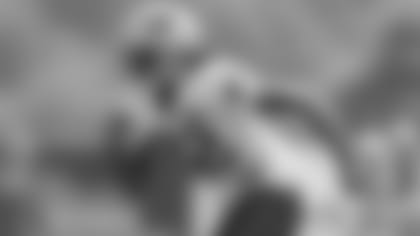 Harris has been getting some competition for that role from undrafted rookie Jakobi Meyers, who had his best practice of the day on Thursday. A former high school quarterback, Meyers has good size at 6-2, 203 pounds and has made some of the most notable acrobatic catches of training camp.
Meyers has moved around the formation and brings some inside/outside flexibility. At NC State he had 222 targets in the slot. That kind of versatility could give him an edge over Harris, especially with Braxton Berrios' lackluster start.
"He's made some really competitive catches," said veteran safety Devin McCourty after Thursday's practice. "I think that's a good thing to see about all these young guys, is their ability and their want to come out here and try to outwork everybody. That's what it takes when you're a rookie. You just have to come out here and play hard, and try to outwork everybody."
With noticeable improvement in just his first week in the NFL, Meyers will be one to watch as we progress into preseason games.
Stephen Anderson
With a Gronk-sized hole in their offense, tight end is another area of turnover this season and while Ben Watson and Matt Lacosse were the notable free agent signings, it's been Anderson who's made the most noise early in camp.
After spending his first two seasons with the Texans and grabbing 36 catches and two touchdowns, he spent all of 2018 on the Patriots' practice squad. That kind of head start on the complicated offensive system has helped Anderson this summer. He hasn't set the world on fire, but he runs the right routes and has caught the balls thrown his way.
At only 230 pounds, Anderson will be limited as a "move" tight end, but with Watson facing a four-game suspension to start the season and Lacosse's tepid start, Anderson might just win himself a role if he can stay healthy and consistent.
Unlike the offense, there weren't many holes to fill on the defense and that's why it's been surprising to see five-year veteran Terrence Brooks getting some looks with the top unit. Primarily a core special teamer during his time with the Ravens, Eagles and Jets, Brooks doesn't look ready to take Patrick Chung's strong safety position, but has been a valuable camp piece early on as Chung continues to wear a no contact jersey.
Brooks is most likely headed back to his core special teamer position but by getting him some early experience in the defense, he'll provide a critical layer of depth on the back end. After struggling in the early part of 2019 on special teams, Brooks figures to play his biggest role this season in the kicking game.