It isn't often that Steven Bradley is left speechless. But in that moment, it was hard for the loquacious Patriots fan to conjure the right words as a rush of emotion overwhelmed him. He was left grasping at air as he took stock of where he was and who he was with. Nestled in his wheelchair, Bradley was flanked by family members at the 50-yard line at Gillette Stadium, with the Patriots logo stenciled on the field underfoot. Standing in front of Bradley was Andre Tippett, his favorite player.
"I told him that I appreciated the way that he played and the way that he gave it his all," Bradley said. "I told him what I thought about him and that I appreciated him coming out to meet me. I couldn't talk, I couldn't think of what to say."
The Hall of Fame linebacker chatted and took photos with him. After taking in the sights for a time, they said their goodbyes and Bradley's wife, Joanie, wheeled him toward the exit.
The next day, a long drive back to their home in Farmington, N.H. lay ahead of them.
But for just a few moments, Bradley forgot about everything.
"Being out there, I felt like the King of England."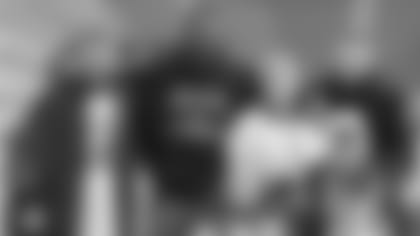 A man of good cheer*
In September, Bradley was diagnosed with terminal small cell lung cancer in one lung in addition to severe emphysema and COPD in the other. Cancer had also spread to his lymph nodes and bones. The prognosis was that he would have a year or two to live with chemotherapy treatment.
Since then, he has endured five rounds of chemotherapy, with his latest round wrapping up recently. Bradley has suffered relatively little setbacks during his treatment, save for a bout of pneumonia after his first treatment. He has since received injections to boost his white blood cell count to ward off illness.
"He has always been optimistic and in good spirits," Joanie Bradley said.
Among the things that have helped Bradley endure has been his love of the Patriots.
In the Bradley household, Sunday is not just Sunday, it is "Football Sunday." Each week, a set of collectible drinking glasses with helmets of each NFL team on them is displayed and meticulously arranged by that weekend's matchups with the corresponding teams facing off against each other. Next to Steven's chair is a notebook. In it, he writes down the scores of each weekend's games for reference. He always wears his customized Patriots No. 12 jersey – not with the name "Brady" stitched on the back, but rather "Steven." He has a tattoo of the old "Pat Patriot" logo on his right arm.
Sunday is a day for celebration.
"Usually, we have some family and/or friends come over to watch the game," Joanie said. "Of course, every time the Patriots score, or if they don't score when they should, someone in the family is sure to call him to discuss it."
Even when the season has passed, Steven's mind remains on football and the Patriots.
"We have some of the old games on tape and every now and then he'll watch one of them just for the fun of it," Joanie said.
It serves as a distraction from the pains of everyday life, which have come in many different forms for him over the last 20 years.
A setback
He doesn't even remember exactly how it happened. It could have been at work, or it might have happened while working out at the gym. But something wasn't right.
"I was in the bathroom one morning and I realized that I couldn't feel anything," Steven said.
Something was wrong, but he still didn't know what.
It's not typical for a 35-year-old who's active in sports to feel like he couldn't walk.
Bradley went to the hospital and was shocked to learn that he had suffered a spinal cord injury. He was taken to the University of Maine Medical Center to repair a degenerative disk in his neck. The success of the procedure was short-lived, however. The piece of hip bone that was inserted into his neck was dislodged and another surgery followed.
Virtually overnight, Steven's once active lifestyle was taken away from him. He could no longer work.
"Complications from that surgery were issues with shakiness and bone spasms as well as all types of issues in the surrounding damaged nerve endings, which prevented him from ever being able to go back into the work force," Joanie said.
Even through coping with the realities of his condition and, more recently, his fight against cancer, Steven has remained Steven.
"He keeps us all laughing," Joanie said, "and reminds us that he is going to be around for a while."
'A serious choice to make'
Steven is all too aware of what his prospects for the future are.
Recently, the option of radiation treatment was posed to him by the cancer specialist he's been seeing. Steven said that when he heard the word radiation, he immediately thought back to his childhood when he was growing up in East Providence, R.I. It stuck with him. When he was young at the height of the Cold War, the word was most commonly used in talking about the fallout from a nuclear bomb.
Memories of Duck and Cover drills aside, he's faced with the decision of going ahead with the treatment, which could potentially extend his life.
"If there's a chance that it will prolong my life, I will go through it," Steven said. "If not ..."
"It's a serious choice to make."
Steven's decision was put on hold as he and Joanie were joined at Gillette Stadium that day by his brother, Russell; son, Steven Jr., and his wife, Wendy; daughter, Selina, and her boyfriend, Darrell Tarmey. Russell helped to arrange the visit. The gathered family huddled together for a special photo on the 50-yard line. Tippett's appearance was just the cherry on top.
"I knew he wasn't pulling my leg when [Russell] told me about it," Steven said. "When it comes to the Patriots, he knows better than to trick me with something like that. I knew he was up to something, but I never imagined it would be anything like that."
When he left, the same obstacles would remain for Steven, but it was as if a load had been taken off his shoulders.
"I do believe getting to meet everyone and being on the field has certainly lifted his spirits even more," Joanie wrote in a letter after the stadium visit. "I don't know what we could have done to make him feel better than what you all achieved by allowing him to visit with the Patriots and be on the field."