FOXBOROUGH, Mass. – This month, Patriots players, alumni and cheerleaders honored the real patriots, the men and women who serve or have served in our Armed Forces to protect our freedoms, with several community events focused on military appreciation.
CVS Caremark/New England Patriots Football Skills Camp for Veterans Military Appreciation Week kicked off with the CVS Caremark/New England Patriots Football Skills Camp for Veterans on Saturday, Nov. 9. Veterans from each of the six New England states gathered with Patriots alumni, cheerleaders and Pat Patriot to perform football skills and drills in the Dana-Farber Field House at Gillette Stadium.
Patriots alumni took over the roles of coaches, teaching the veterans the finer points of bag drills and throwing and catching the football.
Once their experience was complete, the veterans enjoyed lunch before visiting the Hall at Patriot Place presented by Raytheon for a tour of the greatest pieces of Patriots history. The Hall at Patriot Place offered free admission to any past or present military service men or women all weekend and through Veteran's Day on Monday, Nov. 11.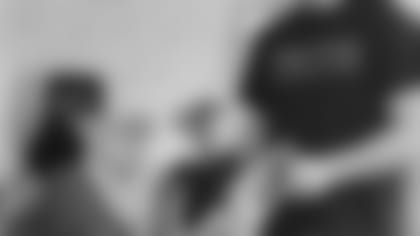 Brockton VA Hospital Visit
On Veterans Day, Patriots tackle Nate Solder took a portion of his bye-week break from protecting the quarterback to visit those who made a living protecting our freedoms at the Brockton VA Hospital. The veterans who reside at the hospital beamed at the sight of Solder, and they were enthusiastic in their conversations with him. As Solder interacted with the guests, they shared stories with him from their time in the service and their lives thereafter. It was a special moment, not only for the veterans, but also for Solder, especially considering his family background.
"My Dad was in the Navy, and his brothers were in the Navy also. A couple of them were in the Army, and then my grandfather retired in the Navy," said Solder. "It was awesome how a lot of them were happy to see me and I think I made an impression on them. I think that was great. They were outstanding people. They served bravely and it was great to just meet them all."
For Solder, honoring veterans who have protected our country was a reminder of how their bravery has allowed our freedoms to remain constant. It was a personal way for him to show the veterans that their service is appreciated and that they are not forgotten.
West Roxbury VA Hospital Visit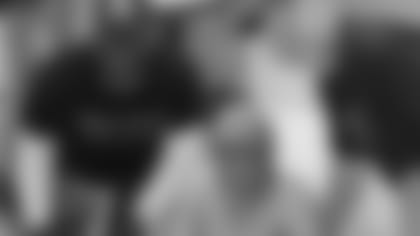 The Brockton visit was the first of two VA hospital visits, and Patriots alumni Steve Nelson, Ilia Jarostchuk, Paul Francisco and Eric Alexander spent time with the veterans at the West Roxbury VA Hospital on Thursday, Nov. 14. Once again, the mere presence of the former players elicited smiles from ear-to-ear, including the staff and volunteers dedicated to caring for the former military members.
"Going to the VA hospital, I mean that was awesome," said former Patriots linebacker Eric Alexander. "Shedding a little light and bringing some joy and cheer to people – just to go in and see the room light up when you walk into the room, just to say hello and have a quick conversation with them, that was awesome."
Naval Submarine Base New London Visit
Several cheerleaders who bring spirit to the sidelines of Gillette Stadium took a trip down to Naval Submarine Base New London to show their appreciation for our troops. Veteran cheerleaders Erica and Stephanie S. and rookie cheerleader Lasondra spent Friday, Nov. 15 signing autographs, taking pictures and interacting with the officers and sailors on the base. Pat Patriot tagged along for the visit as well, taking to the kitchens to help prepare lunch for the hard working service men and women.
The cheerleaders were given an opportunity to tour one of the submarines located on base, which was a rare and breathtaking experience not many people are awarded. The New London naval base is the Navy's first submarine base and "Home of the Submarine Force." Every officer and nearly every enlisted Sailor in the submarine force will be assigned there at least one time during a military career.
Pom poms shined in the pictures with the sailors and officers, but the smiles they put on the faces of the military personnel outshined everything else. They signed Patriots Cheerleaders posters and even some casts of those who were injured. All around, the mood on base was brighter and more cheerful in the wake of those sparkling pom poms.
A large contingent of Patriots alumni, cheerleaders and Pat Patriot took an almost two-hour trip up to Portsmouth, NH, to join a group of individuals with a spectacular cause in supporting our troops. This patriotic group of people call themselves the "Pease Greeters," and they welcome the men and women in our Armed Forces who pass through Pease International Airport either on their way home or their way to areas of conflict. Incredibly, they have greeted over 600 flights and welcomed over 170,000 troops since their formation in 2005.
"We got off the gate and they said, 'Hey, go around to the left there, you are going to get a little surprise,'" said Flight OIC (Officer In Charge) Allen Evans. "Then we encountered the Patriots and the cheerleaders and then we come down the Hall of Heroes and it was just – I have never seen anything like this. I have deployed numerous times and have never had a welcoming like this. It was off the chart."
Former Patriots linebacker Eric Alexander feels the same way about military appreciation and the impact their visit had.
"[Military appreciation] means showing people that go out and protect this great country that you love them and appreciate everything they're doing – their selfless acts and their bravery and their courage that they put forth every day to protect this country. This is the last chance for somebody in the states to thank them for their service and their duties before they go off to wherever they are stationed."