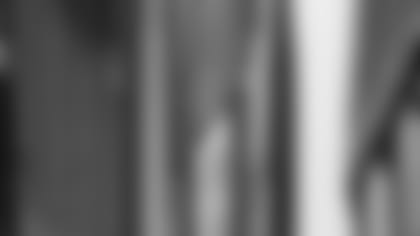 ]()
            The man by whom most will judge the Patriots 2003 draft made his first official appearance at Gillette Stadium on Thursday afternoon. Dressed in the only suit he owns,**Ty Warren**, the 6-4, 307-pound defensive tackle New England selected with the 13th pick in last weekend's draft, got a chance to meet Patriots owner Robert Kraft and Vice Chairman Jonathan Kraft, as well as address the local media he will become so familiar with.  

Flanked by both Krafts on a small riser off to the side of the field where he hopes to become a significant contributor, Warren held up a blue Patriots jersey bearing his name and the number 1, signifying his status as the team's top 2003 draft selection. Seeming a bit overwhelmed by the double-digit number of cameras, not to mention the countless writers and radio types, the Bryan, Texas native flashed a large smile while scanning the surrounding crowd and answered the numerous questions in the expected diplomatic manner.
"My main priority is to come in here and learn what I need to learn and I am sure that Coach Belichick will utilize my talent to this best of his ability," Warren said.
While some of the questions revolving around Warren now involve whether he is best suited to play nose or tackle in the New England 3-4 defense, the player just wants to make the jump to the pros a successful one, regardless of position.
"I played all the positions at Texas A&M, left end, right end and nose tackle," Warren said. "So it's kind of up in the air what position I will be playing. Again it is up to Coach Belichick and his staff."
And now that the pre draft hype is over and Warren has found a home for his professional future he is ready to hit the ground running. For him, the overwhelming part is over and it is time to work.
"It hasn't really been overwhelming," Warren said of the last week. "Ever since they called on Saturday my mentality has been to kind of just get work. So as soon as I get the chance to start getting to work and learning and getting into the offseason program and get in the best shape I can get in, I just plan on starting from there.
Warren and the rest of the Patriots rookies will get that chance over the next three days as they are indoctrinated into life in the NFL and begin to delve into the team's offensive and defensive systems.
More from Ty Warren's media session will be available in both audio and transcript form here on Patriots.com later today. Also, check out video from the day in today's installment of Patriots Video News.