As fun as it is to re-watch a football game after a win, it's equally nauseating to do so following a loss. Particularly a loss of the kind the Patriots suffered Sunday in their home opener.
Never before had New England dropped their first game of the regular season at Gillette Stadium. But against the Arizona Cardinals, from the get-go (Tom Brady's first pass of the game, an interception), things just didn't seem right for the Patriots, and it only got worse (Aaron Hernandez' injury) before it got better (the late comeback)... only to get much worse again.
So, take a deep breath, hold your nose, and let's go back and revisit some of the key points and personnel trends in this 20-18 defeat. We'll begin with the most exciting part of the game – the end:
On running back Danny Woodhead's touchdown-that-wasn't, tight end Rob Gronkowski was flagged for a holding penalty on Cardinals safety Kerry Rhodes. It appeared that Gronk, lined up on the right side of the formation, headed directly for Rhodes and attempted to drive him straight downfield.
However, when Woodhead took the handoff and scooted to the outside, Rhodes saw this and attempted to spin out of Gronk's block. In so doing, it looked like Gronkowski got a hand on the outside shoulder of Rhodes, though only for a split-second. Woodhead was already past them at this point, but one official felt like Rhodes was being impeded. It was a judgment call, and it could just have easily been allowed to stand and you probably wouldn't have gotten much, if any, argument from Arizona.
Two plays later, from the Arizona 18, Gronk was again flagged. There was no doubt about this one, though. Just before the snap, he leaned ever so slightly forward on his toes, and the officials correctly penalized him for a false start. Those five yards proved critical, as it turned out, because they contributed to the ensuing play calls and lengthening of kicker Stephen Gostkowski's potential game-winning field goal to 42 yards – certainly well within Gostkowski's range, but no chip-shot, either.
Gillette Stadium's sellout crowd was audibly angry at a pair of play calls in particular, both involving Woodhead at pivotal points earlier in the game.
Trailing 6-3 with about 10 minutes to go in the first half, New England encountered a 3rd-and-2 from the Arizona 11. The formation was its base 2-tight end, 2-wide receiver, 1-back look, with Gronk and Michael Hoomanawanui in three-point stances to the left of center, and Wes Welker and Brandon Lloyd split wide right.
At the snap, Hoomanawanui didn't do a good enough job of blocking his man, outside linebacker Sam Acho, who was able to knife his way into the backfield and slow down Woodhead's progress momentarily. Woodhead did elude Acho at first, but pulling right guard Donald Thomas failed to get a significant push on his man. This caused a logjam in the middle of the formation, and Woodhead ran smack into it. Had Acho not been in the way, Woodhead might've had a chance to bounce outside to his left.
However, Woodhead also erred by not spotting the gaping hole to his right, which would have been the more advisable route to take, as opposing to driving into the backs of his offensive line. Blocking aside, it came down to a poor read by Woodhead.
On yet another controversial 3rd-down play, Thomas played an ignominious role. Late in the third quarter, down 13-9 and facing 3rd-and-6 from the Cardinals' 30, offensive coordinator Josh McDaniels called a toss sweep to Woodhead to the right. Cardinals defensive end Darnell Dockett simply shot past Thomas and deep into the backfield to take Woodhead down.
Had Thomas been able to occupy Dockett at the line of scrimmage, Woodhead had right tackle Sebastian Vollmer and Gronkowski in front of him in ideal position to seal off the edge and allow him, in all likelihood, to pick up the first down. The Patriots were pushed out of long field goal range and forced to punt.
McDaniels appeared to pick two good plays against the right defensive fronts in those situations.
The offensive line kept Brady clean last week in Tennessee. He only was sacked once for eight yards, but the Cardinals brought Brady down four times, three of which came in the final five minutes of the first half. However, not all of these could be directly attributed to the o-line.
Hoomanawanui also had trouble with Acho on the first sack of Brady (on 1st down from the New England 48), resulting in a loss of 10 yards. Acho simply rushed from Brady's left, and Hoomanawanui, racing from the other side of the formation, wasn't quick enough to get there in time to slow him down.
On the very next play, following a false start penalty by Thomas, Brady was sacked again, this time by Quentin Groves. The outside 'backer executed a textbook stunt (starting his rush outside, then looping behind his neighboring teammate, and into the unblocked hole in front of Brady). At this point, Marcus Cannon had replaced Vollmer at right tackle, as we'd seen a week ago as Vollmer (back) slowly returns to full-time action. The two have platooned the position these first two weeks.
At the snap, Groves took a step toward Cannon, while Dockett locked up with Thomas. Dockett assisted Groves, essentially setting a pick on Cannon by allowing Thomas to ride him into Cannon. This let Groves swoop behind Dockett, and Cannon wasn't fast enough to recover, nor was Thomas aware of what was happening. Had he picked up on the ruse sooner, he'd have allowed Cannon to take Dockett and he Groves.
The third one, with less than a minute to go in the half, was a "coverage sack." Brady had time and a pocket from which to throw, but instead stepping into the Arizona defense when he couldn't find anyone open.
Brady's interception on New England's first offensive play began with the base offense intact, save one: Julian Edelman had replaced Welker as the second receiver. Pre-snap, Lloyd, Edelman, and Gronkowski were bunched to the left, with Hernandez wide right. Running back Stevan Ridley was Brady's partner in the backfield. Gronk then motioned to the right to join Hernandez.
At the snap, Brady dropped back and looked for Edelman on a crossing route. Right guard Donald Thomas, starting in place of the still-recovering Connolly, was engaged with Cards d-lineman Darnell Dockett. Thomas had good position on Dockett, not allowing him any penetration into the backfield. In fact, Thomas had pushed Dockett back a bit, but Brady's underneath pass to Edelman was so low, Dockett was able to put a hand up to tip it and Peterson made a great diving play for the pick.
The saddest part of the play was that Ridley, as the hot receiver coming out of the backfield, had nothing but real estate in front of him on the left side. Had Brady checked down there, he might've had a big gain.
Some key differences on offense from the win a week ago? Well, the biggest one, of course, was the loss of Hernandez. Despite the downplaying by players and Bill Belichick afterward, not having their base offense significantly altered the way the Patriots and McDaniels called that game.
For instance, last week in the win against Tennessee, the Patriots used the 2-2-1 set two-thirds of the time. That went out the window this week as soon as Hernandez was helped to the locker room after just three plays. Most of New England's looks on offense thereafter were three-wide-receiver sets.
In addition, McDaniels put Brady in the shotgun just 14 times and went no-huddle on 17 plays last week. Versus Arizona, the shotgun formations ballooned to 47, but surprisingly, the no-huddles stayed almost even (19), despite the Patriots trailing in the score throughout the afternoon.
Offensively, New England wasn't nearly as balanced as last week. Against the Titans, the Patriots ran the ball 35 times and threw 31. Against the Cards, they ran just 28 times, throwing 46.
Why was the loss of Hernandez so significant to the play-calling? Because he and Gronkowski combined to help the offensive line open up holes for Ridley a week ago. But when Hernandez left the game after three offensive snaps, the team replaced him mostly with Welker, who's not equipped physically to run-block the way Hernandez can. New England went from being versatile with its 2-TE, 2-WR set to a bit predictable with the 3-wide formations it ran most of the rest of the game.
As a result, Arizona wasn't biting on New England's play-action as badly as Tennessee did, partly because there wasn't nearly the mystery of whether they'd run or pass from their 3-wide sets as there was with the base 2-2-1 look from a week ago.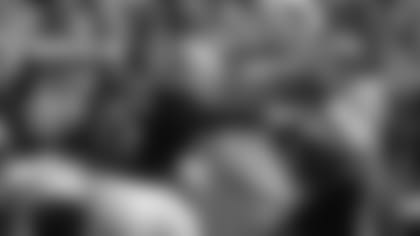 Like they did last week in Nashville, the Patriots defense showed an intensity and ability to make plays at the most important junctures. They did this again most often with the same personnel in their base 4-3 defense. The lone change in personnel came when the team went into its nickel (five defensive backs) package.
The Patriots kept right corner Kyle Arrington on the field in their nickel, sliding him to the inside. Only against Arizona, instead of Dowling taking over at right corner, New England inserted second-year man Sterling Moore. In fact, Dowling dressed, but never saw action in the Cardinals game. Only two other players could say that: backup QB Ryan Mallett and right guard Dan Connolly, who is still recovering from a head injury suffered at Tennessee.
Overall, New England once again was stout against the run. The longest run the Patriots surrendered was a 17-yard jaunt by Cards cornerback Patrick Peterson, who'd lined up as a Wildcat back. There was considerable confusion between linebacker/co-captain Jerod Mayo and Moore before the snap, which resulted in a huge swath of real estate on the left side (Moore's area) of Arizona's offensive formation.
That's exactly where Peterson chose to run the ball, and he received an excellent block from All-Pro receiver Larry Fitzgerald, who kicked Moore out and spun him around, allowing Peterson enough space to dodge the on-coming Chandler Jones. Aside from that, however, New England wasn't fooled by much the Cardinals did on the ground.
New England also seems to be defending the pass surprisingly well, given their historic struggles in that department a year ago.
The aforementioned Fitzgerald? Had grand total of one catch for four yards. And the guy guarding him much of the time? Devin McCourty. The cornerback/co-captain was tasked with following Fitzgerald one-on-one, even if that meant switching sides of the field, as we saw on occasion.
Arizona QB Kevin Kolb threw Fitzgerald's direction five times, but only once did the receiver make the catch. When McCourty wasn't covering Fitzgerald, Moore was. Both often had help from free safety Steve Gregory, who would creep toward the line of scrimmage as if preparing to blitz, then retreat at the snap to join the cornerback for a double team on Fitzgerald. This usually forced Kolb to look elsewhere.
Rookie Chandler Jones, the right defensive end, continues to exhibit excellent pass rush moves against veteran left tackles. He is varying his moves, too, so as not to become predictable, which is encouraging to watch as he grows into this role. Last week at Tennessee, for instance, he faked inside on Michael Roos, then went outside on his strip-sack of Jake Locker.
When he nearly sacked Kolb in the second quarter (drawing a holding penalty against D'Anthony Batiste), Jones jump-faked Batiste to the outside before bull-rushing his way inside. Batiste had no choice but to engulf Jones as he made his way to Kolb, which elicited the yellow flag.
For more reaction and an update from today's Patriots locker room, please visit the PFW blog. NFL.com's Game Rewind product is used for After Further Review.