...Brandon Spikes returned to the lineup to start the second half, after suffering from dehydration in the first half. He subbed back in for Hightower on the opening drive of the second half. New England remained in its "nickel-base," as I'll call it.
...Once again, the Bills stuck with their mostly no-huddle offense. Buffalo tried to run up the middle again several times, and it was relatively effective against this group. Despite more pressure from Kelly, Manuel was able to use his athleticism to elude the defense and pick up a large gain on the ground.
...Hightower replaced Spikes midway through the drive, and Vellano returned in place of Kelly. This drive ended, though, with a nice touchdown pass by Manuel to Stevie Johnson, who got a step on Arrington, and his safety help (McCourty) was too slow to react. Johnson got behind both defenders to haul in the perfectly thrown pass by Manuel.
...Vellano stayed in the game in place of Kelly on the next series, and Spikes swapped out Hightower again. The two linebackers rotated in and out of the game on this series. Buchanan came in for Vellano again for a play in that "NASCAR"-type three defensive end look we saw in the first half. He lined up again next to Jones, who bumped inside to rush from the tackle spot. This was a good series for the D, which forced a Bills punt.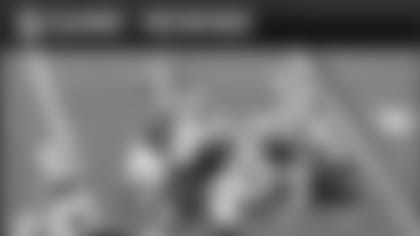 ](http://www.pjtra.com/t/R0BKSkdIREBKSElGRUBISEtERw)...The three-d-end/nickel look continued into the fourth quarter, helping force another Bills punt on a three-and-out.
...On the next series, Vellano and Kelly were back at tackle with Ninkovich and Jones at end. This personnel group forced yet another Bills punt.
...Hightower was back in on the next series, another three-and-out which ended with the three-d-end group of Jones, Ninkovich, Buchanan (Wilfork at tackle). This was an effective move by the Patriots. It generated good pressure on the rookie Manuel and forced him into hurried throws and quick decisions more often than not.
...All in all, a solid day for the defense. The only substitutions came in the front seven, as detailed earlier. The secondary, with the exception of a couple of plays in the first half, was the same all game: McCourty and Gregory at safety; Talib, Dennard, and Arrington at corner. The one miscue by Talib on the touchdown and the late reaction by McCourty and Arrington on the Johnson score were the only really serious errors (aside from penalties, which were few for New England on the day) committed by the defense. Had the offense not struggled so much, this game would have been over a lot sooner than the final second.
You can watch this game too with exclusive access to coach's film with NFL Game Rewind. Learn More >>