A day later, all the talk about the Patriots' 31-30 loss to the Ravens in Baltimore continues to be focused on the quality – or lack thereof – of the officiating.
In fact, in his opening remarks to reporters today, head coach Bill Belichick offered his own explanation for what led to his brief confrontation with an official on the field immediately after the game.
In today's After Further Review, we'll break down some of the officials' calls and a number of other important plays that led to New England's second straight defeat.
On Baltimore's final touchdown drive, cornerback/co-captain Devin McCourty was flagged for a defensive holding call against Ravens receiver Torrey Smith. McCourty and Smith may have brushed one another during the play, but there was never any actual holding by McCourty. The result should have been an incomplete pass and a 3rd-and-14 for the Ravens. Instead, they got an automatic 1st down to keep their scoring drive alive.
A few plays later, as defensive end Rob Ninkovich was bearing down of Baltimore QB Joe Flacco, Ravens left tackle Michael Oher appeared to commit an egregious holding penalty, grabbing Ninkovich around the throat as he blew by Oher, but no flag was thrown. The result of that pass play was a 27-yard gain by Ray Rice.
Right before Flacco's second touchdown pass to Smith, defensive tackle Kyle Love and rookie end Chandler Jones combined for a 12-yard sack of Flacco, but it was nullified by a defensive holding call on linebacker Brandon Spikes. He did engage tight end Dennis Pitta within the allowable five-yard window, but Spikes did not look like he held Pitta. In fact, Pitta appeared to grab hold of Spikes and nearly toss him to the ground. Instead of being forced into a 3rd-and-long, the Ravens hit pay dirt and closed the gap to just two points, 30-28.
McCourty was covering Smith as tightly as you can be permitted to, but Flacco just made a great throw to a spot where only Smith could make a play on the ball. Credit the Ravens for that.
Baltimore safety Ed Reed's shot to the head against wide receiver Julian Edelman in the first quarter should have been flagged. It looked like a helmet-to-helmet blow in real time, but Reed delivered his right forearm/shoulder to Edelman's helmet, as replays clearly showed in slow-motion. Still, that's against the rules, to hit a player in that region, so, a flag should have been thrown.
There were also numerous holding infractions that weren't called against the Baltimore offensive line. But Baltimore had plenty of reasons to gripe, too, like when Ravens head coach John Harbaugh was penalized for trying to call a timeout.
We could nit-pick for hours, but suffice to say, the officials did a good job of angering both teams last night.
McCourty, for the most part, played very well yet again, as he had in the first two games this season. Where he failed a few times was in making the big plays he was known for in his rookie year.
At the very end of the first quarter, for instance, he had perfect position on wide receiver Torrey Smith. McCourty was a few steps in front of Smith, facing the line of scrimmage and keeping Smith in his line of sight. Ravens QB Joe Flacco's pass intended for Smith was slightly overthrown and McCourty read and reacted to it nicely. As he came down with the ball, though, Smith's helmet seemed to get in the way and knock the ball free of McCourty's hands.
It would have been an outstanding grab had McCourty been able to hold on. That was the first play of what turned out to be a Ravens scoring drive – a touchdown pass from Flacco to Smith. Cornerback Kyle Arrington was one-on-one with Smith on the right side on that play.
As was the case in Tennessee Week 1, when Arrington surrendered a long pass play early in the game, Arrington failed to jam the receiver at the line of scrimmage, thereby giving Smith a free pass to run his route unobstructed. Arrington couldn't recover in time as Smith got a full step on him.
On New England's very next offensive possession, facing 2nd-and-6 from basically midfield, the Patriots attempted a reverse to Julian Edelman after a direct snap to Danny Woodhead. The play would have been perfectly set up for a huge gain – except New England failed to account for rookie outside linebacker Courtney Upshaw, who was allow to roam unblocked into the teeth of the trick play.
It appears as if left tackle Nate Solder should have at least given some resistance at the snap, which may have been enough time for Edelman to pick up speed getting around the corner. QB Tom Brady was also in position to throw at least a half-hearted block, had he so chosen. But no Patriot laid a finger on Upshaw and the play effectively stunted the drive then and there. The play lost 13 yards and offensive coordinator Josh McDaniels essentially conceded the ensuing 3rd-and-long with a handoff up the middle to Woodhead that gained just four yards.
The most backbreaking missed opportunity, though, came with just under a minute left. On 2nd-and-9 from New England's 34, Flacco, from the shotgun, lobbed a floating pass in the direction of Anquan Boldin deep to the left sideline. He perhaps rushed the throw as Jones was bearing down on him.
The pass was too high and far for Boldin, but cornerback Kyle Arrington was in perfect position to pick it off. Arrington simply tripped over himself as the ball fell right to the spot where Arrington would have been able to seal the victory for the Patriots.
The first time the Ravens got to Brady was on the very first series. Rookie outside linebacker Courtney Upshaw simply bull-rushed right tackle Sebastian Vollmer and muscled his way to Brady in the pocket. Meanwhile, inside 'backer Dannell Ellerbe rushed up the middle. He was first shoved to the inside by left guard Logan Mankins, who was passing Ellerbe off to center Ryan Wendell, but Wendell somehow got spun around, allowing Ellerbe a clear path to Brady.
Ellerbe got there first, but Upshaw was only a split-second behind as they engulfed Brady for a 9-yard loss.
Then in the fourth quarter, clinging to a two-point lead, the Patriots faced 2nd-and-9 from the Baltimore 44. Brady was in the gun, with three receivers to his left, two to the right.
Again, Ellerbe was unblocked and had a clean shot from Brady's left side. On the right, d-tackle Haloti Ngata simply overpowered right guard Dan Connolly and arrived at Brady at the same time as Ellerbe. The two swallowed up Brady and pushed the Patriots back over on their side of the 50.
The next play was an incompletion to Rob Gronkowski, then a punt, which Baltimore muffed, but the Patriots couldn't come up with.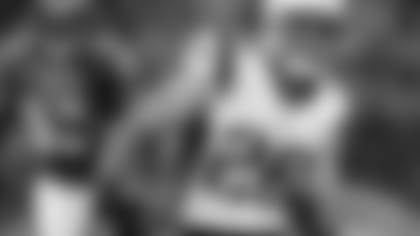 Safety Steve Gregory picked off his first pass as a Patriots midway through the first quarter. New England was in its base 4-3 defense with the usual personnel. Baltimore had a balanced formation, with two eligible receivers on either side of the line and running back Ray Rice in the backfield behind Flacco.
At the snap, Flacco play-actioned to Rice to the right. Pitta, lined in the slot right, simply ran past linebacker Jerod Mayo, who failed to bump Pitta within the allowable five-yard space at the line (this may or may not have been intentional given the result of the play).
Flacco may have seen a wide open Pitta, but failed to notice deep safety Gregory closing in fast. Gregory timed his jump in front of Pitta perfectly to make the interception, which set up New England's first touchdown of the game.
Brandon Lloyd had by far his best night as a Patriot, hauling in nine passes for 108 yards (a perfect 12-yard average). He did so by running very precise routes against Ravens cornerback Cary Williams, and making great adjustments to the ball with Williams in his face.
Lloyd wasn't perfect, of course. In fact, he seemed to slow up inexplicably on a deep pass down the Ravens' sideline with under a minute left in the first half. Brady's lofted pass fell just out of reach of Lloyd, who may have come down with it had he been running full speed after beating his man with a nice stutter-move at the line of scrimmage.
In one of the more bizarre moments of a night filled with them (including a man wearing a cape and little else prancing around the field, which delayed the game several minutes in the second half), Edelman injured his left hand either on his touchdown catch at the end of the first half or in the celebration that followed.
NBC broadcast cameras clearly showed Edelman making a the grab, falling to the ground, bouncing up, and performing a home-run swing. He was then mobbed by teammates who were congratulating him. As Edelman jogged to the sideline, he ripped the glove off his left hand and yelled for a trainer. He then ran to the locker room with a couple of medical staffers while the rest of the team finished the remaining seconds of the half.
Edelman did return to the sideline in the second half, but never went back in the game. He had either a heavy tape or bandage job on that left hand, over the red receiving glove he was wearing.
For more reaction to last night's game and an update from today's Patriots locker room, please visit the PFW blog. NFL.com's Game Rewind product is used for After Further Review.