The Patriots showed admirable resolve and fight in a 35-30 loss to the Seahawks and though they struggled to stop Russell Wilson, the New England passing offense came to life and gave hope that this is once again a very dangerous Patriots team despite the loss.
Cam Newton was at the center of the biggest plays once again, but this week Julian Edelman put forth one of the best performances of his career and N'Keal Harry showed signs of life in his ninth NFL game, while the defense gave up more than they took away and ultimately couldn't hold Seattle under 30 points.
Here are the five plays that defined a promising loss!
Devin McCourty's pick six
Situation: 1st quarter, 0-0, 1st-and-10 from SEA 38
There isn't a much better way to start a game than getting a pick six, especially when you know it's going to go down to the wire and every point will matter. Devin McCourty showed a flash of the early-2019 defense on the play, being in the right spot at the right time as tight end Greg Olson watched Russell Wilson's pass sail through his hands.
Last year, these kind of plays largely sustained the Patriots for the first months of the season and while it's always good to see the secondary get off to another hot takeaway start, the defense did not produce another turnover in the game.
After seeing much of the punditry picking Seattle to win the game all week, the Patriots jumped out to a quick lead that set the tone for much of the game, until Seattle pulled away in the late third quarter and New England was forced to play catch up.
Harry takes huge hit for a fourth-down conversion
Situation: 1st quarter, 7-7, 4th-and-3 at SEA 31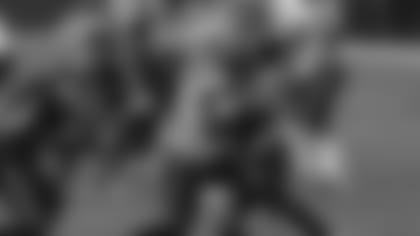 Last week Cam Newton stuck up for N'Keal Harry's performance against the Dolphins and on Sunday he backed it up on the field by showing confidence in Harry in multiple key situations. This fourth-down conversion was the first of the game and though Harry would go on to have three catches on the final drive, this one set the tone for his best game in the NFL.
Harry absorbed a huge helmet-to-helmet hit that resulted in the ejection of the Seattle defender and how he quickly popped up is sure to have caught the attention of his teammates. Newton would take it into the end zone three plays later, giving New England a 14-7 lead early in the second quarter.
This should be a confidence-building game for Harry and give Newton even more trust to continue to feed his big second-year receiver.
Metcalf catches 54-yard bomb TD
Situation: 2nd quarter, 14-7 NE, 2nd-and-8 from SEA 46
It seemed like the Patriots defensive gameplan was to let the Seahawks take the underneath stuff but try to prevent the big scoring plays. Whether that was the plan or not, teams never want to give up big plays and Seattle busted things open with Wilson launching a bomb as he was hit to D.K. Metcalf. The ball was slightly underthrown, partially due to Chase Winovich's pressure, forcing Metcalf to slow down and allowing Stephon Gilmore to get a hand on the ball. But Metcalf was just too strong, ripping the ball away and trotting into the end zone to tie the game.
New England is well aware with how dangerous Wilson is downfield and despite their best measures to prevent big plays this was the first of many that they had no answers for. Wilson would add touchdown throws of 38, 21 and 18 yards in the third and fourth quarter as he picked the pass coverage apart all game long.
Wilson is one of the best in the league, but the Patriots secondary was supposed to be as well. We'll see how they bounce back with Derek Carr and Patrick Mahomes on the immediate horizon.
Julian Edelman, deep threat
Situation: 3rd quarter, 28-17 SEA, 1st-and-10 from NE 28
After watching the Seahawks extend their lead with a second-straight touchdown, Newton came out firing, finding Julian Edelman for a 49-yard catch that put the Patriots right back into the game on the first play of the drive that would close out the third quarter.
It was a spectacular catch by the veteran receiver, who laid out here and also took a ton of hits in this game. Once again, Edelman is developing a good chemistry with the quarterback and he was the prime example of a passing offense that answered some of the doubters.
Edelman would set a personal best for receiving yardage with 179 yards and this one was the longest of the day. He would also pick up 33 yards on the next scoring drive that took the Patriots down the Seahawks 1-yard-line, as well as an 18-yarder on the final drive of the game, proving once again what a vital piece he is in the key moments of games.
Newton stopped short of the game winner
Situation: 4th quarter, 35-30 SEA, 1st-and-goal from SEA 1
Despite being down by as much as 12 points, the Patriots clawed their way back into the game in a fashion that their fans almost got used to over the last 20 years. Down five points with just three seconds left, there was little doubt what play New England would run.
Cam Newton was their best weapon all day and often looked unstoppable in short yardage situations. You want to win or lose the game with your best player, and New England avoided facing the same questions Seattle faced after Super Bowl 49 when they chose to make a risky throw instead of handing off to their best runner.
This time around the Newton keeper was stopped in the backfield, due in large part to fantastic penetration by Bobby Wagner, who essentially blew the whole play up. His disruption and defeated blocks of Jakob Johnson, Michael Onwenu and Shaq Mason left Newton with nowhere to go.
It was an anticlimactic end for what felt like it was about to be Cam Newton's first big Patriots moment. But despite the loss, this game was still very much a Cam Newton moment for the Patriots and their fans. There's no question, they are his team now and how well the team can complement and feature him will determine just how far they'll go this season.
Leftover Notes
Nick Thurman got called up from the practice squad and only played only 5 snaps but on his first one he had perfect technique - stacking, shedding and making a tackle after a short gain by Chris Carson.
The fourth-quarter option pitch to Rex Burkhead that was stopped on third down for a loss was one play that I think the Patriots would like to have back.
The 3rd-and-1 stop that the Patriots got under two minutes saw them bringing a zero blitz with man coverage on Seattle's four receivers. Wilson threw it up to let his receiver outrun Jonathan Jones, but it was just a touch too high. The outside slant might've been there for the taking had the snap allowed Wilson to stay on time.
The Seahawks did a good job of exposing Ja'whaun Bentley in space, as he was often put in unfavorable situations. While the Pats play plenty of Adrian Phillips alongside Bentley, there's still a noticeable lack of range inside. Could Josh Uche help? Hopefully we'll find out soon.
Also keep an eye out for Anfernee Jennings increasing his role, I think the Patriots need better production and athleticism on the edges, maybe he could be an upgrade on Brandon Copeland. He played just two snaps.
Lawrence Guy had his struggles in this game, but I again came away impressed with Byron Cowart in spurts. He's a powerful man who packs a punch. After playing 21 snaps (34 percent) against the Dolphins he played 31 (49 percent) against the Seahawks.
Chase Winovich continues to impress in his second year. His non-stop effort is impossible to ignore and he's starting to show up with more and more impact plays.
Damiere Byrd tied the second best receptions day of his career with six. After not seeing a target in Week 1, Byrd came through on a number of key catches. His development is suddenly something to monitor as he looked comfortable in a similar role to which he played with Arizona.
Kyle Dugger also showed up again, this time with a half sack and a hard hit along the sidelines. He jumped from 11 snaps to 34.
Ryan Izzo has been improved this year but the Patriots must find a way to get better production from the position which has three catches through two games. Devin Asiasi (10 snaps) continues to seem relegated to a blocking role to get his feet wet.