St. Augustine, Fla. - The Super Bowl represents the best of the best, often in more ways than one. When the New England Patriots and Philadelphia Eagles meet in the National Football League's signature game Sunday at Alltel Stadium, the league's two best kickers - Adam Vinatieri and David Akers - will also be in the national spotlight.
Vinatieri has left his mark on the Patriots last two Super Bowls with game-wining field goals and is known as one of the most clutch field goal kickers in NFL history. Akers, though, is arguably every bit his equal, with unquestionably much less exposure. The numbers for Vinatieri and Akers line up strikingly similarly, to the point that the two finished atop their respective conferences in scoring this season. Akers hit 84 percent of his field goals, connecting on 27-of-32, to lead the NFC 122 points this season, while Vinatieri scored a career-high 141 points to lead the entire league.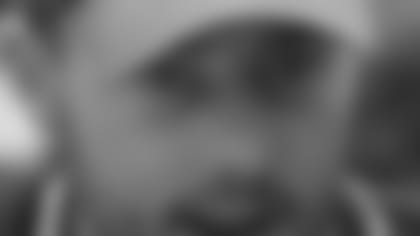 ]()So are these the two best kickers in the NFL?
"Without question," said Philadelphia special teams coordinator John Harbaugh. "I think you're looking at two guys who both have a chance to be Hall of Famers. I'm partial to David [Akers]. But I think they're the two best guys in the league by far."
Just as Patriots head coach Bill Belichick has said there is no other kicker he would rather have than Vinatieri, so too do the Eagles have their guy in Akers.
"Absolutely," agreed Harbaugh. "If we didn't have David [Akers], I would want to have Adam [Vinatieri]. But we'll take David."
Akers has been everything a team would look for in a kicker - beginning with reliable and consistent - over his six seasons in Philadelphia. Besides being the Eagles all-time leader in field goals with 139, Akers ranks second all-time in NFL history with a .832 field goal percentage, trailing only Indianapolis' Mike Vanderjagt. He was named to his third-consecutive Pro Bowl following the season, and trails only Vanderjagt (625) for the most points since 2000 with 605.
Harbaugh was hard-pressed this week to come up with an instance in which he sent Akers out for a key field goal that ended with unfavorable results. His only recollection over all six of Akers' seasons was a 43-yard miss from the right hash mark in a 10-7 win over the New York Giants in the final game of the 2002 season.
"We have a lot of confidence in him," Harbaugh said. "We have more confidence in David than David has in himself. That's probably was he's so good. Because he's always challenged by every kick. He'll tell you he's nervous in practice. That he wants to make every kick. And when he doesn't make every kick, he's ticked about it. He wants to come in and watch it on tape to see what happened. He's his own biggest critic, that's for sure."
Akers has spent much of Super Bowl week talking about his admiration for Vinatieri and the late-season heroics of the Patriots kicker. Like Vinatieri, Akers didn't have a paved road into the NFL. Originally signed as an undrafted rookie free agent out of the University of Louisville by Carolina, he landed on the waiver wire three times in between short stints with the Panthers, Falcons and Redskins before landing in Philadelphia in 1999.
Akers, who has eight game-tying or game-winning field goals with under 5:00 minutes to play since 2000, marvels at Vinatieri's ability to kick in big-game situations.
"It's huge to hit kicks like that in the Super Bowl," Akers said. "Obviously he has had two 40-plus yard field goals that have finished the game. He, in my opinion, has made some of the greatest kicks I have ever seen. I still think the snow kick was the best kick I have ever seen in football. There are so many great, great kicks that he's made. And even better is he's a great guy. You have more joy for a guy you know is a great guy and a great professional as well."
Akers and Vinatieri talk and know each other mostly from their mutual Pro Bowl appearances. Akers is quick to mention Vinatieri in the same breath as long-time kickers Gary Andersen, Morton Anderson and Nick Lowry.
"I can't say enough things about Adam," he said. "He's just one of the greatest guys and one of the greatest kickers I've ever seen. They should, in my opinion, have the hall of fame opened up to a little bit more to kickers."
Like many kickers, Akers has survived on the mentality on thinking only about the next kick. It's worked so far, right? One thing that isn't included in Akers' mentality is grand visions of winning Super Bowls with game-winning kicks. It's a question he's been asked several times this week, but the answer remains the same: It's something he's never really thought about.
"I really haven't much until people kept bringing it up," Akers said. "I don't sit back and dream about it. I really don't. Maybe I'm weird. Somebody asked me, 'When you were a kid didn't you think that?' But when I was a kid, I thought I was John Riggins running people over. I didn't dream I was going to grow up and be a kicker. I guess your ideas change over the course of a lifetime."
Okay, so he doesn't dream about game-winning field goals in the Super Bowl that most of us conjure up when we analyze the psyche of field goal kickers. But it doesn't stop Akers from remaining confident - and eager - to get the chance to best Vinatieri on the game's biggest stage.
"I don't know if I thrive on it, but it's definitely the nature of the game," Akers said about the possibility of a game winning kick. "Several games come down to the kick whether it's a field goal or an extra point to tie the game. That is a reality and I hope to do well on Sunday. If it comes down to it, I feel very confident that I can make it."