FOXBOROUGH – It was a career night for BenJarvus Green-Ellis.
He ran for the most yards he's ever gained in a single game: 136. He rushed for two touchdowns for the first time this season, upping his total to five in 2011. He averaged exactly five yards per carry.
But all anyone wanted to talk about afterwards was a drive in which Green-Ellis did not score.
With 7:07 to go and clinging to a six-point lead, the Patriots gave the ball to their veteran workhorse running back time and time and time again – six straight at one point, and 10 times out of 12. In so doing, the Patriots were able to run out nearly all of the remaining clock, while adding a precious extra three points on the strength of a Stephen Gostkowski field goal with just over a minute left.
It was a textbook example of what has become known as the "four-minute offense," when a team with the lead attempts to control the ball for the final minutes of a game.
"We practice four-minute offense a lot, and that was a great case of it there," wide receiver Deion Branch said afterward. "The best thing about it, it was a long time. The front line did a great job run-blocking, because we pretty much just ran the ball. We threw one or two passes … we went into the game and wanted to be balanced. We were that today."
In fact, New England threw just one pass on that final drive – a Tom Brady completion to tight end Rob Gronkowski to pick up a crucial first down – and the only other non-Green-Ellis play was a Brady QB-sneak, which also picked up a first down.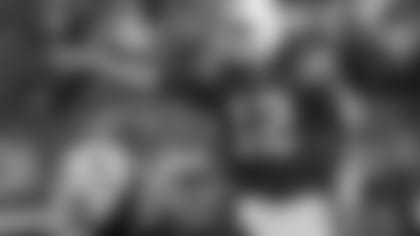 "That's what you need," added Gronkowski. "When you need to kill the clock, it's huge, because you don't want to give the Jets a chance to come back. You just want to finish it off, and we did with the field goal."
The ground game's success was aided by the fact that the Jets expected the Patriots to throw more. As a result, they presented a lot of sub packages with multiple defensive backs on the field, creating mismatches with the bigger bodies that New England trotted out.
Throughout the game, and for the second week in a row, the Patriots employed reserve offensive lineman Thomas Welch as a blocking tight end, and rotated him with rookie Nate Solder in both that position and at right tackle, to help give the running game a boost. In addition, on New England's final drive, linebacker Dane Fletcher joined Welch as an eligible receiver by lining up as the fullback in front of Green-Ellis, who finished with a career-high 136 yards and a pair of touchdowns.
Head coach Bill Belichick also credited Brady's decision making with putting the offense in positions to be successful with their run calls. As Green-Ellis explained to reporters, Brady would call two or three plays in the huddle, then check to the one he felt was best suited to attack the defense New York was in at the time.
"That's something we worked on all week and that's a part of Tom's job, to come up and get us in good looks … and he picked the right one and we were able to execute.
"It's not just an individual effort," Green-Ellis stressed in his post-game remarks. "It's all 11 guys out there. Nothing happens without those guys up front. They did an extremely good job of getting to where we needed to get to and allowing me to make reads and cuts off them.
"We're doing whatever it takes to win. We're not making excuses about anything," he concluded. "Thomas Welch and Nate Solder, they're doing a good job of whatever we're asking people to do, everyone is stepping up and just going out there and getting it done. Hats off to those guys for learning multiple positions. It's a team effort."