To be the best, you must first beat the best.
The 11-1 Houston Texans owned the NFL's best record, but even they knew that meant little to the far more experienced Patriots.
Biggest game in their history, as receiver Andre Johnson dubbed it last week?
Please. The Patriots play in games this big every year.
The Pro Bowl receiver and his Texans teammates were woefully ill-prepared to take on this challenge, and that was evident from the opening drive.
Houston tried to convince itself of… something – who knows what exactly… by strutting into Gillette Stadium wearing customized letterman jackets… then proceeded to play like a high school team.
Or more like a bunch of 10-year-olds, which is in fact how old this franchise is. Maybe they came here looking for respect, because so many outsiders doubted that Houston was as good as its impressive record indicated. Instead, the Texans only proved they have a lot more growing up to do.
"I think they showed us what it takes to be a champion," Texans linebacker Bradie James confessed after his team's 42-14 drubbing.
"We got our tails kicked," head coach Gary Kubiak acknowledged.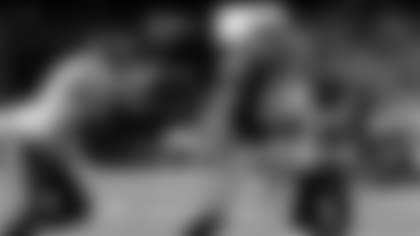 "You know, you miss two or three plays offensively and we give up a big return, and all of a sudden you are down 21 to nothing. But that's the type of football team you are playing… give them credit. They got after us all night long on all phases, too many penalties, all those things so, no excuses; they got after us pretty good."
Could it have been that Houston was buying into the considerable hype surrounding them? How Houston defense, led by precocious sack master J.J. Watt, was perhaps the league's best, with an MVP candidate in Watt.
"Obviously, we always talk about ignoring the noise, but you hear it," linebacker/co-captain Jerod Mayo admitted. "You hear it walking down the street. It was a little bit of a motivational factor for me, at least. I'm sure the rest of the guys felt the same way."
Could the Texans have been awed by the grandiose stage on which they found themselves? Could the Patriots – who've been there/done that so many times before – have allowed the Texans to fall for this ruse, feeding into it by talking up the Texans all last week?
"Well, it was a big game because they were 11-1, leading the AFC and we had to see where we're at, see where we match up against the better teams in the league," QB/co-captain Tom Brady observed.
"We lost to Baltimore, who's winning their division; we beat Denver, who's leading their division; and we beat the Texans, who are leading their division. It's always good to win these games, certainly Monday night – we've played in a lot of big games here – but Monday night in December is an important one for us and we came out ready to go."
"We took it as another game," left guard/co-captain Logan Mankins remarked matter-of-factly. "We knew it was a big game, but no game is too big. There's only one huge game [the Super Bowl]. The next game's always the biggest one. This week's another game [against San Francisco] with a lot of pressure. We're used to that."
The Texans clearly are not.
But if they're smart, they'll learn from recent history.
It was only two years ago that the Patriots trounced the New York Jets at Gillette on a Monday night. A month later, the Jets flew back into town and ended the Patriots' season with a convincing playoff drubbing of their own.
It's entirely possible – indeed, even probable – that the Texans and Patriots will meet again in January.
"We very well could," said Texans QB Matt Schaub. "[Tonight] was frustrating because we pride ourselves on being a smart football team, a clean football team, and we weren't that in the first half. We dug ourselves a hole we couldn't climb out of and we have to take a hard look at that. This business is very humbling at times and that's what happened here tonight and we have to learn from it, grow from it, and be a better football team."
Make no mistake: Houston is a good football team. Much better than tonight's score might indicate. They might even be the best team in football.
They just haven't proved it yet.