Former Northeastern star and Brockton, Mass., native Jason Vega signed with the Patriots this offseason as a versatile defensive option in the Rob Ninkovich-mold after a couple years spent with the Winnipeg Blue Bombers. His story coming out of a lower level of college football and working his way toward a chance at the NFL by any means necessary is not all that unique.
The same can't be said for Armond Armstead, another Canadian import this spring in Foxborough who spent last season as a CFL All Star helping to lead the Toronto Argonauts to the Grey Cup. The athletic defensive lineman actually played college football as a highly regarded recruit at USC before suffering a heart attack and not being cleared to play by the Trojans medical staff for his senior season in 2011.
He claimed the heart attack was caused by injections of the painkiller Toradol by the USC medical staff and has a pending lawsuit against the school.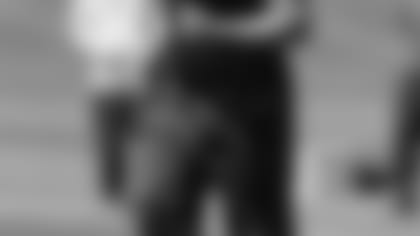 Despite being given a grade as a potential second- or third-round pick after his junior final season in SoCal, Armstead went undrafted and unsigned last spring after missing his senior campaign.
But following an impressive year in Canada, Armstead is now arguably the most uniquely intriguing young prospect in New England this offseason.
Ready to take on the challenge of his next career opportunity in New England, Armstead looks back fondly on his time in Canada that saw him register 43 tackles and six sacks.
"It was a great experience living in a different country and getting to experience a different culture and everything. Just having an opportunity to play professionally, even though it was Canadian, I was just excited to have the opportunity," Armstead said. "I feel like I learned a lot, how to be a pro and how to approach your work and everything. I feel like it's going to help me out a lot."
Armstead said the talent of the competition he faced in Canada varied, as it has at every level he's ever played at. He also joked that nothing has ever compared to what he faced in practice at USC when "practice every day was harder than any game I had in college."
Having been in Foxborough for a few weeks now working out, and with a year of CFL action under his belt, Armstead is clearly a few steps ahead of the draft picks and rookie free agents he's working with this week. But he's also not quite a veteran.
"I don't know what to consider myself," Armstead answered with a laugh when asked how he fit on the roster of rookie and veteran talent. "I would say I'm a rookie in the NFL, so yeah I'm a rookie."
Armstead has experience at both USC and in Toronto at a variety of spots on the defensive line, working as a tackle, end, sub rusher and even a stand-up defender.
"Whatever I can do to get on the field, that's what I'll do," Armstead said, echoing a common sentiment heard this time of year.
While his position and role in New England is very much uncertain at this point, one thing that is for sure is that Armstead isn't taking anything for granted. Once a guy Pete Carroll himself projected as a future first-round pick, the former Trojan has gone through a lot to get to his first NFL opportunity.
"I feel like a lot of the experiences I've had the last two or three years have humbled me a lot. It just made me appreciate everything I'm given more and not take stuff for granted," the impressive Armstead said. "Being a highly-recruited player and going to a school like USC, you kind of take for granted the opportunities. You see guys who don't even play go to the NFL. So you take that for granted. You think, 'Oh, I'm going to go to the NFL too.' My experience, what happened to me, definitely made me more hungry and made me more humble.
"I feel like the experiences I've had, I wouldn't say it's a chip on my shoulder but I don't take anything for granted. I approach work every day and I appreciate everything I'm given a lot more. I'm not angry at anybody, but I just want to show everyone what I can do."