I love it when the Pats run the no-huddle. Do you think we didn't run the no-huddle as much as we would have liked last year due to our lack of defense in an effort to better control the clock? Given a hopefully much improved unit, do you think we will get back to more no-huddle? Also, I think all Pats fans are really going to miss having Matt Light as part of our OL. I love [Sebastian] Vollmer and [Nate] Solder as our bookends, but have concerns about Vollmer staying healthy. Do you think [Marcus] Cannon will be able to step in and produce as a starting tackle should Vollmer get hurt again? Thanks.
Mike Anderson
No, the Patriots' decision to employ or eschew the no-huddle attack has nothing to do with New England's defense. I wrote a detailed analysis of the team's no-huddle offense around mid-season last year and, in it, discovered that the team scored two-thirds of the time when they went no-huddle (which was about a third of the time). They huddled two-thirds of the time, but scored just once every three drives from the slowed-down tempo. So, I asked Bill Belichick and Tom Brady why they didn't use it more often when it appeared to be so successful.
Their responses were revealing. Essentially, they said operating without a huddle is advantageous only when going up against defensive personnel who aren't equipped to match up with the players the Patriots have on the field. The disadvantage, from New England's standpoint, is that they can't substitute when they're not huddling. This limits the number of plays they can run with the personnel they have out there.
For instance, if the Patriots have their third-down back on the field with three receivers and one tight end, that personnel package isn't always the desired one for goal-line situations, when a "heavy" package is more likely to succeed. So, no matter what improvements the Patriots make to their 2011 league-worst defense this year, they will have no effect on the offensive play calling.
Now, the lack of Light's steady presence is surely a loss for New England's o-line, but I have little doubt about Solder's ability to step in and perform. For one, he's far more prepared for the role than Light was when he was handed the job as a rookie in 2001. Secondly, Solder is a more talented player and could potentially be better than Light ever was.
However, I share your concerns about Vollmer's health, which puts the right tackle position up for grabs. Cannon, it would seem, would be the frontrunner to replace Vollmer, if he can't go, but you could see competition for that role from any number of young players on the roster, such as Matt Kopa (a 2011 practice squadder), or perhaps veteran Robert Gallery, if he's not thrust into the right guard role.  
Erik Scalavino
With Tom Brady reaching the end of his career, do you think the Patriots will choose to develop their young quarterback Ryan Mallett, like what Green Bay did with Aaron Rodgers, or do you think they will choose to wait and take a new quarterback through the NFL Draft?
Todd August
Well, I'll admit, I thought New England found it's QB of the future in the third round … of the 2008 draft, when they selected Kevin O'Connell from San Diego State. And that's the difference between Rodgers and Mallett. The former was a first-round pick, the latter a third, like O'Connell.
I'm not saying a third-round quarterback can't succeed in the NFL (heck, Joe Montana was one), and we all know where Brady was selected. But look around the league and find the elite quarterbacks, or at least the upper echelon ones, other than Brady: both Mannings, Drew Brees, Rodgers, Ben Roethlisberger, Joe Flacco, Philip Rivers. All but Brees were selected in the first round, and Brees was a high second-rounder.
Look at some of the up-and-coming stars at the position: Cam Newton, Andy Dalton, Sam Bradford, Christian Ponder … first-rounders all, with the exception of Dalton, who, like Brees, was a high second. Matt Schaub of Houston is the best current example of a QB drafted in the third round who became a bona fide starter.
Again, this isn't to suggest that Mallett can't become one, but he was inactive all last year, so, we still don't know what he can do at the NFL level. If Mallett is again in the third-string role this year, it will be difficult to project him as the heir apparent to Brady. He needs to start showing something this summer if he hopes to be included in that conversation.  
Erik Scalavino
I feel that Julian Edelman should get a chance to win a spot as a DB in camp because there is really no room for him [at wide receiver]. What do you think?
Ronald Osborne
Edelman was a nice surprise last year, pulling triple duty as a receiver, returner, and part-time defensive back. In case you didn't notice, though, Ronald, New England's secondary was appalling. It cannot continue to operate with a patchwork unit of hybrid players, be it Edelman, Matthew Slater, or even Devin McCourty bouncing from corner to safety.
Edelman's likely not going to contribute much as a receiver this season, unless catastrophe befalls the overstocked roster at that position. His best chance of making the team is as a kick/punt return specialist, a role which he has grown into rather nicely. Let's leave the cornerbacking responsibilities to those players who make it their day job. That's the only hope this team has of improving at that spot.
Erik Scalavino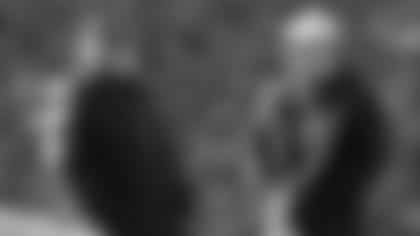 What differences do you think Josh McDaniels will bring to the Pats offense that we didn't have last year? Josh will hopefully have more to work with from a WR standpoint, but from a play-calling aspect, what can we expect in contrast to Bill O'Brien (who left me scratching my head in certain situations).
Wano Yee
One thing McDaniels loved to use when he was here the first time was the screen pass. We haven't seen many of those in Foxborough since he left, but I suspect now that he's back, they'll turn up more frequently.   
Erik Scalavino
With so many wide receivers on the roster right now, it's quite a competition. Can you see all of them making it or maybe one or two cuts? How about a Welker trade? Not that I'm hoping or expecting it, but think is a possibility. Also, do you feel a sense of excitement going forward this season about the defense? With the additions through the draft and FA this year, AND the potential of players coming back from injury, I sincerely think they could be a dominant unit.
Shane C.
There are nearly a dozen players on the roster right now (including rookies and special teams captain Matthew Slater, who's not really a receiver), so, um, yeah, I see more than one or two cuts. In all likelihood, only six will make the 53-man roster, and I'm excited to see the competition play out at this position more than any other. I wouldn't rule out a trade of Welker, either, but my gut tells me he'll be a Patriots again, at least for one more season.
Excitement isn't the term I'd use to describe my feelings about the defense. Cautious optimism is a more apt description. The additions you cited are intriguing, certainly, and add depth in the free agent cases, but it remains to be seen if any of the rookies are legitimate playmakers. As for the players returning from injury, I have little faith in Ras-I Dowling at this point, and Andre Carter isn't currently under contract. I agree that the defense should be better than last year – it can't get much worse – but to say that side of the ball will be dominant, Shane, is just laughable.   
Erik Scalavino
Where do you see Alfonzo Dennard in the picture for the Patriots D?
Joseph Boyd
Dennard will get a chance to compete for playing time. Were it not for his arrest last month, he would have been taken on day two of the draft. He's a good player and that position desperately needs guys who can play.
Erik Scalavino
Greetings from across the pond (Austria). I've been following you guys for more than two years now – keep up the good work! My question: How do you feel about Rob Ninkovich heading into the next season? I really felt he was an impact player down the stretch last year. To me he was by far the Patriots best OLB and he played very versatile. He was a factor in the passing game when covering but especially generating pressure off the edge. I was also very impressed by his intelligent play against the Broncos in the playoffs, where he kept any option-play that went his direction impressively well in check. In short, I'm a huge fan of this guy and would like to know your opinion about his role and potential heading into the next season.
Philipp Schemeth
We're big fans on Ninko, too, here at PFW. He's a great guy off the field, and a tough, hard-working, overachiever on it. I wouldn't exactly dub him "an impact player," as you did, but he's solid in all areas, dependable, and once in a while, makes some big plays. He's exactly the kind of player every team needs at least one of, but ideally, he'd be best served as a situational role player, not an every-down one.
That said, even with the drafting of Chandler Jones and signing of Trevor Scott, the Patriots haven't done a whole lot to address the outside 'backer position, in terms of true "impact" players. So, we'll likely see plenty of Ninko throughout the season, often as a starter.
Erik Scalavino
Since we got Dont'a Hightower in the draft, and currently have Brandon Spikes, Dane Fletcher, Jared Mayo, Rob Ninkovich, what is going to happen to Bobby Carpenter? We added him via free agency but with drafting Hightower, I don't see him getting very much playing time at all, if at all.
Kyle Rodgers
As I just mentioned above, Ninko is an OLB, so you can remove him from the discussion of inside guys. But your question is still valid. Carpenter faces an uphill battle to make the roster, for sure. Now, unless Carpenter blows everyone away once the pads are on in training camp, his best chance, it would seem, would be to compete with Fletcher, but even then, the latter has the edge. I'm interested, though, to see what, if anything, Carpenter can bring to this defense.
Erik Scalavino
In terms of jersey numbers, no one currently has 99 so, all being well, is it likely Chandler Jones will wear the number he sported at Syracuse? As Dont'a Hightower, as a linebacker, can't wear the number 13 jersey he had at Alabama, I guess he'll just take whatever is assigned by the coaches. I know this is an extra question, but do you see any of the captains changing from the 2011 to 2012 season?
David Beckett
Jones was sporting jersey number 95 during rookie mini-camp this past weekend. He told us on PFW in Progress that he wanted 99, but then, a few days later, veteran Trevor Scott said the same thing. Looks like the vet won out. Hightower, meantime, is wearing 45, but that will change once he officially makes the 53-man roster. In all likelihood, he'll be given a number in the 50s, or, if none is available, in the 90s.
Last year, there were a half-dozen captains: Tom Brady, Vince Wilfork, Jerod Mayo, Logan Mankins, Devin McCourty, and Matthew Slater. The first four are locks again, in my estimation, as is Slater – the special teams captain – if he makes the team again (that's not a guarantee, given all the "solid special teamers" on the roster at the moment).
McCourty is the only one I could see not being re-elected, based on the tumble he took in his performance on the field in 2011. He's a fine young man and seemed to do a capable job as a captain, but he could be supplanted by someone like Patrick Chung, a slightly more experienced and more consistent player.   
Erik Scalavino