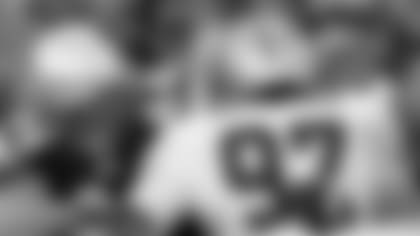 I have to say this Bethel Johnson trade is a very stupid one! All that Sullivan will be is a backup to Vince Wilfork. Johnson was our kick returner, and our 5th, or maybe this year even 4th wide receiver and now what happens if one of the other 4 wide receivers is injured at any point? Don't the Patriots run some 5 wide receiver sets from time to time?*
*Robbie Mitchnick
I'm wondering why the Pats added another defensive lineman. What is it like 15 d-linemen on the roster now? I know they might have wanted to add depth behind Wilfork, but the guy they should have traded for from the Saints is LB Courtney Watson. He has done much more in two seasons than Sullivan has in three, he has potential and I think we still need to add some LB's. What's your take on this? Do you think the Pats tried to get Watson?Sulmaan R
To start off.... I really like this trade. The Pats have been looking for a #2 nose tackle all off-season, and hadn't found one yet besides a late-round draft pick. The Pats played great run D two years ago when Traylor was in the nose and split time with Wilfork. I'm not saying that Sullivan = Traylor. I'm saying that some split time with Wilfork will make both better. But the Pats still need more WR help... PS-I think letting Tim Dwight go was a mistake. Scrappy player, good punt returner, low salary.Brian Bim
Well, as expected we have received a lot of feedback regarding the Bethel Johnson-Johnathan Sullivan trade. I have different opinions on Sullivan the player and the overall big picture of the trade for the Patriots.
Being the draft buff that I am, I watch closely when teams make surprising selections. I remember almost falling out of my chair when the Saints traded up to the six spot and took Sullivan. I've followed his career closely since then and there really hasn't been much to follow. He's been a lazy, unmotivated player from the moment he arrived in New Orleans. Last year, he couldn't even get on the field for a team that needed all the defensive help it could get. If he comes to the Patriots with that same attitude, Bill Belichick will cut him before he's even issued a number. In my opinion, based on what he's done in the past, Sullivan will have to fight just to make the roster.
Having said that, I like the trade because you are talking about two players who have underachieved in their careers so far. I'll take a 320-pound underachieving defensive lineman over an underachieving wide receiver with speed any day of the week. A team can never have enough big horses in the trenches. One of you said the Patriots have 15 defensive linemen on the team now. Who? Dan Klecko? Marquise Hill? Santonio Thomas? Sorry but those guys don't do anything for me. Tell me out of those 15 guys, who can play nose tackle and play it well enough if something should happen to Wilfork? I like Mike Wright and all but he's not a great fit inside. He's more of a NT/DE hybrid. If you look at it realistically, the Patriots lack depth on their defensive line, especially on the interior behind Wilfork. If Sullivan can get his act together, he'll provide much needed help at nose tackle and while I understand the Patriots are weak at receiver too, that position is much easier to address as the offseason moves forward. As far as kick returners go, Ellis Hobbs, Laurence Maroney and Willie Andrews are just a few of the many candidates who will battle to replace Johnson in that capacity.
Let's be honest, Bethel was going to have to fight just to make the team this season and the same can be said about Sullivan in New Orleans. The problem with both of these players is not a lack of physical ability but it's between their ears. Belichick has already done all he can to try and reach Johnson and it just didn't happen. In Sullivan, the Patriots were able to get a player they liked coming out in the draft a few years ago and a former college teammate of Richard Seymour. Okay, the team failed with one underachiever but maybe they can turn Sullivan around. He'll never live up to where he was drafted but if Belichick can turn him into a productive backup on the defensive line, I think this is a win for the Patriots. I honestly don't see Johnson as anything other than a guy who may score a couple of touchdowns a year on a kick return or a fly route. I'm sorry but that's not enough of a reason to keep a player on the roster going into his fourth season.
We will have to wait to see how this all turns out. There is a chance that neither player even makes their new team if they don't impress the coaching staff in training camp. Like I said, I don't like Sullivan in general because I can't stand lazy players who don't take advantage of their God-given ability but the Patriots gave up nothing to get him. This trade obviously tells you that Johnson's chances to make the team were slim and if Belichick and Seymour can motivate Sullivan, it could end up being a decent trade for the Patriots.
Let's not get too caught up on a trade involving marginal NFL football players but like I pointed out above, I'll take the big hoss on the defensive line over the small, fast receiver who struggles running routes. You can win Super Bowl titles with an average receiving corps – the Patriots have proven that – but if a team doesn't have depth along their defensive line, their starters wear down as the season goes on and it's difficult to stop the better offenses in the playoffs. For that reason, I like the trade for Sullivan but in all honesty, these are two players who have never reached their potential and probably never will.
As for Courtney Watson, that's an entirely different argument. Maybe the Patriots inquired about Watson and that's how this whole thing got rolling in the first place or maybe the Patriots had no interest in him at all. I'm sure like every other team in need of linebackers, they did their work on Watson. However, since he's not here there must be a reason why Belichick doesn't want him and decided to bring in Barry Gardner instead.
-Tom Casale
I've read some pre draft analysis that Laurence Maroney will fit ideally with a zone blocking offense particularly like that of the Broncos. Do you know what this translates to in terms of his running style? I know that historically the Broncos are famous for opening huge holes and making average backs look a lot better then they really are. If in fact this is true, do you know what type of running system NE employs?Mike C
The main reason people were projecting Maroney to a team like Denver before the draft is because he ran behind the same kind of zone-blocking scheme at Minnesota. That's one of those things were most people were just putting two and two together and figured since Maroney was successful in that scheme in college, he would fit well into a similar offense in the NFL. That doesn't mean Maroney won't be successful in any offense he plays in but before the draft a lot of people thought the Broncos would be a good fit for him.
The Patriots actually employ primarily a zone-blocking scheme themselves. They're a little more flexible than the Broncos in their blocking schemes but if you had to label them, the Patriots are a zone-blocking team as well. If you break it all down, it basically means very little. Laurence Maroney can either play in the NFL or he can't. It will help him initially that the Patriots do similar things blocking wise that he's used to from his college days but in the long run, Maroney himself will be responsible for what kind of pro career he ends up having.
-Tom Casale
Hey guys, great stuff as always. Just a quick question for you. I heard it is possible the Redskins may cut David Patten. Do you think there is a chance he could resign with the Pats?Mike D
With the wide receiver position being high on the list of holes for the Patriots entering the 2006 season, is there any chance that the Pats would be interested in signing David Patten if he gets cuts on June 1st? On an unrelated note, as a Notre Dame fan I would just like to let Patriot Nation know that in only one year at South Bend, Charlie Weis has achieved total rock star, godlike status.Mark Damiano
My guess would be if Patten becomes available, the Patriots would be interested. Even more so now that Johnson has been traded away Patten is a guy who knows the Patriots system pretty well and I think he's a receiver who is better suited for the short passing game New England uses. Now, we have to remember that Patten was never a superstar for the Patriots but they could definitely use one more veteran receiver for depth going into the season. I wouldn't call it a sure thing because it will depend on how much Bill Belichick thinks Patten has left in the tank and what the team considers his worth to be. However, if Patten is released, there's a good chance the Patriots could be one of the teams interested in bringing him in at as long as he's willing to play for a minimal contract.
As far as Weis goes, there is no question he is a God at Notre Dame. I know a couple of people who graduated from Notre Dame and they told me years ago the head football coach for the Irish is the most important person in the state of Indiana. The scary thing about Weis is: he won at Notre Dame last year by simply outcoaching a lot of people. He still doesn't have his type of players there yet. Once he does and the defense improves, the Irish should be National Title contenders year in and year out once again. I'm not a Notre Dame fan myself but having them back among the elite teams in the nation is certainly good for college football and they have Weis to thank for that.
-Tom Casale
First I'd just like to say I hope Rodney Harrison doesn't rush his return. I'd much rather see him start the season on the PUP and come in and contribute in the winter months then rush his return and not be at 100% the whole season. My question is, do you think the Pats have any interest in Brentson Buckner? I think we got lucky last year that Wilfork didn't suffer any kind of injury. As well as Mike Wright did on situational downs he obviously isn't a full time NT in the 3-4. I'd feel a lot more comfortable with someone proven to backup Wilfork, to avoid having to play Wright full time or having to shift Seymour inside.Jay Corbeille
I agree with you about Harrison, Jay. I think some Patriots fan's expectations are too high regarding his return. I wouldn't get too excited that he's running and working out. If you remember correctly, Willis McGahee was doing those things before the draft, just three months after his injury. Running and lifting is a lot different than getting on the football field and playing the most physically demanding game in the world. I think the Patriots will be very cautious with Harrison and it won't surprise me at all if he starts the year on the PUP list.
In regards to Buckner, he's no longer an option since the team traded for Johnathan Sullivan this week. Sullivan was a huge bust in New Orleans but he'll be given a clean slate here in New England. Hopefully he will take advantage of that and become part of the defensive line rotation for the Patriots. I agree with you that Wright isn't a pure nose tackle, so I'm sure the Patriots are hoping they can start a fire under Sullivan. However, if he comes to New England with the same attitude and work ethic he had in New Orleans, he won't last long here.
-Tom Casale
Ellis Hobbs showed some great potential as the season progressed last year, I personally think that he was an awesome steal in last years draft but with all the talk that Ty Law may possibly be signed, do you believe that Hobbs could eventually turn into a Law-type of player? Do you think we will see him in the Pro Bowl at some point in his career? Or could his attitude affect his play? I remember that during last year's playoffs that Patriots would not allow him to talk to the press because they thought he could stir up some trouble.Joe Hedglin
I really like Hobbs. The guy came off the bench as a rookie and helped the Patriots last year at a position they desperately needed to upgrade. That's not easy for a rookie to do, especially at cornerback. I'm not quite sure what you're talking about when you say the team wouldn't let him talk to the press at the end of the year. I was in the locker room numerous times before the playoff games against Jacksonville and Denver and Hobbs was more than happy to talk with the media. I don't think he has an attitude problem, I think he's extremely confident like say… Ty Law or Champ Bailey. All the great cornerbacks have that certain confidence and swagger about them and I see the same attributes in Hobbs. In my opinion, he could certainly end up being a Pro Bowl player in the future.
I wouldn't look at Ty Law returning as a negative reflection on Hobbs. We all know the Patriots are always trying to improve their team and anytime you can bring in a player with Law's ability, you're team instantly improves. Hobbs has a bright future in New England regardless if Law comes back or not.
-Tom Casale
With the heavy free agent losses this offseason I am wondering what we can expect in line of compensatory picks next year?Donald Norman
It's way too early to figure out what kind of compensatory selections the Patriots will receive next year because the rule on awarding the picks is rather vague. It all depends on playing time, success, players lost in regards to players brought in, etc. Compensatory picks are given out between the end of third round and the seventh round, so I would expect the Patriots to get a couple of selections in the fifth-to-sixth round area. Fourth round at best if Givens and Vinatieri set the world on fire and none of the players the Patriots sign do anything.
One thing to keep in mind is teams don't get compensatory picks for players they release. It only applies to unrestricted free agents, so because the Patriots released Willie McGinest, they won't receive any compensation for him.
-Tom Casale
What are the chances of Kliff Kingsbury coming back to play for the Pats?
Kacper K
Hopefully none if you're a Patriots fan. I believe the team already has a mascot. Besides, Kingsbury signed with the Bills on Monday so now they have four quarterbacks on their roster that can't throw the ball.
-Tom Casale
Hi PFW, First of all, I would like to thank you guys for the wonderful job that you guys do week in and week out with correspondence for the Patriots fans. My question for you is: What is the status of Dan Koppen's injury? Dan Koppen has two injuries if I remember correctly. Just, what are the injuries? And, is he expected to be ready on opening day? Thanks a lot.Mike Gruenbaum
Koppen tore his rotator cuff last year and right now he appears to be coming along slowly. Luckily the Patriots have a while before the season starts but right now he's not a given to start the year at center. Koppen is a very important component of the Patriots offensive line, so the team would sorely miss him if he were not in the lineup.
If Koppen isn't ready to start the season, backup Russ Hochstein will probably get the nod but one other player to keep an eye on is sixth-round draft choice Dan Stevenson. The rookie played guard in college but was lining up at center during the team's first mini-camp. This could be because of Koppen's shoulder injury and the Patriots trying to get more depth at the position. Hochstein is a serviceable backup but if Stevenson has a good training camp at center, it wouldn't be a shock to see him earn the backup spot behind Koppen. Remember, Belichick has shown in the past that he has no problem starting rookies on the offensive line. He plays the people who give the Patriots the best chance to win and if Stevenson is one of those guys, he'll be on the field.
Hopefully this will all be a moot point by September and Koppen will be healthy enough to start against the Bills on opening day.
-Tom Casale
Hey guys, I just had a question for you. It seems that everywhere I turn people are saying how Ben Watson has been under-performing and not playing well. I'm baffled by these comments, to be honest. This guy got injured in '04 and only played one game, then the next season comes out and records over 440 yards receiving off 29 catches. That's an impressive 15.7 yards per catch and is more total yards than Graham or Fauria have ever put up in their careers. And this is Ben's first real season! Even if he hasn't put up Antonio Gates numbers yet, he still has awesome intangibles. Like the Broncos playoff game last year when Bailey returned the pick for a disputed TD? Guess who sprinted 100 yards to catch the speedy DB? My man Ben. Sure his hands aren't the softest and his blocking could improve, but in my opinion this is the best TE on the team. He is fast, strong, and big, making him an important threat all over the field. I guess what I am asking is, am I the only one that would feel comfortable letting Graham go next season with Watson and Thomas? Because in my eyes, Ben has the potential to be one of the best tight ends in the game.Matt C
This e-mail confuses me a little bit. First of all, who is saying that Ben Watson has been a disappointment? I think if you listen to the majority of fans and media members in the New England area, they all think this guy is going to be a stud. I'm not quite sure where you are hearing all the negative talk about Watson but as far as I know, everyone loves the guy.
The other part of the e-mail I don't get is you say how great Watson is than you point out that he doesn't have soft hands and can't block. If Watson can't catch and can't block, then why are you so high on him? I just thought that comment was a little weird.
Watson has all the physical tools to be a dominant NFL tight end. As you pointed out, he's really only played one pro season and now that Tom Brady is more comfortable with him, I think you can expect Watson to have a much bigger role in the Patriots offense this year.
-Tom Casale
I read about Eagles trying to sign the sprinter Gatlin, perhaps to play as a receiver or a punt returner. Imagine the world's fastest guy going deep - it could be scary for defenses even if he does not catch every ball. I do not like the Eagles but I love their out-of-the-box thinking. I wonder if the Pats ever look for players amongst world-class non-football talent out there.Albert J
Apparently you've never heard of Stephen Neal or Matt Cassel. Neal was a college wrestler who didn't even know how to put on shoulder pads when he arrived in New England. Now he's the Patriots starting guard and one of the team's best offensive linemen.
Cassel never started a game in college and the Patriots didn't just sign him as an undrafted free agent, they actually used a draft pick on him. Despite his lack of experience, Cassel has shown a lot of potential and may end up being the team's backup quarterback this season. That's not too bad for a team that doesn't think outside the box.
As far as sprinters go, don't fall in love with that idea. All cornerbacks will tell you the easiest pattern to cover is the fly route. To be a great receiver, it takes a heck of a lot more than just raw speed. I believe the recently departed Bethel Johnson is a great example of that statement. If you're wondering what can happen to a player with sprinter's speed that doesn't know how to run routes well, just ask Renaldo Nehemiah. He still has nightmares of Scott Case knocking him unconscious during a Monday night football game years ago. Willie Gault made a successful transition but he's the exception to the rule.
The bottom line is: the Patriots think outside the box more than any other team in the NFL.
-Tom Casale
What's up with Earl Holmes? Even as a strict backup, he's a player that's had significant experience with the 3-4 D with Cowher in Pitt. Is he too old to physically contribute anymore? He's always seemed to be a strong force and inspirational leader over the years. Could he fit in the Pats scheme, even just in a Brian Cox style?William Benson
Holmes has always been known as a solid run-stuffing middle linebacker. He's recorded over 100 tackles in five of the past seven seasons and had 183 stops in his last two years with the Lions. However, with so many 3-4 teams in need of linebackers, there has to be a reason why Holmes is still on the market. The Patriots probably gave him a look but decided to go with Barry Gardner instead because he fits their defensive system better and he's a little faster than Holmes. You never know what will transpire during training camp and as you pointed out, Holmes does have experience playing in the 3-4 defense. Because of that, he's a guy the Pats could sign in a pinch if he's still available later on this summer and they need help at linebacker. He's always been a tackling machine and as backup inside linebackers go, the Patriots could do a lot worse than Holmes.
-Tom Casale
Did Doug MacIntosh from the People's Court play for the Patriots?
Pam Stephens
According to the New England Patriots media guide, no one by the name of Doug MacIntosh has ever played for the Patriots. We have been asked this question before, so there must be a rumor floating around out there that he played for New England but from what I know, the judge from People's Court never suited up for the Patriots.
-Tom Casale
If it's not too much I would like to know why BB and the Pats ever got rid of Terry Glenn? The way I see it is he was a number 1 WR back then and he is now and you said that we never let someone on our team go that was a great player that went to another team and do the same. I know you're not going to print my stuff you never do but thanks for reading it.Lord M
Glenn had a bit of a resurgence last season under Bill Parcells but I wouldn't call him either a No. 1 receiver or a great player. He left New England because he had a fallout with management and was traded to the Packers for a fourth-round draft pick in 2002 - which ended up being Jarvis Green - and a conditional fourth-round pick in 2003 that was traded away to Denver. Glenn has had seasons of 56, 52, 24 and 62 receptions since he left New England. I wouldn't call those great numbers. He's only had one 1,000-yard season in the past six years and that was in 2005. Glenn is a solid receiver and he's a dangerous deep threat for the Cowboys but I don't think the Patriots regret parting ways with him. If you consider Glenn a great player than you must think Terrell Owens is the second coming. So I stand by my statement I made a few weeks ago. Very few players that were let go by Belichick and Scott Pioli have ever enjoyed the same level of success elsewhere that they had in New England. There have been a couple of exceptions but I wouldn't classify Glenn as one of them.
-Tom Casale
Hey guys, I have a few questions I was hoping you could answer for me. What the heck are they doing trading Bethel Johnson to New Orleans for Sullivan? I know we need depth at the defensive line and all, but doesn't this move make us extremely thin at the wide receiver position? This leaves us with only Deion Branch, Reche Caldwell, Troy Brown, Chad Jackson and Bam Childress as reliable options. If we have injuries at this position we are going to be in a world of trouble. Do you think maybe Bill and staff are content with having those 5 receivers, the three tight ends and the new running game to carry us through the season or do you think they have another trade in the works (let's say Patrick Pass for Ashley Lelie?). I am also wondering what they will do with the defense. Do you think will play a steady mix of 3-4 and 4-3 fronts since we have more depth on the defensive line now or do you think Beisel will make vast improvements with another year in the system under his belt? And I still can't get over the fact that we are in this position when we could have easily signed McGinest back to a contract if the front office would have at least contacted him. In Bill We Trust. (I hope).Joe Kaczenski
Patrick Pass for Ashley Lelie? Sorry but I stopped reading the e-mail after I saw that suggestion. I don't mean to bust your chops Joe but no team in the NFL is going to make a trade just so the Patriots can become a better football team without giving up anything. No team other than the Cincinnati Bengals, that is.
-Tom Casale