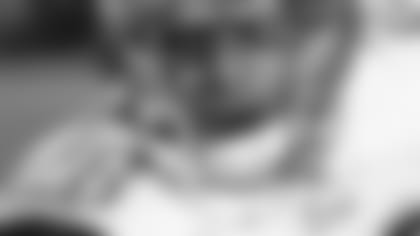 ]()Good Job. With that said, Corey Dillon got robbed out of a Pro Bowl spot. As much as I respect LT (LaDainian Tomlinson), I don't think he should have beaten out Corey. But all the same I don't think Corey cares that much either. We all know the Pats are honored by it, but they have more on their minds then the Pro Bowl. Keep up the good work.*Jay P.*
Jay, I have to disagree with you. I think Dillon is having a great season, based on numbers the best in franchise history, but I just think the guys ahead of him in the Pro Bowl voting in the AFC all deserve the nod. Curtis Martin has more than 1,500 yards and 12 touchdowns as the heart of the Jets offense. Edgerrin James is a key part of the best offense in football, leading the AFC with 1,550 yards while adding 50-plus receptions. And as for L.T., he got snubbed a year ago despite 1,600 yards and 100 receptions. His yards per carry are down this season as he's battled a groin injury for much of the year for the upstart Chargers, but he still has more than 1,300 yards, 50-plus receptions and leads the AFC with 108 points on 18 touchdowns. If they added another running back I would send Dillon, but none of the other three deserve to stay home either. And if Priest Holmes hadn't gotten hurt the Pro Bowl running back mix in the AFC would have been even more clouded. But don't kid yourself, while the Patriots all have the Super Bowl on their minds they are still upset over things like Pro Bowl snubbings. Many in the Gillette Stadium locker room were rather upset to see Dillon, Rodney Harrison and Tedy Bruschi left off the Pro Bowl roster.
Andy Hart
Hey guys, first let me say that I always look forward to reading what you guys have to say both online and in my PFW. Now on to business- I just read that Tedy Bruschi didn't make the Pro Bowl. I am very, very, VERY upset- How is it even POSSIBLE for Ray Lewis to be named this year? It's obnoxious. Bruschi is having a phenomenal year, with over 100 tackles, and a few sacks, and a few interceptions. He's a playmaker, and a team leader. What has Ray Lewis accomplished this year? Thanks for letting me vent. On a positive note, I think the team that "BB" and Scott Pioli have put together this year have five more wins left in them this season. Keep up the good work! Go Pats!
Jack DiPietro in Portsmouth
Love him or hate him, Lewis is still an elite defensive player. And we all have to remember that many times Pro Bowl voting has as much to do with reputation as it does with the actual level of play for a given player in the given season. Does Bruschi deserve to be there? Maybe. If you ask me, I would have sent him based on what he has meant to this defense not just this season, but over the last few years. But it didn't happen. Lewis isn't having as productive season as he's had in the past and is probably surrounded by more overall talent on defense, but he still gets the respect and the votes of the players and coaches around the league. And Chargers linebacker Donnie Edwards may have an even better case of snubbing than Bruschi.
Andy Hart
First of all, I think you guys are doing a great job answering questions to fans. I have a question that has been burning in my head lately. With only two games, do you think that Bill Belichick (being the genius that he is) will pull out the key players from both offense and defense, considering we have already clinched a playoff spot and do not want to risk any further injuries? Thank you.
Julian R.
That's the question of the week. Asked Monday about resting players against the 49ers and Belichick was rather noncommittal. "I'm not going to comment on that or make any decision on that right now. We're going to get ready to play the game and whatever decisions we make will probably come later on. I haven't made them now if there are any to make. Certainly the guys that aren't able to play or that are questionable to play, I think we'll take a longer look at whether or not we want to play those players. Again, I don't even know who we're talking about there yet." Personally I would play all the starters early in the game and once the game is pretty much in hand against an abysmal San Francisco team I would remove as many key guys from the field as possible. But there is a fine line between resting guys and not having them prepared for the postseason or sending a bad message to some of the other guys who have to play the final week. We saw Eagles head coach Andy Reid handle it one way this week on Monday Night Football, it will be interesting to see how Belichick handles it this Sunday.
Andy Hart
Do the Pats DBs such as Earthwind Moreland practice extra hard or take extended time before normal practice? He should have been called on Pass Interference 2 times against Miami for not playing the ball? Do they practice playing the ball when going deep? If speed is the issue, do they have him do extra sprints each day? Those are 2 things that I pick up where Earthwind can improve and I only played high school football.Jack Endabocks
Yes Jack, all the players take extra practice and work on specific skills such as defending the deep ball and going after it at its highest point. I know fans have been disappointed in Moreland's play at times, but there is little question that he is putting in the effort. You must realize that he's a guy that without the injuries probably would not be on an NFL roster, I mean he was once cut by Montreal of the Canadian Football League. Believe me the coaches and players do everything they can to get ready on a weekly basis, but at some point it comes down to talent. Guys do their best, but some guys aren't as talented as others and I think Moreland himself would admit that he is no Ty Law. But he's been good enough to allow the Patriots, for the most part, to keep winning. For that, I give he and the coaches credit.
Andy Hart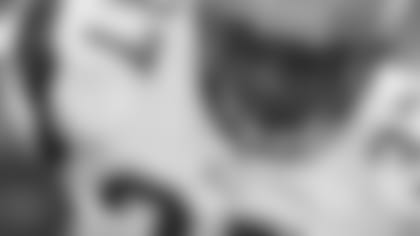 ]()Hi guys, Other teams seem to routinely announce which of their players were named as Pro Bowl alternates, but I haven't heard any reports of any Patriots who were named. I guess I would like to know if deserving Pats such as Rodney Harrison, Tedy Bruschi, and Corey Dillon were at least named as alternates, since they were snubbed otherwise. Thanks.*Evan Shu in Melrose, Mass.*
While the Patriots do not officially release that information, I can tell you that it is my understanding that all three of the players you listed are either first or second alternates for February's Pro Bowl. And with the frequency that players bow out of the Pro Bowl due to injury or other reasons, there is still a chance that one or more of the players will join the festivities in Hawaii.
Andy Hart
Steve Grogan gave me many of hours of excitement back in the '70s. Matter of fact, he is why I became a fan of this team. I was just wondering what ever became of Steve? Thank you.Jim
Grogan still lives in New England, in fact you can sometimes see or hear him in fill-in media roles on a variety of outlets, including Patriots.com. He is the co-owner of Grogan Marciano Sporting Goods in Mansfield, Mass.
Andy Hart
Hello, just wanted to say you guys do a great job. I'm from Montana and it's hard to get updates. My question -- does the money players earn as incentives in their contracts count against the salary cap? Thanks. Go Pats!
Randy Marchion
All incentives, defined in two ways as likely or unlikely to be earned, count against the cap. Any incentive for a player that is defined as likely to be earned (based primarily on previous season's performance) count toward the current year's salary cap. Incentives that are deemed not likely to be earned (again, based on the previous season's production), if achieved, count toward the following season's salary cap. Based on those two scenarios, likely to be earned incentives that aren't earned in a given year create a salary cap surplus for that year that can be transferred as a credit on the following year's cap.
Andy Hart
Given that several challenge outcomes throughout the season are different than what viewers at home seem to think, could you tell us does the referee see the same replays the network is showing viewers or are they seeing camera shots and angles provided specifically by NFL cameras?Keith MacMillan
The referee sees only footage that comes from the network television cameras. That means he sees all the angles that you see at home. But the decision and interpretation of the rules is still up to his own opinion, and that is the reason people still disagree on calls even after seeing them a number of times at super slow speeds. It kind of makes you think a little bit about how the officials have to try and get it right the first time at full speed. Believe me I am not a big fan of the job NFL officials do, and they are bailed out by replay quite often, but I also do not think that it is an easy job.
Andy Hart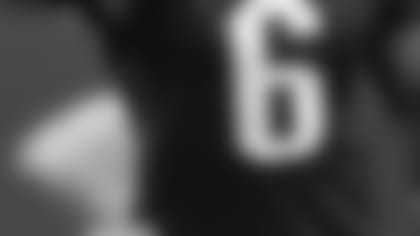 ]()Will Tom Brady play in the final game or will we see Rohan Davey??*Brian Bell*
I can practically guarantee that Brady will play at least a portion of Sunday's home finale against the 49ers. From there, as I said in an earlier answer, I am not sure how Belichick will balance getting his players ready and primed for playoff action with keeping them healthy on the sidelines. As Herman Edwards says, "You play to win the game." But at this point the game the Patriots are playing to win is the AFC championship and then the Super Bowl. These types of decisions, and the second-guessing that goes along with them, are one of the reasons that NFL head coaches make the big bucks.
Andy Hart
With a lot of injuries to the Pats defense, (Richard Seymour) do you think the Pats will rest a lot of their players and maybe even get Marquise Hill some playing time? He hasn't played all year and in a meaningless game I think it would be good to kind of see what he can do.
Andrew Smith
Regardless of whether Hill plays Sunday or not, I don't think he will see action when the postseason rolls around. He was drafted as a bit of a project for the future and that is exactly what he has been. With other options like Jarvis Green, Vince Wilfork and even a more-experienced Ethan Kelley, I don't think Hill will play a role in the rest of the season unless the injuries just become ridiculous.
Andy Hart
With the injury factor so pervasive throughout the season, I cannot help but wonder why the Patriots did not look toward several veterans who have been with them in the past. In particular, after Adrian Klemm made his annual departure for the IR list, why didn't they attempt to bring back Mike Compton? Similarly, J.J. Stokes would have been "real insurance", especially after P.K. Sam was deactivated. Lastly, I can't believe that Otis Smith doesn't have enough "left in the tank" to aid the Patriot's defense in select (i.e. critical ) situations. I can only surmise that cap considerations may play a role or their ability to contribute may have diminished. Simply, I am intrigued by this pattern of not returning to former roster veterans.
Doc, Westport, Conn.
When guys are simply done or no longer fit the needs of the team the Patriots do a good job of cutting ties. I think Smith is the perfect example of this. Personally, I thought he was a coverage in liability for years and at his age even his experience can't make up for that. At some point you have to be able to run and cover people. I don't think Smith can do that anymore and based on the lack of interest the Patriots have shown, I would assume they agree. As for Compton, he was cut by the Jaguars in early September but was re-signed later that month and has remained with the team for the entire season in a backup role. And along the offensive line New England has clearly chosen to develop younger, unproven players to create depth rather than sign more notable, experienced free agents. In the end I just think that the younger, more versatile options that New England has come up with to get passed the injuries have been more valuable than the experienced but older and less versatile players you mentioned. Who's right? Who knows?
Andy Hart
Jamil Soriano was a offensive lineman for the Pats, is he with someone else? He played NFL Europe with Rohan Davy but was dropped from the roster.Thomas Mazzaglia
Soriano, a Harvard graduate who spent most of the 2003 season on the Patriots practice squad, is currently on the Miami Dolphins practice squad.
Andy Hart
Hey guys would you happen to know the April draft dates. My family and I always plan a two-day draft/party with family members that come to Florida as part of their vacation. Thanks and keep up the great work.Raymond E. Bergeron
The NFL's Annual Player Selection Meeting (the fancy name the league uses for the draft) will be on April 23 and 24 in New York.
Andy Hart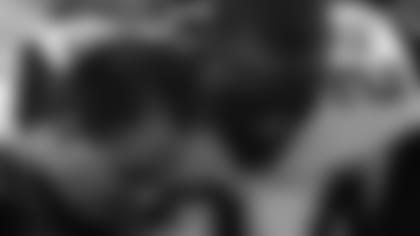 ]()Well I hate to look ahead but it looks as though we may be looking at the Colts coming to the Razor if they win in the first round. How are Ty Law and Dexter Reid doing? We will need to be as healthy as possible in the secondary this time around. Thanks!*David Houlden*
Law seems to be getting better, although it is my understanding that he had a slight setback a little over a week ago as he worked to do more cutting. But the fact that he was upgraded to questionable last week and made the trip to New York as a game time decisions is a good sign. With another week to heal he should be better this week and if he can get healthy enough look for him to get a little pre-playoff action on Sunday against the 49ers. As for Reid, I don't think he is improving quite as well. He didn't make the trip last week and I would be very surprised to see him active for Sunday's game. After that, who knows how healthy he can get with a week off heading into the first playoff game. The one thing I would say about both guys is that you don't want guys who are of questionable health trying to stop Peyton manning and Co. If you don't know what you are going to get out of a player, you can't afford to find out when he gives up a touchdown in a playoff game. But I agree with you that the Patriots will need as many bodies as they can get to try and stop high-powered Colts in a potential playoff rematch.
Andy Hart