Hey PFW, thanks for making this lockout easier! I was watching a SportsCenter story on Plaxico Burress and thought he might be a decent addition despite his criminal past. Since Sidney Rice us most likely too costly, Burress might be a cheaper option for being stupid enough to shoot himself in the leg. Would you guys want him on the Patriots? Thanks for your time.
I don't have much interest in Burress. First, I was never a huge fan of his prior to his legal issues. Now he's a 34-year-old receiver who hasn't played in the league in two years and spent the last 21 months behind bars. He has great size and made a lot of big plays in his career. In theory he'd be a good fit for what the Patriots need right now on offense. But in reality I don't think he'd be a good fit for the Patriots, even if he can prove he can get back in NFL shape. Plus, if we use the Mike Vick example, it might be at least a year before Burress could even be close to back to his impact previous self.
Andy Hart
Hey guys, thanks for still answering our questions every week! Is there any scouting information on our 6th round rookie, Markell Carter? He seems to have an ideal size (6-2, 252lbs.) to play the outside LB spot! I looked on NFL.com and they don't have ANY information on him! Could you give a little information about him and do you guys think he might be a development type of player for the Patriots? Thanks!
Chris Morton
I hate to use this forum for pure promotion...who am I kidding, in this economy anything goes. Chris, you need to get yourself a subscription to Patriots Football Weekly and you wouldn't have had to ask this question. (Call 1-800-494-PATS or go to PFWonline.com!) I did a full breakdown of Carter after the draft, with his college position coach raving about his pass rush ability. Carter had 19 tackles for a loss, 5.5 sacks and three forced fumbles as a senior at Central Arkansas. He finished his career with 16.5 sacks. He's even more perfect in terms of size than you thought - he's 6-4, 252. He runs a 4.7 40. His coach described him as relentless, both in his pass rush and the way he works to become a better player. Coming from a lower level of football there is clearly going to be a learning curve and developmental period for Carter. But he's a guy I'm intrigued to see in person on the practice field whenever we get to a training camp and preseason environment.
Andy Hart
Could you break down what impact the new draft class as per how they could be a factor in special teams play? Thanks.
Chuck E.
Nova Scotia
Chuck E. - reminds me of the main character from one of the first horror movies I ever saw, Child's Play. Anyway, of New England's nine draft picks this spring I think six have a chance to have an impact on special teams. Ironically, tops among the group might be the team's last pick - defensive back Malcolm Williams. He was a backup defender at TCU but an impact player on special teams and that's why he was drafted. If he makes the team, look for him to be very much involved in covering kicks/punts. I think the same will go for Carter. Given the lack of depth at OLB I think he has a great chance to make the team and will earn himself any chances he gets by first making plays in the kicking game. Second-round pick Shane Vereen has some experience returning kicks, and as young backs both he and Stevan Ridley will be expected to be on multiple special teams units. Second-round pick Ras-I Dowling also clearly has the size, speed and athleticism to be a big-time contributor on special teams regardless of whether he's making an impact on defense early in his career. Lastly, though a long shot to make the roster, tight end Lee Smith will be a special teams option if he's around come opening day.
Andy Hart
Hey Guys, I am curious as to how the lockout affects coach and player interactions. As I understand it, they are to have no interaction. Are coaching staffs under labor agreements of their own, separate from the player's unions? They both work for the owners. I understand not being able to use facilities but what is to stop the coaching personnel and players simply talking football? How can the league enforce this? Can Bill (Belichick) text Tom (Brady), like from a prepaid cell-phone about things they ought to be up to at his player-led practices? Can they correspond outside the realm of football? Like at a water-park or some kind of Latin American festival?James Cunningham
You understand it perfectly right. Aside from some prescheduled charity events and special occasions, players and coaches are forbidden by the league from having any kind of contact. The coaches are under contract to the team, and by extension the league. Therefore they must follow the league directives in the lockout. Anyone in violation could be fined or even lose his job. If they meet at a water park or a Latin American festival they are still not supposed to interact. Funny, isn't it? So a guy like Giants lineman Chris Snee is technically not supposed to chat it up - certainly about football or the lockout --  with is father-in-law, New York head coach Tom Coughlin. These are strange times we're in.
Andy Hart
How about this for a twist on fines for intentional head shots. Instead of an NFL committee making up a dollar amount for the fine (apparently related to the force of the infraction) I suggest that you fine the offender the value of the victim's salary for at least one game and up to the amount of time the victim is out because of the related injury. The fine would not merely be a "slap on the wrist" and the players would be less likely to target the best, most highly paid players keeping the product on the field. This should only be used for intentional head shots and not legit, smash mouth football plays. Which brings me to my question, what happens to the fines collected? Does the money go to the player's health care fund or the victim, or the owner's/league's pocket?
Kurt G.
What the heck would happen if a guy like undrafted Kyle Love hits a star QB like Peyton Manning or Tom Brady? He couldn't afford to be fined one game check for a guy making more than $20 million. Wouldn't work. Sorry. It's not going to happen. Nor should it. I agree with Rodney Harrison, the way to real discipline is through suspensions not fines. And as far as I know, the fine money is given to charity.
Andy Hart
A quick question from Australia... When/ if free agency becomes a factor - do you see the Patriots making a move to further fortify/ provide some leadership for the young secondary (like CB Nnamdi Asomugha)? There seems to be limited pass rush quality available via this year's FA class, particularly any that would have a serious impact within the Pats front seven? Like last year, (stating the obvious) if they are unable to establish any pass rush pressure they had better get a lot better at defending the pass.
Michael McMillan
I don't really expect the Patriots to be huge players in free agency, but that's just my guess at this point. No one knows when free agency will come or what rules it will take place under. It could be a mad rush. Not sure that's what the Patriots are looking for. I certainly don't think the team would be looking to spend the kind of coin it would take for Asomugha. I also don't see the need for a team that has two returning starters at corner, decent experienced depth and drafted a guy with the first pick of the second round. I'd much rather see New England pursue a pass rusher or even a receiver. The former isn't all that plentiful a position, especially when you remove the franchise players. The latter will probably cost more money than Bill Belichick and company are looking to invest.
Andy Hart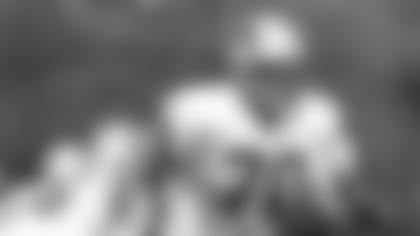 Will the Patriots ever come to their senses and sign Logan Mankins?*
*Stephen Porter
This is a bit of a slanted view of things, no? Maybe the Patriots think Mankins' side should "come to their senses" and re-sign with New England. As of right now it looks like if we do get back to football that Mankins will be expected to play out the 2011 season under the franchise tag. Though he may not like it, he'll probably have to grin and bear it. He likely won't sit out either, as that would be costing him 1/17th of more than $10 million each week. That's a lot of money that could pile up quickly. I'm still holding out hope that the sides can eventually reach terms on a long term deal, but it's definitely far more hoping than expectation at this point.
Andy Hart
Hello. Love the work you guys do here keeping us Patriot fans informed during these slow off seasons. My question is in regards to the receiving corps. Do you see the Pats maybe signing T.O. I think he is still one of those top receivers in the league. He also is willing to block and go across the middle (unlike Moss). He also adds size and toughness to a current group which is lacking exactly that. Your thoughts???? Keep up the phenomenal work guys!
Kurt Osborne
I've always been willing to throw around the idea of signing T.O. But I don't think I would go for it this offseason. You are right that he's probably a more willing and well rounded receiver than Moss at this point. He had good production last year in Cincy. But if any Bengal were likely to land in New England it would probably be Chad Ochocinco given his relationship with Belichick. For all his faults, No. 85 also doesn't have nearly the team killing reputation that T.O. does. At this point I'm actually intrigued to give Taylor Price the chance to develop and show what he can do. After his "red shirt" season a year ago he should be much more prepared to contribute. I like his overall combination of skills and think he could end up surprising some people this year by catching a good number of balls while displaying his pretty diverse skill set.
Andy Hart
When I was recently reading an article on NFL.com, it stated that the Pats are a team that could be less hit by the lockout than others in terms of players getting acclimated and coaches getting to know players. I disagree this team is very young on the D wouldn't a lockout harm our defense more because they can't workout under the tutelage of a defensive coach?
Matt S.
On one hand, I agree with NFL.com. Bill Belichick and Tom Brady have been in New England together since 2000. That's stability at the two most important spots on an NFL team that no other team can counter. I think teams that are changing coaches and quarterbacks this offseason are at a serious disadvantage. They'll have to install and execute an offense on the fly. That's not easy, especially given that most of the teams in question aren't all that full of talent in the first place. On the other hand, I think that one of the biggest advantages the Patriots have is the coaching the team gets from Belichick. The less time that he has to work with players, install schemes and lay the foundation for the season the less of an advantage New England will have over other less well coached teams. Time will tell, but I don't think the lack of time working with the defense will put the Patriots at more of a disadvantage than the average NFL team.
Andy Hart
Hey guys, so Mayo gets voted 62 in the league, and I can't help but feel he's not gettin' the love he deserves. The kids a beast, led the league in tackles last year...I just felt he should have been a little lower on that list. Anyways, I had a question about the secondary...with the selection of Dowling, how do you see the secondary shaping up? I know Bodden is still there, but it looks like the Pats are going for more oversized, strong tackling corners. Do you see Dowling starting by the end of the year? We have had concern with 2nd round corners obviously, but Dowling in my opinion is a 1st round talent, and I feel he certainly has the skills to start. But maybe... maybe Kyle Arrington steps up his game a bit, and keeps his starting spot, honestly, I thought that Arrington's defense last year is what gave McCourty his stats. He progressed a lot throughout the season and he always made the tackle. Either way, we went from an awful secondary, to having solid depth, and it looks like it could possibly even be our strength on defense this year.
Josh Rodick
I agree that the secondary could develop into one of this team's strengths, but beyond that I think I'll have to respectfully disagree with everything else you wrote. Oh heck, who am I kidding? Screw the respect, I just disagree with you. Mayo in my mind is a very good player, but he doesn't make enough game changing type plays to be considered great. So I don't think he deserved to be that much higher on the list at this point in his career despite his tackle machine numbers. In the secondary I think McCourty and Bodden will be the starters. Remember, Bodden is 6-1, 195 in his own right. He's not a Smurf-like corner of the past. He's a solid veteran and I think he and the second-year Pro Bowler will make a nice tandem. I thought Arrington played well at times last year, but more often struggled a bit and was targeted by other teams. He was a great story coming out of nowhere to start, but I don't see him as a starting caliber corner on a good to very good defense. I've not seen Dowling play as of yet, but based on what we've heard about him, he's the future at the position opposite McCourty. I just don't think his time will come this season. For now he'll likely have to serve in a rotational role, of course with the way Belichick likes to use bodies in the secondary that could mean a lot of playing time for the second-round rookie.
Andy Hart
When the lockout ends, do you think it is likely that Belichick will go into free agency and target the teams obvious needs at outside linebacker, and possibly if Bill wanted to gamble, one of the many talented receivers available in free agency, or will he work with our recent draft picks and former rookie players, and surprise us all like the way he did with last year with the outstanding Pro Bowl corner Devin McCourty....What do you guys think the Belichick will do and what do you think he SHOULD do?
Brisco Anonymous
I don't think we should expect huge splashes in free agency or the trade market once the lockout ends. While I do think the team still has a huge need for a pass rushing outside linebacker, I'm not sure there would be good value in that area in free agency or trade in terms of top-end talent. Most of the best players are protected with the franchise tag, meaning acquiring them would require both a trade of draft picks and a big-money extension. I don't see that on the horizon. I think there is a better chance we could see a bigger-name receiver added to the roster because there are more options available. But as I said earlier, at this point I'm most intrigued by seeing Price develop and wouldn't want to have to overpay for a guy like Sidney Rice.
Andy Hart
An 18 game season seems foolish since we now have several games at season's end that are meaningless, and adding more games just means more of the same. Why not expand the season and make the games count by increasing the playoffs? There are always some 10-6, or 11-5 teams that don't make it, so it's not like we would just be filling holes. Plus the owners get the longer TV season they want, and players get bonuses for playoff games. Simple, right? Thank you.
Ian Hayes
I don't want to see the playoffs expanded. Remember last year when everyone was in an uproar about the 7-9 Seahawks making the playoffs? Right now the playoffs really mean something the NFL, unlike other sports like basketball and hockey where too many teams make the postseason. I'm not a supporter of expanding the regular season, but I'm even more against expanding the postseason. Call me an old fart, but I like things the way they are.
Andy Hart
One way to reduce injuries would be to reinstate the art of tackling, as opposed to the current emphasis on hits. This could be done by eliminating the protective gear, except for possibly goggles and something like a bike helmet, thus exposing the defender to an equal potential for injury and forcing a return to tackles vs hits. Thoughts? Thank you.
Ian Hayes
Ian gets the back-to-back slot in this slow point in the lockout. This idea of peeling back a bit on the protective equipment is a popular theory. The sport of Rugby is given as an example of evidence. It may be true, but I'm not sure how you could transition to much more limited equipment given the way players have been brought up in the game. They play a certain way and just because you take off their helmet or pads, I don't think you could change the way the older players play. So initially there would be even more injuries. I think people at the lower levels need to teach and enforce the fundamentals of tackling. Big hits that are fundamentally sound should be a part of the game. Head hunting, spearing and launching should not be. Change the way the players are taught and play, not the equipment they wear.
Andy Hart
There has been a lot of talking between owners and players coupled with visits to court regarding the labor dispute. I must admit however that I have lost track of the salient issues between the two sides and whether any of these have been resolved or if significant progress made. Could PFW therefore give us all a resume of the basic issues and what progress have been made so far?
John Southworth
One word - money. Basically players and owners are debating the way in which revenue is shared, specifically tied into owners having to reinvest in the game and trying to expand the business model. It's one big money pie and they can't agree on how big a slice each side should get. It's kind of like trying to get the PFW boys (skinny Erik Scalavino excluded) to cut up a real pie. We all want the whole thing or the biggest slice possible and would fight to the end to get it. That's the point we're at with the money pie being split between the players and owners. It's a fight for survival and to the finish. And at this point, no one really knows how much progress or concessions have been made.
Andy Hart
I read the question on illegal hits coinciding bans with the length of the injury, that's ridiculous, because each and every injury is different and should be evaluated differently, what if Harrison hits Peyton Manning with a not serious but illegal hit, who has had surgery on his neck, and Manning falls awkwardly and is out for the season, but Mayo, viciously hits Andre Johnson who is strong and just has minor concussion for 2 games. So Mayo has a 2 game suspension for a violent hit and Harrison is suspended for the year for his small illegal hit on an injury risk player. Each hit needs to be punished on the severity of the hit and not the injury!!!
Tim Hart
Great Harts think alike, Tim. I agree with your point. I never like the penalty to be based solely on the result of the play. Your example is a good one. Sometimes some of the most illegal, brutal hits don't result in injury. That doesn't mean they don't warrant a severe penalty. Conversely, just because a play leads to a major, long term injury doesn't mean it warrants the most severe of punishment. Unbiased, educated reviews of all illegal hits on a case-by-case basis is all that players can really ask for.
Andy Hart
With the lockout, everybody keeps talking about the revenues and how they're split. Does that money go into the pockets of every player in the league so that they get their contract salary and that money on top of it, or does it go into something else like a retirement fund? How is it distributed among the players?
Casey Shouse
The share that goes to the players is essentially the salary cap. The NFL cap has a ceiling, but it also has a floor - a number above which all teams must spend on player compensation. That system essentially guarantees, as a whole, that players receiver a certain portion of the NFL revenues. That used to be right around 60 percent. What it will be moving forward is the ongoing labor dispute between the players and the owners. There are a lot of other ways that the NFL takes care of current players and retirees, but when it comes to talking about sharing revenue it is essentially talking about the salary cap and how much of a percentage of the revenue the players as a whole will receiver via their salaries and bonus money.
Andy Hart
Hey, Pats fanatic from Ottawa, I was wondering do you think the Patriots decision to trade away their 1st round pick to New Orleans in this past draft was a good idea? I mean there was plenty of talent that we could have used (ie. WR, OG, OLB)
Jason Daniels
I was a big proponent of the Patriots trading up in the draft. Once that option had passed, I liked the New Orleans trade. I wasn't the biggest Mark Ingram fan and didn't like his value for the Pats. New England basically added a second-round pick for pushing off the first rounder till next year when the selection from the Saints in the first round will be in the same area or could be better based on the uncertainty of the NFL world. That's a good trade. The only player that they passed on in that area that scares me is Muhammad Wilkerson, who went to the Jets two spots later. He's going to have to develop a bit, but in terms of potential and athleticism I think he could be a Richard Seymour type. Still, the trade would probably have been too much for me to pass up, just as it was for Belichick.
Andy Hart
I am getting pissed over this lockout the longer it goes on. Do you think that training camp or the season are going to start on time? It doesn't seem very possible, after the hearing this week the ruling isn't supposed to come down until July.
Matt Burns
I'm still holding out hope, but your guess is as good as mine at this point. Last week's secret talks had to be taken as a good sign, right? I still think we could see a relatively normal August and regular season, but the clock is more than ticking at this point.
Andy Hart