Well, if ever you needed an example of why "setting the edge" is so vital, the Pats defense showed it against the Bills. With this ability apparently lacking from the current stock of OLBs, will BB change the way he does business? Will he try Gary Guyton at that spot? Or do you think he will try to get some valuable experience for Crable and Cunningham by leaving it be? Thanks. Go Pats!
Phil M.
I do think the edge of the defense got exposed at times against Buffalo. A play that stands out for me saw Bills fullback Corey McIntyre wall Jermaine Cunningham off to the inside as the back ran wide left for a nice gain. That can't happen, especially against a fullback, even if he is a 260-pound fullback. The Bills ran for 5.6 a carry. That's not acceptable, especially when they didn't have a run over 19 yards all day to even theoretically sway the stats. They ran a lot when they simply wanted to. I actually thought that Cunningham may have earned his first NFL start as a more stout option to Tully Banta-Cain on the edge. It didn't work out too well. That said, I would like to see Cunningham play as much as possible because for better or worse he'd seem to be the future at the position. I also don't think Guyton would hold up in that spot. He got pushed around at inside linebacker last year and I think he'd get pushed around on the edge. I think he's settling into the sub role we all envisioned for him. As for Crable, even after his call-up for Sunday's game I've not yet seen anything from him that leads me to believe he's part of the future/solution at the position.
Andy Hart
I know the Pats won and all, but this team still scares me. And although Welker and Moss have 6 TDs combined they only have 27 catches and 286 together, so what seems to be the problem? Are they having a hard time getting open, or are there just so many weapons on this offense that Brady gets rid of it before they have a chance? On the defensive side of the ball they are still very young and have showed it. They allowed the worst offense to score 30 points and made them look at least like an average offense. I'm just wondering what will happen when this defense starts to play the high-powered offenses in this league? And is there any hope Bill can coach up this D before they get into a mess?
John Optiz
]()I think both Moss and Welker are off to fine starts. Welker clearly is not yet himself in terms of health and quickness. But he's caught the ball well and made some plays. Moss has hit for a couple big plays and is getting into the end zone. Just a week ago Tom Brady was being criticized for forcing it to Moss too often against the Jets. I think the passing game has been pretty good so far, especially when you remove the two dismal quarters at the close of the Jets game. Even in that game I thought Moss failed to pull in a bomb early that would have changed his production big time, and later I thought Brady made a bad throw on a ball in No. 81's direction that ended up getting picked off. I also do think that the extra options in the passing game - including the rookie tight ends, a more developed Julian Edelman and Brandon Tate - are part of it. A year ago all we talked about was how Brady didn't have anywhere to turn after Moss and Welker. Now he clearly has other places to at least look, if not to throw to.
As for the defense, it has to get better. The production we've seen over the first three weeks hasn't been anywhere near good enough. That's pretty much across the board at all positions and for all players. If it doesn't improve, it will be a long season with a lot of ugly performances as the offensive tests become greater. I'm torn. Part of me thinks the defense has looked terrible and is totally overmatched. But the other part of me wants to see how some of the young players develop over the season. They will take their lumps, but can they come out on the other side as better players because of it? All of Patriots Nation better hope so, because Belichick's "coaching up the D" can only do so much. Players have to make plays. I'll continue to say it, we never knew how good guys like Willie McGinest, Mike Vrabel, Tedy Bruschi and Rodney Harrison were until they left. But, alas, much like Mark McGwire we're not here to talk about the past.
Andy Hart
Thirty points at home (23 by the defense) to the punchless Bills is worrisome. Are the problems on defense a result of personnel or coaching? Either way, isn't BB to blame? If Meriweather, Butler, McCourty, Wilhite and Wheatley just don't have what it takes to defend the pass, isn't that BB's fault for drafting them? If they don't lack the talent, it would seem that the coaching is at fault. Is it possible that after 35 years in the league BBs schemes are losing their touch?
Gary Goldstein
I've always said that any football decision ultimately falls on Belichick's plate. He's gotten plenty of the praise over the years. Now, he's rightly getting a good deal of the criticism. That's the way it is when you're the top dog and head honcho. If I were going to criticize either Belichick the coach or Belichick the personnel guy, I think I'd be a bit harsher on the latter. As you point out the Patriot shave invested plenty of first- and second-round picks in the secondary. Those should be paying off at this point, and clearly they are not. The draft misses have come in other areas of well over the last five years or so. I still have plenty of faith in Belichick's schemes and game plans. Too many players from the past have told us too many times that in terms of putting players in position to make plays that Belichick is the best there is. But, in the end he can't actually make the play. That still has to come from the player. That hasn't happened often enough. You might argue that it's becoming more difficult to find productive players for Belichick's 3-4, two-gap scheme. You might even be right. But I still believe that in the end the one thing the Patriots are lacking right now is playmaking talent on the defensive side of the ball. So if Belichick would give Belichick better players to work with I think Belichick would be a genius once again. Get me?
Andy Hart
Hi PFW- Can you explain why the Bills were allowed to call back-to-back timeouts on their final drive of the first half? They called a timeout after the Fitzpatrick scramble to the 16-yard line and then attempted to draw the Pats offside, but eventually called a second consecutive timeout without running a play. I thought this wasn't allowed per NFL rules. Seemed like BB was pretty heated about it as well.Kris Johnson
Belichick clearly was very upset about it, and seemingly for good reason. Reading his lips I think he actually called it a bullish hit, which wouldn't seem to make sense, but I might be wrong. Anyway, the officials admitted after the game that they should not have allowed the second timeout. But I think the real confusion came in that after the Bills first timeout the replay official reviewed the play and re-spotted the ball. What had been ruled a first down on the field turned into a fourth down. After that took place I was under the impression, and thought I'd heard the official actually announce, that the Bills had not been charged a timeout due to the fact that the review had taken place. But after the game a pool report did not include questions about that topic/announcement. They only admitted that they should not have acknowledged the timeout as rules do prohibit consecutive timeouts. My feeling is that the Bills would not have attempted to draw the Patriots offside if they believed they would not be allowed to call a timeout. They would have either actually gone for the first down or kicked the field goal immediately. Teams only try to draw an opponent offside when they have a timeout in their pocket. Either way, the officials screwed up. Maybe even multiple times on the same confusing play. Not the first time and it won't be the last.
Andy Hart
Hey Guys. Is Edelman a good enough blocker to fill Faulk's RB role?
Tim Cullen
That's a question that I don't think anyone has an answer to. We know from his experience as a college quarterback and NFL receiver that he can run and catch. He took some pass protection drills in training camp, but not many. So no one has really seen him in that role, although he's probably done more work in that area during the closed practices of the last week-plus. His first time picking up a blitzing linebacker or safety may come on an NFL game field. As the Patriots looked to fill the void left by Faulk's injury on Sunday, none of the options really got tested in terms of pass protection. Danny Woodhead ran the ball. Edelman ran and caught it out of the backfield. But neither guy got put into a tough pressure situation with an oncoming pass rusher. That time will come, though, and it will be interesting to see how these inexperienced options (and maybe a few others) measure up with Brady's safety on the line.
Andy Hart
I read the questions you get and wonder are Pats fans blind? I know you must have seen this coming. Start with the loss of coaching, and how BB replaced them with bad replacements. The awful drafts for 5 years. Then lose players you did draft that became All Pro. Samuel alone, with 5 FA plus 5 draft picks, still no CB. For whatever reason. Tell me when you look at Pats defense name 4 players that could start on any team. At best 7 would not be a good back up. I know you saw this coming. I did.Robert Leonard
Not sure what exactly we saw coming, although we've all questioned the makeup of the defense for the last couple years. We've pinpointed, seemingly correctly, outside linebacker as the biggest question mark on the team. We also followed that up with questions about the secondary - although that group clearly took a big play when Leigh Bodden went down to injury. A lot of teams would look different on defense without their No. 1 cornerback. And we've spent a ton of time over the last year questioning the changes to the coaching staff and the role Belichick is playing on both sides of the ball. All that said, I'd be happy to play your little game. I'll say that Vince Wilfork would start on just about any team in the NFL. I think Jerod Mayo would have a good chance at a starting job on almost any team. Beyond that, I have a hard time coming up with another name. Gerard Warren has started everywhere he's been, but I'm not sure that's exactly the point of his little exercise. Your overall point is well taken. This defense lacks elite talent and playmaking ability on defense right now. It's a point that's hard to argue. So I won't.
Andy Hart
In my opinion the Pats will have a losing record this season (7-9 most likely). What do you think ? I don't think the Pats win against Ravens, Chargers, Vikings, Steelers, Colts, Packers, Jets, and Dolphins ? Prove me wrong!
Arch S.
I can't prove you wrong until the Patriots do just that on the field. If New England beats those opponents, a lot of it will come thanks to one of the best offenses in the game. I still have plenty of confidence in Brady and his mates to put up a lot of points on a pretty regular basis. I would also argue that most of those teams you listed have gotten off to inconsistent starts. I'm not sure there are too many elite teams in the NFL right now, maybe none. Just look at the teams that are undefeated - the Chiefs, Steelers and Bears. Two of those may not even make the playoffs, and Pittsburgh might be the closest to elite when it gets its QB back. Other than that the NFL has a lot of OK teams right now. I'd put the Patriots in that mix thanks to their elite offense. If the defense can improve at all, it would be a huge step in the right direction. But nearly every tough team you listed has its own early season issues to get over. Most of those teams looked more impressive on paper this summer than they have on the field through the first three weeks.
Andy Hart
Randy Moss, Wes Welker, Tom Brady, Richard Seymour, Mike Vrabel, Matt Light, Teddy Bruschi... These names are the most popular names associated with the Patriots. Then there's Kevin Faulk. Blocker... Runner... Receiver. This man has shown time and time again that hard work, determination and an indomitable will can and does earn the respect and admiration of all that watch. I put forward that there is no player on this Patriots team that not only meets their potential... But exceeds it time and time again. The whole team should all aspire to have the drive of this 13-year veteran. Kevin... Your fans, your opponents and your teammates wish you to return stronger from this "character building" exercise. Of all people that can overcome this. You will.
Kristopher Jones
I don't think I can argue with a single word of this email. For a guy like me, that's saying a lot. Faulk is a special player and great Patriot. He'll be greatly missed in many ways on and off the field. Hopefully we've not seen the last of No. 33.
Andy Hart
I just read about the signing of TE Carson Butler to the practice squad, and I'm a bit confused. I would have thought that tight end is an area where we seem to be doing quite well, and thus the need wouldn't be that overwhelming. Wouldn't it be better to sign a couple more DB's/OLB's to the practice squad, and hope that one of them works out; perhaps even developing into a quality pass rusher? Or perhaps Bill Belichick doesn't feel that a pass rusher is an immediate need anymore.
George Newell
Not all practice squad signings are just about players who will one day make the active roster. Sometimes those decisions have as much to do about putting together a practice and getting versatile athletes on the practice field. Not sure exactly why Butler is back. Maybe it's insurance for veteran Alge Crumpler or in case either impressive youngster at the spot hits the rookie wall. Maybe there just aren't too many option available at OLB that suit the Patriots needs, something Belichick alluded to in a recent press conference. I think Belichick is aware of the need at the position, though. I'm sure of that. But expecting some practice squad or waiver wire pickup to be the answer might be wishful thinking.
Andy Hart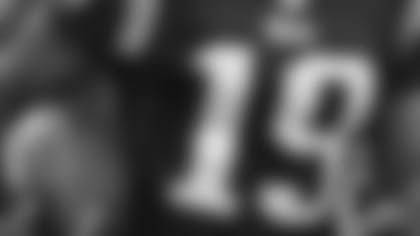 ]()We seem to have found a winning kickoff returner but who do you see doing punt returns and kickoff depth going forward in the season?*
*John Gawienowski
Brandon Tate has looked OK on kickoffs. Obviously his highlight was the touchdown against the Bengals. He's made a few too many cuts for my liking on a couple returns, but overall I think he's already proven himself the guy at that spot. On punts I think the nod goes to Julian Edelman for his combination of sure hands and playmaking ability. Tate may get some more chances on punts as well. He's probably more the big play guy at either spot. Other guys who might mix into the return game based on need/injury would be Devin McCourty, Matthew Slater or even Darius Butler. For now, though, I think it will be mostly Tate and Edelman.
Andy Hart
Sorry to add to the numerous questions about the defense, but I've got no one to ask but you guys. 1) How come Darius Butler did not start against the Bills when both our CBs were struggling? Wouldn't starting against the Bills be a good chance to recover some confidence for Butler? 2) Patrick Chung was drafted as someone who could fill Rodney Harrison's role (as far as I've read), how would you assess his progression with regards to that role? 3) Why didn't the Patriots draft Clay Matthews again? Thanks! Go Patriots!
David Liongson
I clearly think there was something to Butler barely playing at all against the Bills. Benching a guy for a series or quarter is one thing. Butler didn't play more than a couple snaps. Kyle Arrington got the start and Jonathan Wilhite remained in the slot in sub packages. Devin McCourty, who's struggled in his own right at times over the last couple weeks, played the entire game. I know Butler had a tough day in New York a week earlier, but I'm still not sure I get the decision to bench him completely. When you do something like that you never know what it does to a guy's confidence. Butler was close to the receiver but just couldn't make a play in New York. Now, fearing losing his job again, maybe he'll start giving Ellis Hobbs-like cushions. He's taken his lumps in recent weeks, and maybe he's not doing what the coaches ask him to do, but sometimes I think young guys have to play through the tough times to come out better on the other side. If he's struggling maybe I would have rotated Kyle Arrington. Not sure I agree with the total benching, though. And somewhere deep down inside maybe this week Butler is saying, 'See, the pass defense struggled without me. Maybe I wasn't the only problem.' I haven't given up on his potential in New England.
I like some of things that I've seen from Chung so far. He's made plays all over the field. He can rush the quarterback and showed Sunday he can pick off passes (especially when thrown right to him). He's a physical player. Like Harrison he even pushes the envelop at and after the whistle at times, earning a fine for against the Bengals in his first NFL start. My scouting report is that he seems to be at his best when he's moving forward and making plays in front of him. He certainly has intriguing speed, athleticism and hitting ability. He plays with an edge. He's got plenty to work on, but early returns are decent.
As for Matthews the thing I like most about him is a nickname I heard recently - The Claymaker. Beyond that, I'm going to hold myself accountable. I didn't like him coming out of college. I thought he was a glorified special teamer who was surrounded by a lot of NFL talent at USC. I didn't think he could be an impact pass rusher in the league. I think I've officially been proven dead wrong in his first year-plus in the NFL. He can make plays and has really helped the Green Bay defense. I can't tell you why the Patriots didn't draft him, other than they must not have thought he presented good first-round value. He also plays in a little different style 3-4 under Dom Capers, that may have played into it as well. At 6-3, 250 it looks like he'd be OK for the OLB spot in New England, but maybe the scouts didn't see it that way. Either way, for Patriots fans who've been harping about New England's lack of a defensive coordinator and lack of a pass rush there is plenty to point to in Green Bay. Capers spent a season as an assistant in New England before moving on to Green Bay and Matthews was taken with a draft pick (26th overall) that at one point belonged to the Patriots before they continued to trade down in last year's draft. Bring both to the Patriots right now and how different would the defense look? We'll never know, so don't waste too much more time dreaming about it.
Andy Hart