Gentlemen, with three second-round picks and decent defensive depth in the draft, it seems likely to me that Bill Belichick may not go defense with the 23rd pick if the right players become available. Is there a scenario in which Patriots may go with an offensive player with their first-round pick? Is tight end or running back a reasonable possibility at 23 if the right player falls into position?
Ronnie Guimond
You're absolutely right about the depth in this draft. And, yes, I could envision a scenario or two in which the Patriots take an offensive player with their first pick. For example, let's say they acquire either Julius Peppers or Jason Taylor. Immediately, their most pressing need (a pass-rushing OLB) is mitigated, allowing them to target another area, possibly on offense. Likewise, if a gifted player like offensive tackle Andre Smith of Alabama were to fall into the latter third of the first round, the value for the Pats may be too tempting to pass up.
As far as tight ends or running backs are concerned, I'm not convinced there are any that would be worth taking at 23. Second round, certainly, with either the 47th or 58th overall picks, if, say, a Donald Brown (RB from UConn) or James Casey (TE/Wildcat player from Rice) were available.
*Erik Scalavino *
I like Connor Barwin and from what I've read a lot of experts think he has a lot of upside, but is a bit raw. I'd like to see him chosen at 23 or 34. What is your opinion of him?
Joey Smiroldo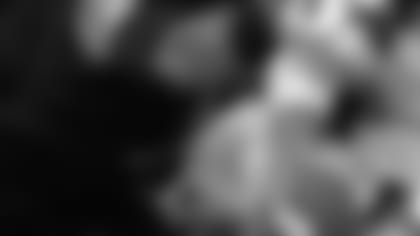 ]()Hi guys! After considerably improving his 40 time and bench reps, would you consider taking Connor Barwin at 34 or even 23? He may be raw, but after one season on defense he looks pretty impressive on film and can only get better. I'd hate to see him slip away because we waited until mid-second round. Keep up the great work.*
*Adam G.
I like what I've seen and heard from Barwin. Got a very good impression of him at the Combine back in February and, after watching his game tape, came away impressed with his athleticism and versatility. I'm not a huge proponent of workout numbers, though, so 40-times and bench reps don't necessarily impress me much. I'm more concerned with what I see a player doing out on the field, against live competition.
Barwin clearly has that intangible "upside," to which Joey referred. Which is why I'd be OK taking him in the second round. I'm more comfortable placing safer bets with my first-round picks. I'm pretty confident he'd be available at 34, and possibly later in the second round as well. At that point, he'd be worth the investment.
Erik Scalavino
I love Donald Brown … Any chance the Pats grab him at 23 or 34? Do you suppose he'd still be around for either of their other second-round picks? Thanks!
Tyler Giggi
I mentioned Brown's name earlier in this column, but to reiterate, I think he's a fine player, worthy of a second-round pick.
Erik Scalavino
Big fan. Great work every week guys. Just a quick question. I've been seeing mock drafts where Malcolm Jenkins has been dropping. Do you think that the Patriots could have any chance at getting him? Also, just wondering how long the contract that Leigh Bodden signed is.
James Smith, Canada
Absolutely. If Jenkins is there at 23, it'd be hard to imagine the Patriots wouldn't seriously consider him. Again, a lot of the decision making for that pick will involve what they've done to address the aforementioned OLB situation. As for Bodden, he inked a one-year deal with the Pats and, barring an extension, will become a free agent again next offseason.
Erik Scalavino
Do you think that the Patriots will draft a mid-round receiver? What's your opinion on Brandon Gibson or Jarett Dillard as possible picks?
Rod Harris
Yes, with all the talent available at WR this year, I'd be willing to bet the Pats will take at least one in the draft, probably no earlier than round three, however. I'm not counting Percy Harvin, who could conceivably be available in round two, because he's sort of a running back-wide receiver hybrid. I'm talking pure wide receiver. That's likely to happen in the mid to late rounds. I love Dillard. At the Combine, after talking to him, I raved on the PFW blog about what a prototypical Patriot he is – on the field and off. Gibson had good hands and deceptive speed, but he seemed like more of a raw talent, where Dillard is a proven playmaker.
Erik Scalavino
I'm a big TCU fan and I was wondering what you guys thought of Jason Philips as a potential ILB prospect. Also I was wondering if you had any opinion of Aaron Brown as a late round pick for the Pats at RB.Chris Carlin
What do you guys think about Rashad Johnson from Alabama? Aloha from Maui.
Tye N.
Do you think that the Patriots could draft Andy Levitre as a successor to Stephen Neal? Is Jasper Brinkley the best ILB prospect? And what do you think of Terrill Byrd, who was overshadowed by Connor Barwin for the majority of the season?Colt Red
These are just a minute sampling of the countless other player-specific questions we receive in the Ask PFW mailbag each week. It would be a bit unfair (not to mention time-consuming) to answer each one individually, because there are a lot of other non-player questions that we get that are just as important for us to address. Instead, I'd like to point you to PFW's Draft Prospect Database, available free here on Patriots.com. There, you'll find comments and analysis from Paul, Andy, and me on each of the top prospects, mid-rounders, and sleepers at each position. You can also download each report, which we've separated by position for your convenience.
Of course, not every player who's draft-eligible is on our list. Aaron Brown, for instance, or Terrill Byrd. Believe me, we've done more than our fair share of draft preparation and neither of these guys has shown up on any material we've analyzed. I did look up Brown's numbers, however, and will say that he might be an option as a rookie free agent.
Erik Scalavino
With the draft this weekend, is it safe to say that if the Patriots draft a DT, DE, or G with one of their first four picks that they are going to replace Vince Wilfork, Richard Seymour or Logan Mankins next year?
Dave Mac
Dave, Dave, Dave … you should know by now that it is NEVER safe to assume anything where Bill Belichick is concerned. Your prediction may prove to be right on target in the long run – perhaps New England will draft a defensive tackle, end, or guard in the first or second round, and by next year, one or more of those veterans you listed may not be here anymore. But I'd advise against inferring from the mere selection of a rookie that he's a lock to replace a proven veteran. After all, what if he turns out to be Chad Jackson?
Erik Scalavino
Hey guys, thanks for all the work you put in. I was wondering how many quarterbacks can/do the Patriots dress on game day? What happens if both (or all three) quarterbacks are lost to injury? Is there a skill player on the team (someone on offense probably) who can come in and take snaps? Since Bill Belichick prepares for every scenario, he must have considered this. I mean, he played Troy Brown at corner. Do you know which, if any, player has that designation and how much preparation does he actually get? Cheers!Jay Wex
Great question to close out the first half. Before I answer Jay's specific question, let me clarify the third-quarterback rule, for those who might not be clear about it. Back in 1991, the NFL instituted the third-quarterback rule to provide teams with an emergency quarterback who was not on the game-day, 45-man active roster (at the time, some teams were only carrying two, so as to use the precious few game-day roster spots on other positions of need).
The way it works is, if a third quarterback goes into the game before the fourth quarter, his team's first two quarterbacks cannot be used in the game from that point on – at any position. Also, it's up to the coach to decide when he plays the third quarterback. That is to say, injuries aren't the only reason a third quarterback is allowed to play. Coaches can insert their third quarterbacks whenever they please; they do so, however, knowing that if that player were to leave the game with an injury, he couldn't revert to his first two options. He'd have to find a player at another position to take the rest of the snaps.
Which brings us to Jay's question. When the Patriots have three quarterbacks on the active roster, they almost always dress all three on game days (in 2006, however, they played several games with just two QBs – Tom Brady and Matt Cassel – before signing Vinny Testaverde mid-season as the emergency third QB). If New England ever found itself in a situation where it had to play all three quarterbacks, and they all were injured, Belichick would have to bring in another skill position guy, most likely, to handle the quarterbacks chores. When Troy Brown was on the team, he could perform those duties, and actually did so in a preseason game in '06. I'm not sure who that player would be today, but rest assured, Belichick does.
Erik Scalavino