Thanks for great coverage of the Pats. I am a long-time fan now living in Sweden and catch you guys on the Internet as much as possible. My question is, having only two active QBs on the roster, would Julian Edelman be an option if the unthinkable were to happen? Should we expect to see some kind of Wildcat or other trickery with him out there? I like his potential, but will he fit in with New England's rather, but not completely, conservative offensive strategies?
Shawn Cordeiro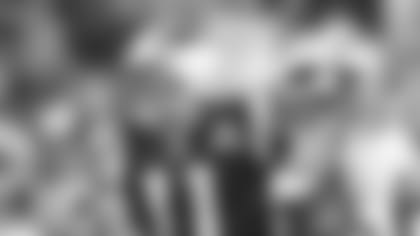 ]()I would call New England's offense anything but conservative, Shawn. You're talking about the team that popularized wide receiver screens, for instance, and shattered a couple dozen team and NFL records in 2007. But as for Edelman, he's not an NFL quarterback. Wasn't drafted to be one and won't be one, at least not on a full-time basis. Bill Belichick made that abundantly clear as well when asked a similar question recently.
However, your ideas for him aren't that far off. Sure, he could run a Wildcat-type play or two if asked, and if ever other QB on the roster went down with an injury, I'm sure he could take the snaps. But it would only be for the remainder of that particular game. Edelman would not be a long-term option at quarterback for this or any other NFL team. Gimmick plays and emergencies only.
The Pats need his talents much more at wide receiver and kick/punt returner at the moment, as he seems to be getting better at both each time he steps on the field. I'm more interested in seeing him develop as a pass catcher and special teamer than I am having him take snaps at QB, and I'm pretty sure Bill feels the same way.
Erik Scalavino
Shawn Crable. As of this minute, he is not listed on the depth chart, or the injury report. Was he finally cut?
John Connors
No, he was placed on the injured reserve list and is therefore not a member of the active roster. That means he will not be listed on any depth charts or injury reports this season. He is, for all intents and purposes, persona in absentia again for the 2009 season, as was the case last year (his rookie year) when he was also on IR.
Erik Scalavino
In the last preseason game Matthew Slater was injured after hyper-extending his arm (and by the way his elbow stuck out, looked as if he'd broken it). I know details on injuries are always vague at best, but have you heard anything about his status, and wouldn't it be better if he were on the PUP list rather than taking up a roster spot?
T. Hardy
From our vantage point in the Gillette Stadium press box, we saw exactly what you saw on that play. Slater's injury looked like one of the most gruesome football injuries you'll ever see. All of us here at PFW were surprised when he made the team and wasn't placed on an injury-related list. But we can only surmise, therefore, that the injury looked a lot worse than it actually is. He is officially listed on the injury report as having an elbow injury. And from seeing him in the locker room recently, he has no apparent signs of a significant injury to that left arm. Slater did not play against the Bills, but we'll continue to monitor his status this week for the Jets game.
Erik Scalavino
What is the deal with Brandon Tate. He is on the Active/Non Football Injury roster. What does this mean? Do you see him being a factor at all this season? Thanks again guys for the great work. Go Pats !!!
Cory Hawk
Cory, the NFI list is similar to the PUP (physically unable to perform), in that a player who's on it isn't eligible to return to practice until six weeks into the season. At that point, the team must decide with a few weeks whether or not to activate the player. Given Tate's serious knee injury (suffered at North Carolina last October), it would certainly be possible for the rookie wide receiver to return one year later, but I would be surprised to see him make any significant contributions to this team this year. In my mind, there would have to be devastating losses to the wide receiver corps for Tate to be called upon.
Tate's case is similar to that of running back Willis McGahee. In his final year at the University of Miami, he blew out his knee in a January bowl game, was drafted in the first round three months later by Buffalo, and dressed for a few games later that same year. But he really had no impact on the Bills until the following season. I would imagine that's going to be how Tate's New England career progresses.
Erik Scalavino
OK ... the Patriots released Terrence Nunn and Greg Lewis, but kept Sam Aiken. Can somebody tell me why? I don't recall hearing anything about Aiken all preseason, but I heard Nunn's name mentioned quite a few time for great receptions, and I believe a kickoff, or punt return. This just doesn't make any sense to me.
Darius Dempsey
Bill made the statement that Greg Lewis always killed us in games (sounds like Wes Welker) and now he is gone. What happened?Dana Silva
Well, Darius, Nunn was released, but then immediately signed to the New England practice squad, so he's still a member of the Patriots. Lewis is gone, yes, and Aiken didn't get much action on offense this summer, you're right. But he's not supposed to. He's a backup wide receiver and now a team captain representing the special teams units. On the rare occasions they do throw the ball his way, Aiken has shown very good hands and is clearly a standout performer on the kick coverage teams.
Lewis was a very nice guy, but just a so-so receiver. It came down to a numbers game. New England needed more players at other positions, so Belichick and his staff felt Lewis was expendable. If they could have afforded to keep Lewis, they probably would have, but I wouldn't dwell on his loss. The Patriots offense will survive just fine without him.
Erik Scalavino
Hey guys – great job!! I live in southern Cal, and we Pats fans could not be more reviled here. Between Raiders, Chargers, and Rams fans, you are an oasis of Patriots news! My question is this: Kevin O'Connell has been learning the plays, calls and system for over a year. When he gets put on waivers and picked up by Detroit, who's to say that he's not telling them all of our secrets? Do they have to change any of this when he leaves? Although I guess it's better Detroit than a conference rival!
Anne Carey
Um, Anne … I hate to break this to you, but the Lions only had O'Connell in town for a few days. They actually traded him not just to a conference rival, but to one of New England's division rivals, the New York Jets. Whatever he learned here in Foxborough, I'm sure his Jets coaches are trying to siphon from him now. The Pats aren't going to change their offense just because of this, but I'm sure they're doing whatever they can to prevent O'Connell from being a factor when the two teams meet this Sunday in north Jersey.
Erik Scalavino