Hi guys. Thanks for keeping the fan base in touch. My question concerns James Sanders, whom the Patriots recently resigned. His deal (3 years, $9 million) would seem to be right in the range of low-level starter money. In his time here, I believe he's demonstrated himself to be a player, but not a playmaker. Do you think the Patriots view him as a long-term starter next to [Brandon] Meriweather or as a third guy, with a draft pick (Patrick Chung? Rashad Johnson?) starting in his place?Colin Christman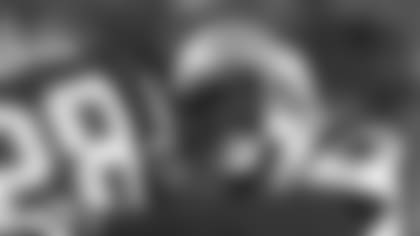 ]()Who do you think will start at safety if [Rodney] Harrison retires? Will James Sanders play with Meriweather or do you see the Pats drafting a safety to play there?*
*Mark D.
Let me start with Mark's question. The answer is: Meriweather, who started at strong safety in place of the injured Harrison this past season. Sanders is, at this point, the starting free safety on the unofficial depth chart.
Now, when you say "playmaker," Colin, I assume you mean he's not a knock-your-head-off type of tackler (like Rodney Harrison) or an INT machine (ala Ed Reed). And if so, you're right, he hasn't shown those types of characteristics in his previous four years. But Sanders is a PFW favorite because, as you also noted, he's a solid player.
Too many NFL defenders try to create those big plays with every hit they make, and often, as a result, they miss the tackle completely. Sometimes, you're better off just using good technique and making the tackle, period. That's what Sanders does. We've watched him steadily grow from a rookie contributor in 2005 to a full-time starting free safety this past season (he missed just 2 games in '08, finishing sixth in total tackles on the team).
In his own understated way, Sanders has become the leader of the defensive backfield. Regardless of whom the Pats might draft or what Harrison decides (I'm beginning to think he won't be back), I think Sanders will continue to mature into his role. To me, his re-signing is an indication of that. If New England didn't think he was worth the long-term investment, they would have parted ways with him this offseason.
Erik Scalavino
]()Any chance of [former Dallas Cowboys safety] Roy Williams coming to New England? Roy hasn't magically gotten worse ... he's only being misused. If you drop him back in coverage every single play he's going to get beat. But the Patriots run a nickel package where the strong safey is basically another middle linebacker – perfect for Roy. He's had his most productive seasons playing under [Bill Parcells] the man who taught Bill Belichick everything, moving up to the line to stop the run and faking blitzes then dropping back in coverage, which led opposing QBs to throw quite a few INTs his way. Roy is a great fit here and BB would know exactly how to use him. *Sam Frankel*
Hi, I live in St. Louis and I read your PFW all the time. I was wondering, what are the chances of the Patriots picking up Roy Williams? He reminds of me of a younger Rodney Harrison.Mirsad Kulovic
What are your thoughts about bringing in the recently released Roy Williams?
Eric Cronin
I could see it happening. Sam, I think the case you made is a good one. The Cowboys may not have maximized Williams' abilities after Parcells left, and Belichick might be able to find ways to utilize him better. The Patriots certainly could use some extra talent at the position, particularly if Harrison decides to retire. Williams too often gets a bad rap for his glaring miscues, but there might be some good football left in him. If any coach can find it and draw it out of him, it's Belichick. He might not be a full-time starter here, like he's used to, but at this point in his career, that might not matter.
Erik Scalavino
With the losses of Jabar Gaffney, Sam Aiken, and Kelley Washington (and seeing that the Pats can't always stick with a 2 WR/2 TE set), do you think that Amani Toomer would be a reliable #3 possession receiver? He is getting up there in age, but his durability record has rarely come into question.Todd Rapisarda
First off, Aiken is still a Patriot. Not sure why you thought he wasn't. But that's neither here nor there with regard to Toomer. Yes, he can still play and would be a fine number-three receiver. However, that would be a short-term fix and only half the solution to a long-term problem – the team needs more receivers.
I'd rather see New England look for a younger player to fill that spot, with an eye toward the future. Let's say, in the draft, they select a guy they think can be a number-one someday. Get him some valuable reps in the offense by making him the player opposite Moss, with Welker in the slot. Having a veteran like Toomer around to split the load certainly makes sense, too. But the Pats have to start gathering some young talent at this position.
Erik Scalavino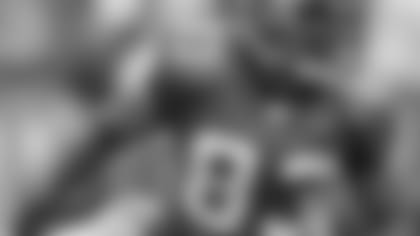 ]()First off, you guys do a great job. Your professionalism mirrors the team you write about. This question is about Deion Branch. Now that the Seahawks signed T.J. Houshmandzadeh, will Deion be a cap casualty, and if so, what are the chances we see him back in New England? He had great chemistry with Tom Brady, and when healthy could fit in great with Moss and Welker. Just a thought. *Tony Wagner*
And a good one, Tony. We've speculated in previous Ask PFWs about a Branch return to New England. Now that he seems to be recovered from his various injuries that plagued him in Seattle, Branch looks like he did during his Patriot days. Having him in the offense with Moss and Welker would be even more dominant than the Moss-Welker-Stallworth troika of 2007.
That said, the Seahawks have said publicly that they have no intention of releasing Branch. Doesn't mean they won't, but it's not something that appears imminent, in spite of the Houshmandzadeh signing. But if it did happen, I imagine the Patriots would be very interested. Branch left here on good terms and has had nothing but good things to say about the team since he left. A wise move, not burning any of his bridges.
Erik Scalavino
A lot of people are wondering what to do about the third WR on the depth chart. What about someone like Drew Bennett or even an old friend like David Givens? I think they could be had and Givens knows the system.Eric Vincent
Bennett's a possibility. Givens, not so much. He was a great player while he was here, but injuries have hindered him since he left. Bennett is tall (6-5) and has good hands. Makes perfect sense, in my mind. So far, we haven't heard anything about Bennett being linked to New England. But we're keeping our eyes and ears peeled.
Erik Scalavino
In your opinion, is Greg Lewis a significant upgrade over Jabar Gaffney?Greg Bean
From a purely receiving standpoint, not really. Physically, they're basically the same player. Lewis, like Gaffney, is a complementary receiver, not an every-game, go-to guy. He has had some of his best days against the Patriots, though (Super Bowl XXXIX, the nail-biter in November '07 here at Gillette), which might explain, in part, why he's now a member of the team (the same was said of Welker before he became a Patriot). If there's one aspect about which you can say Lewis is an upgrade over Gaffney, it's that Lewis has special teams experience. Gaffney didn't really bring that element to New England. All in all, I'd say it's an even swap.
Erik Scalavino
Hey guys, I just wanted to see if anyone at PFW is as upset about the release of Kelley Washington as I am? He was a great special teams player...one of our better ones I thought...and he also helped out at WR when we needed him (granted, that wasn't very often). Why do you think we released him?Nicole Audet
Hmm … nope, sorry, Nicole. I asked around (believe me, I did) and can't find anyone who's all that broken up about it. Nice guy, yes. Solid special teams contributor, as you mentioned. And if you were a reporter desperately seeking a quote, Washington was always a go-to guy in a pinch. But he really wasn't involved at all in the offense. It's not like his production as a receiver will be difficult to replace. Plus, the number of players on the Pats roster who are considered special teams "aces" had grown sufficiently that the team probably felt comfortable letting him go. We wish him well in his post-Patriots pursuits.
Erik Scalavino