What do you think the chances are of the Patriots trading their first round pick for the Panthers' Julius Peppers?Hogan Smith
How much do you think the Pats would have to sacrifice in order to get Julius Peppers? He's a great player, but I don't think the Pats should break the bank for him. Also, would we still have money to re-sign upcoming free agents such as Wilfork and Mankins?Sterling Xie
Great questions. The Peppers-to-New-England talk has subsided a bit, after a buzzing start. However, I don't think that means there's no hope for a deal to be done. On the contrary, the front office may in fact be trying to work all these details out as we speak. We've heard nothing about a potential Mankins extension (he has one year left on his rookie deal), but Wilfork recently made known that he and the Patriots have started to talk about his contract, which is a good sign. Perhaps, if the team gets his situation squared away, it will be in a better position to figure out what to offer for Peppers.
Obviously, since Peppers has been franchised by Carolina, if the Pats offered him a deal directly and he accepted, New England would be required to give the Panthers two first-round picks. If the teams dealt with one another directly, however, the compensation could vary significantly. Multiple draft picks? A combination of draft picks and veteran players? The possibilities within just these two frameworks are seemingly endless.
Erik Scalavino
A comment and a question about the draft: I'm not sure about the validity of trading Cassel for a second-round pick. While it's all said and done and there isn't anything to do about it, second-round picks seem to have a history of being big hits or big misses. Recent second-round successes: Deion Branch, Matt Light, Kevin Faulk and (hopefully) Terrence Wheatley. Recent second-round busts: Chad Jackson, Bethel Johnson, Eugene Wilson, and Adrian Klemm. However, the Pats have a much better tendency to pick solid first-round players. Other than Andy Katzenmoyer, all 10 other first-rounders are still in football and 8 of them are still with the Pats. Given their success in the first round, what do you think the chances are of packaging two second-round picks for a first-rounder?Josh in Denver
Hmmm … Josh? In Denver, you say? Hey, McDaniels, are you still trying to finagle a trade with the Pats and using this forum to gauge interest? Nice try, old friend, but I'm not falling for it.
However, on the off chance this isn't the Broncos head coaching writing in, I'll say this. You're right, the Pats have had good luck with first-round picks, for the most part, under Belichick (Faulk and Katzenmoyer were Pete Carroll-era picks). And they've dealt second-rounders to acquire proven veterans (e.g., Wes Welker, Corey Dillon).
So, it's possible they could package some of their seconds this year IF they wanted a particular player that badly. But I don't see that happening this year. More likely, I believe, is the Pats will hold on to their selections, given the depth available in this draft at need positions (OLB/DE, WR, CB). Unless they were to package them in a trade for, say, Peppers.
Erik Scalavino
With three second round picks and two third round picks (assuming the probable addition of the Asante Samuel compensation) that leaves six first-day picks. Do you believe that there won't be some maneuvers made either by trade for next year's picks or moves upward? It's hard for me to believe we have roster spots for all of these higher picks.Darrell Veilleux
Yeah, that's a lot of draft picks with substantial rookie salaries. I think you'll see both scenarios unfold. As I mentioned in the previous response, there's good depth in this draft at positions of need for the Pats. So, it wouldn't surprise me if they kept most of them to build a base for the future. Yet, I also think it's conceivable that they stockpile some of those picks to make a trade.
Remember, in 2007, Randy Moss was rumored to be coming to New England at the start of free agency. But then, those talks died down, only to come true on draft day. A similar situation seems to be taking place now, with Peppers. Certainly, with all these draft picks in hand, the Patriots are poised to make some noise, one way or another, on draft weekend.
Erik Scalavino
Erik, what do you think about [Northern Illinois outside linebacker] Larry English in round 1 or 2? I've seen him play and he has great pass rushing moves. Do you agree?
Jim O'Connell
He's a guy that Belichick mentioned by name during his Combine press conference, so, that alone means I'll be paying close attention to him. Haven't really seen much of him, but we just got our game footage DVDs of all the prospects. When I get to his, I'll be sure to take extra notes. Next month on patriots.com, we'll begin posting our position-by-position breakdowns leading up to the draft and you'll be able to see what each of us at PFW thinks about English and all the other top prospects at every position. Right now, however, you seem to have him pegged where most draft observers have him – as a day-one selection.
*Erik Scalavino *
Do you think that the Patriots can draft Jamall Lee (RB) from Bishop's [in Canada]? He set a lot of records in Canada and I believe he could be a steal if he's drafted in the 7th round. He also runs a 4.39 40. If you want to take a look at his stats:http://www.cfl.ca/roster/show/id/2024Félix from Quebec
Never heard of him, but that doesn't mean the Pats scouting department hasn't. My guess is, they probably have. Thanks for sending the link to his bio. I imagine he won't be drafted, but he might be a candidate for a rookie free agent signing. And if he does, we'll have you to thank for pointing him out to us.
Erik Scalavino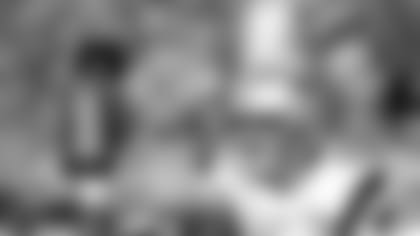 ]()At what point do you think the Patriots should or will start looking for a replacement for Brady? I know he is only 31 but I for one would rather draft a good player in the early rounds and let him learn the ropes for a few years behind Brady before taking the field. *P. Evenson*
Um, did you just start rooting for the Patriots last week, Pal (I'm guessing that's what the 'P' stands for)? If not, I don't know how you could have missed this, but last April, the Pats drafted a quarterback in the third round. Name's Kevin O'Connell. We talked about him and his manifold skills numerous times during our coverage leading up to the draft and thereafter.
When Brady went down in Week 1, O'Connell, the team's emergency, third QB for all of 20 minutes, suddenly became the backup. He held on to the number-two spot all season behind Cassel and will probably keep it this year behind Brady. He's the future Patriots QB, when Brady's days are done for good. Take Fort Minor's advice and "remember the name."
*Erik Scalavino *
Like most Pats fans, I was expecting more in the Cassel & Vrabel trade. Then I thought, 'Hmmm, if Randy Moss was worth the 110th pick in the draft, what's wrong with receiving the 34th pick as compensation for Mike Vrabel and Matt Cassel?' Sounds good to me. Cassel's value to the Patriots, assuming a healthy Brady, was next to nothing. While a backup at any other position becomes part of a rotation or package, a backup quarterback holds a clipboard. So, Cassel won't be missed and Kevin O'Connell can be Chairman of the (clip)Board.Mike Margolis
Well, yeah, Moss was traded for a fourth-rounder, but keep in mind, there was a mitigating factor in that decision-making process: Al Davis. And I disagree with your assertion that Cassel's value would have been "next to nothing." There's a dearth of quality starting quarterbacks in this league, let alone reliable backups. So, to have one of Cassel's ability would have been a blessing. I certainly believe O'Connell's capable, but in my mind, a team can never have too many good signal-callers.
*Erik Scalavino *
I love reading your mail bag. It's one of my favorite things to do while deployed. I'm still a little upset that a few of the playoff teams will be picking before us in the upcoming draft. Is there any chance that they will fix it before April 26th?Staff Sgt. Adam Mancini, FOB Lane, Afghanistan
First and foremost, Staff Sergeant, thank you for your service to our country. Coming from a military family, I say with unabashed pride, you are true patriots.
As to your question, I couldn't agree with you more and even addressed this topic of draft seeding in a recent edition of Ask PFW. I think it should be changed to give more weight to playoff appearances (and thereby, a lower pick for those teams). But, sadly, even if the league considers the idea, that won't happen in time for this year's draft. The Pats will just have to make due with the slot they have.
Erik Scalavino